It isn't uncommon for Japan to have Anime characters promoting brands and events. After naming Naruto, Goku, and more as the official ambassadors of the 2020 Tokyo Olympics, Miyagi Prefecture has recruited Lapras, the Pokemon as their new tourism ambassador, and there is no denying the fact that it is adorable.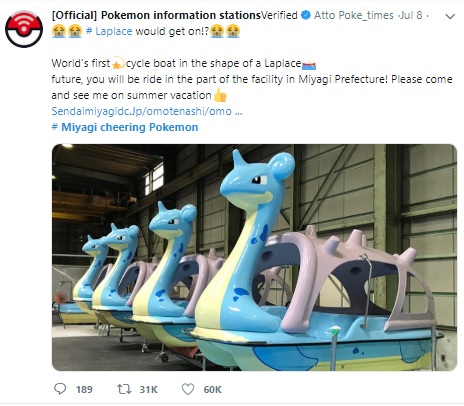 What Is It?
In a bid to encourage travelers to visit the area as it recovers from Tohuku earthquake and Tsunami in 2011, Miyagi Prefecture has appointed the adorable Pokemon, Lapras as their new Tourism Ambassador.
Also Read: 2020 Olympics In Japan To See On-Demand Shooting Stars
The water Pokemon was waddled on  the stage as the Miyagi Governer, Yoshihiro Murai, introduced the popular water Pokémon on stage. There's more, 21st July onward Lapras-themed pedal boats will be available at Michinoku Park in Miyagi, and on the Hanayama Aoshonen Ryokoumura campings grounds from 3rd August.
Public pools in the area will also be dishing out Lapras pool toys for free use.
Also Read: Cruise Through Takachiho Gorge, A Volcanic Canyon By A Waterfall in Japan
What's More?
These Lapras swim toys will be available at 16 public pool facilities throughout Miyagi, including at the Akiuo Onsen hot spring resort area. The Pokemon partnership's organizers are promising even more to come. Lapras' official tourism ambassador status is not scheduled to kick off untill this year in October and all this summertime fun is just an advanced preview of all the fun that's about to come.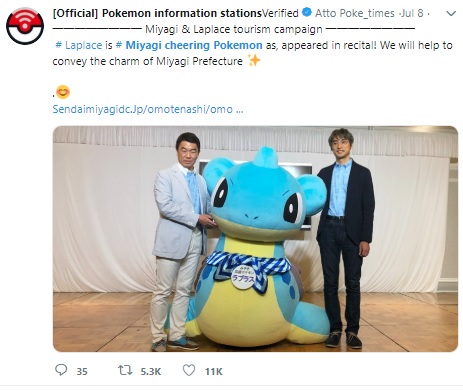 This wouldn't be Lapras' first tie up with Miyagi. The Pokemon was also the star attraction of their collaboration with Pokemon GO and tremendously helped in boosting the tourism in 2016.
Anyway, for those who had no plans of visiting Japan, we're sure the extremely adorable tourism ambassador will change your mind.