Indian cricketer Mithali raj and actress Taapsee Pannu have one thing in common and that is that they have inspired a whole generation of girls and women to pursue their dreams without letting society decide their fate. Our Chief Travelling officer was in conversation with Taapsee Pannu and Mithali Raj on Sunday Brunch with Zomato and they shared some weird incidents and confessions that simply added to the tasty brunch. 
I Did Feel The Presence: Mithali Raj
Be it cricketers for their matches or actors for their movie, they keep on travelling with their team or alone. Under honest confessions, Kamiya asked the two some questions whose answers ended up being some honest confessions from two. Kamiya asked Taapsee and Mithali to share an incident where they might have come across some weird or uncomfortable experience in a hotel room especially when they travel alone. To this Mithali revealed that she and a bunch of people were in a hotel in England and they were informed that the place was haunted. All of them including Mithali did feel the presence but unlike others who were terrified about it, Mithali was not at all scared. She shared that she is always happy in her own space and that such things don't really bother her. 
Also Read: Kamiya Jani Met Taapsee Pannu And Mithali Raj For A Sunday Brunch
The Game Of Confessions
Continuing the game of confessions on Sunday Brunch with Zomato, Taapsee revealed as she was answering a question by Kamiya Jani that she is not her friend's first choice every time they plan a night or a late-night party and that they have already blacklisted her. Another common thing about Taapsee Pannu and Mithali Raj is that they both cannot stay up late for parties. Taapsee also spoke about how she allowed cameras while she ate was only for Kamiya.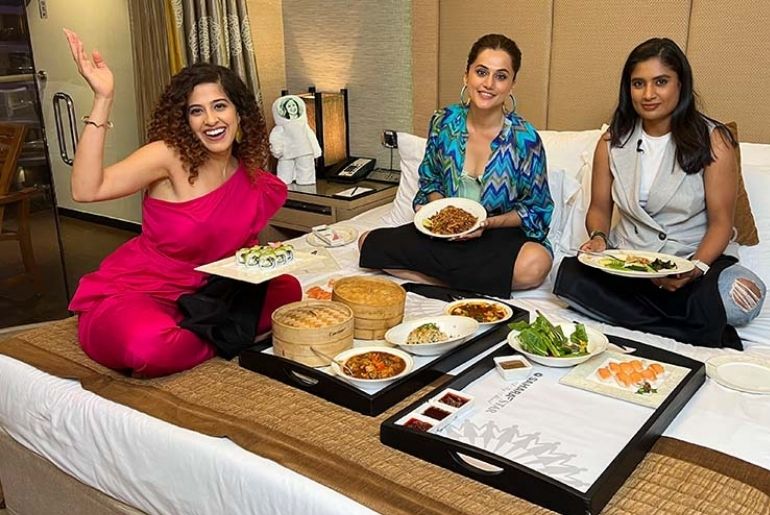 Also Read: Taapsee Pannu: A Girl Was Hitting On Me In Goa But I Felt Nice About It