Our Cheif Travel Officer Kamiya Jani met the bold actress Taapsee Pannu and the inspiring cricketer, Mithali Raj, for Sunday Brunch By Zomato over a staycation. There were conversations, childhood memories, games, confessions and of course food between these three ladies in a hotel room. Taapsee and Mithali made some honest confessions including one where Taapse spoke about how she was hit by a girl and how that made her feel. 
A Girl Was Hitting On Me In Goa: Taapsee Pannu
What happens at a girl's sleepover? Gossips, confessions and loads of food. Kamiya decided to play a game with Mithali and Taapsee. She played Honest confessions with them where they had to confess an incident as an answer to the question asked by Kamiya. Kamiya asked the to tell us if ever they were ever hit by a co-star or a girl of the same gender. In response to the question, Taapsee narrated an incident when she was away on a vacation to Goa with a bunch of friends. Taapsee did not realise that a girl was constantly hitting on her until her friends actually told her about it. On being asked how did she react, Taapsee confessed that she actually liked the fact. She further explained that as it's a notion that girls only find flaws in other girls, Taapsee felt nice about the fact the girl finds her good and was all okay about it. 
Also Read: Aditya Roy Kapur Meets Kamiya Jani At Bandstand For Sunday Brunch And Gets Mobbed
Training Under Pressure For The Role
Taapsee had to get her hands well on the skill sport, Cricket. She also told Kamiya how training for Mithali's biopic was not at all easy because it came with a lot of responsibilities and expectations. She had only two months to train to the level that Mithali plays on the ground and also the fact that every screen will be under scrutiny because Indians love cricket. Moreover, the fact that Mithali had never held a bat in her entire life made it tougher for her to train for the movie.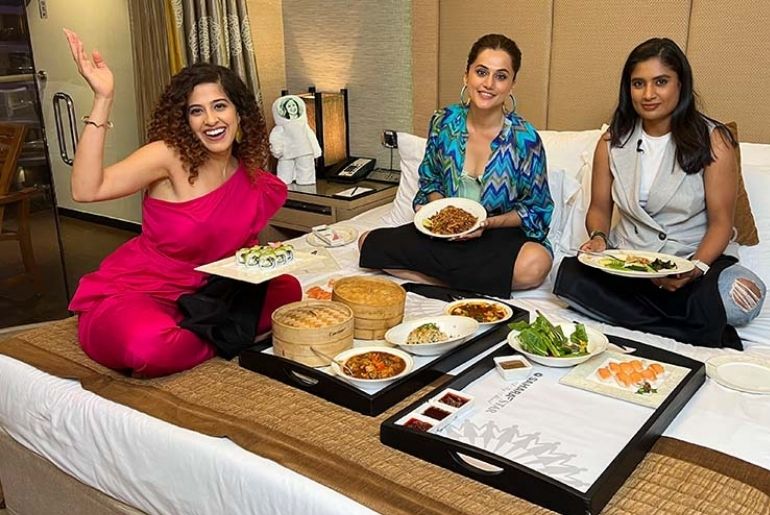 Also Read: Kamiya Jani Met Taapsee Pannu And Mithali Raj For A Sunday Brunch