All types of tourists will find India to be a wonderful vacation spot. Whatever your travel style, India has something to offer everyone, whether you're a family seeking a luxury and restful holiday or a budget traveller searching for unique and interesting places to visit. It doesn't matter what sort of visitor you are! 
There is something about India's monasteries that attracts all of them at once. It doesn't matter whether it's the beautiful Buddhist architecture, the friendly and frequently amusing monks, or the great local cuisine that you can get in the area of these monasteries; they're a must-visit for every traveller. Nothing beats a monastery when it comes to finding an affordable and satisfying stay choice. Here are our best monasteries in India where you can stay and experience life. 
1. Phugtal Monastery, Ladakh 
Located in Ladakh's Zanskar region's southeast corner, the Phuktal or Phugtal Monastery is a solitary retreat. You may trace the Gompa's heritage to the famous preachers and academics who formerly lived there. It has served as a centre of contemplation, education, and entertainment. Tal means "at ease" in Zanskari, which is the Zanskari dialect of the cave. The Phuktal or Phugtal Monastery is a secluded area of the Lungnak Valley, and tourists must go there on foot and beg the monks for a place to stay the night. 
View this post on Instagram
Also Read: Koksar Is The Best Kept Secret Of Himachal With Kaleidoscopic Terrain And A Charming Monastery
2. The Lamayuru Monastery 
You're missing out if you've never been to a Buddhist monastery in India called Lamayuru. It is located in a remote area of the town and is accessible from Kargil on the route to Leh. In addition to the nunnery apartments, this Indian monastery also boasts a modest hotel on its grounds. Friendships flourish among the monks, who are eager to converse with visitors. 
The fragrances from the restaurant's kitchen permeate the air and make you want food throughout the day. Lamayuru is a one-of-a-kind experience. The ideal place to stay if you want to be completely alone and unbothered by the outside world is right here. 
View this post on Instagram
3. Tabo Monastery, Spiti 
Like many Buddhist monasteries in India, Tabo Monastery sits on a hill. There are fewer visitors to the most significant monastery in Spiti than to any other monastery in India. In the winter, staying in the monastery's large chambers is a once-in-a-lifetime opportunity. The Tabo Monastery overlooks a serene and peaceful hamlet. 
Thangkas, or Buddhist wall paintings, decorate the monastery's interior walls, as are priceless Buddhist scriptures. A visit to this monastery will provide you with an abundance of peace and the opportunity to commune with nature.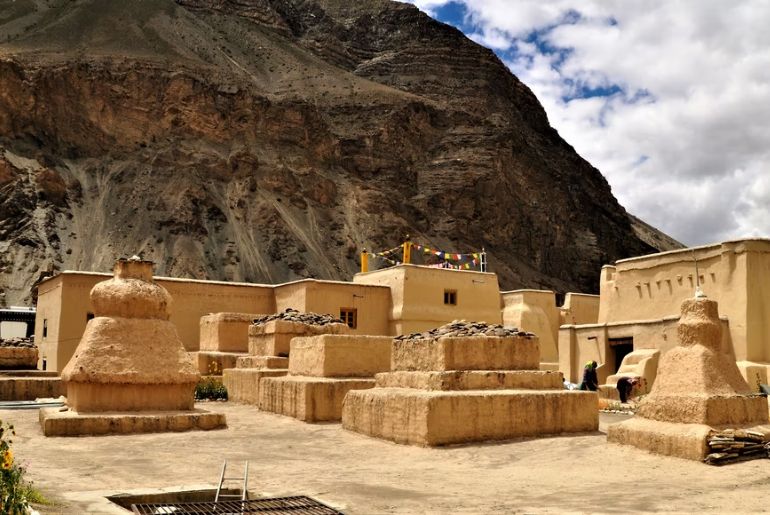 Also Read: Tawang Monastery: Everything To Know About Asia's Second Largest Monastery
4. Rangdum Gompa 
Located on the road to Zanskar, Rangdum Monastery is a must-see. The route between Ladakh and Zanskar used to be rough, but local officials are working to smooth it up. The Rangdum Gompa sits on a hill overlooking the little town below. The pace of life at Rangdum is leisurely, but the monks there are kind and willing to engage in discussion about any topic of interest. While you're there, you can even pick up some knowledge about Tibetan Buddhism making it one of the spectacular monasteries in India. 
5. Nako Gompa 
Nako Monastery is in the small Nako settlement in Lahaul and Spiti. You must visit one of India's most picturesque Buddhist temples at least once. Summers see a lot of visitors, while winters are quiet. In the summer, Nako Lake becomes a sanctuary for migrating birds. Nako conceals thangkas, clay sculptures, and other Buddhist artefacts. If you can't locate a room in the monastery, neighbours would happily host you in their homes. 
6. Thiksey Monastery 
Thiksey is central Ladakh's biggest monastery, with 12 stories, ten temples, a vast assembly hall, and 120 monks. It bears a striking resemblance to Lhasa's Pothala palace. Moreover, in the centre of the stunning desolate scenery of Ladakh, Thiksey monastery gives guests a range of amenities at a reasonable price. 
Also Read: Hilltop Buddhist Monastery & Metal Bangles Discovered In Bihar's Lakhisarai
Some of the most beautiful monasteries in India allow visitors to stay in their charming and cosy apartments, so here are a few of them. If you want to learn more about Buddhism, this is an excellent method to get a glimpse into monks' daily lives.