Mumbaikars and their love for eye-soothing sunsets are too much. And now they can witness the magic from a new viewpoint in the city. The second sea-viewing deck of Mumbai is now open to one and all. The Maharashtra Chief Minister Uddhav Thackeray, his son Aaditya Thackeray, and Deputy CM Ajit Pawar inaugurated the new viewing deck at Girgaum Chowpatty on Sunday.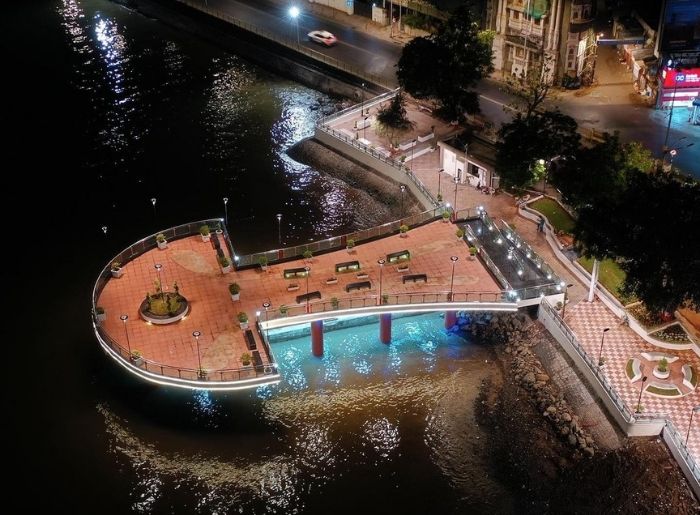 The viewing deck at Girgaum Chowpatty is the second in the city after the Dadar Chowpatty deck. The state is currently making use of such unutilised places and turning them into open spaces for locals, residents, and tourists. Aditya Thackeray mentioned in his tweet that the city and the suburbs will soon have such open spaces.
Transforming the stormwater drain outfall, into a viewing deck to experience the mesmerising sunsets, this is an excellent example of utilization of precious unused spaces to create urban open spaces for locals & tourists. We are implementing these all over the city and suburbs pic.twitter.com/UHqBCeHHy7

— Aaditya Thackeray (@AUThackeray) April 17, 2022
How Did The Gallery Get Its Name?
Aditya Thackeray also gave the proposal of naming the deck 'Shri Pramod Navalkar viewing deck '. Pramod Navalkar is a late Shiv Sena leader who worked in this area during his tenure as the MLA. He worked towards transforming the Girgaon Chowpatty into a clean beach and also worked on many developments in the area.
View this post on Instagram
Also read: Dubai-Mumbai Becomes World's 5th Busiest Route After India Reopens International Borders
How Many People Can The Viewing Deck At Girgaum Chowpatty House At Once?
Built on an area of 470 square metres, it can accommodate 500 people. According to BMC, it took around 7-8 months to construct everything which cost around ₹3.5 crores. In addition, this gallery has a seating capacity of 150 people.