Under 140 Characters
Nestled amidst vast blooming green fields, crisscrossed by long canals, sits Punjabiyat – an encapsulation of the pind of Punjab.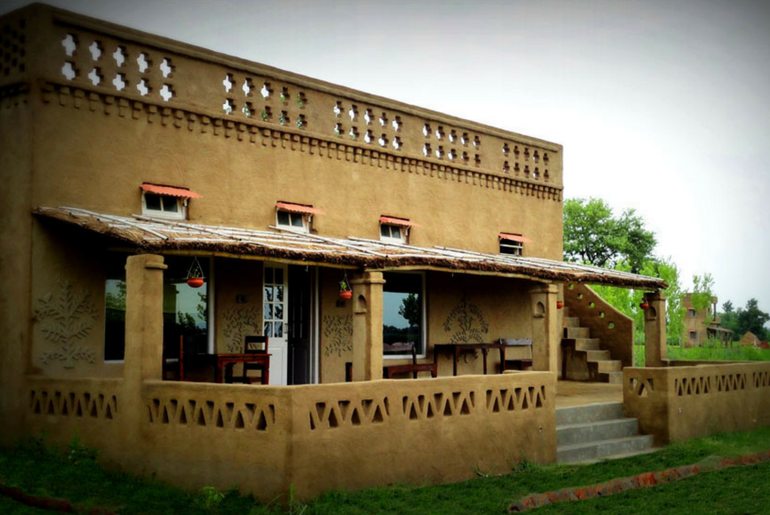 In A Minute
Have you seen the 60-second illustration that sums up the emotion called Punjabi yet?
No? Scroll up & watch the video!
Yes? Scroll up & watch it anyway because what I am about to tell you isn't in the video 😛
Tell Me More
If you haven't guessed it yet, what I am talking about is a farm resort 80 km away from Amritsar. Lush green fields and a rustic smell of Punjab's soil awakens your senses as you set foot here.
Also read: Armchair Travel: Amritsar's New Look In a Minute
Pick from any of the four standalone cottages with a farmland view that merges into the sky. Live in splendid isolation while you experience the rich effervescence of the Punjabi culture and its large heartedness.
As a matter of fact, Punjab takes its food as seriously as an army takes its routine. And so, Punjabiyat is incomplete without its tandoori cuisine and barbequed snacks.
The Punjabiyat Experience
When in Punjabiyat, do as the Punjabis do! First and foremost, try their lassi (it is out of this world!), take the Tonga ride (horse-carts or ox-carts) or chak de fatte, straight drive a tractor!
Also read: These Mumbai Restaurants Urge You To & Dine
Enjoy their stuffed naan ( served piping hot off-the-tava), mouth-watering daal makhani, sarso ka saag, Makki ki roti, locally made white butter, butter chicken, raita and local vegetables. All this tastes even better at their beautiful set up at the chatt (terrace).
Post lunch, offer your prayers at the local Gurudwara Ghallughara followed by a quick tour of Sikh history at the Museum.
Listening to the mesmerising Gurubani recitals (Sikh religious songs) in the evening is an amazing experience by itself, trust me! On returning, sip on hot tea or coffee accompanied by mathhi (a local snack).
Here on a weekend? Shop for local souvenirs at the mobile market set up outside the Gurudwara.
Takeaways by Kamiya
It is a kind of a place where you would want to dress down to your most comfortable pyjamas, sit with folded legs on a charpai, have lassi and surrender yourself to nature.
Mud-houses sans television, wi-fi or an iPad integrated technology and yet I was blown away by the simplicity and the rustic charm. I couldn't get enough of the verdant views, topped off with chirping birds and humming bees at the mustard fields. 
Rural Punjabis coat everything with a glaze of politeness and humility. And Hotel Manager, Jagdeep Singh alone can put the Japanese (most polite in the world) to shame.
When you go there, please say Satsriyakaal (Punjabi Greetings) to him from my side. He will definitely take you on a village tour, offer you a bicycle or a tractor and even help you milk a cow. 
Unobtrusively nestled amidst the rural landscape of paddy farmland, Punjabiyat by Itmenaan Lodges is a privileged glimpse into Punjab's otherwise hidden and older side. Buried deep under the drug abuse, this is Punjab Tourism's attempt to get you a sneak peek into Punjab that once existed.
Punjabiyat In A Minute | Curly Tales

Punjab-i-yat is an emotion worth experiencing! Wondering why? Watch this one-minute video! Punjabiyat, near Amritsar #InAMinute

Curly Tales ಅವರಿಂದ ಈ ದಿನದಂದು ಪೋಸ್ಟ್ ಮಾಡಲಾಗಿದೆ ಭಾನುವಾರ, ಫೆಬ್ರವರಿ 5, 2017
Deets!
Where: Village Gunopur, PO- Saidowal Khurd Near Gurudwara Chhota Ghallughara District & Tehsil, Gurdaspur, Punjab 143528
Recommended Mode of Transport: Drive from Amritsar.
Tariff: Rs 9000 (per night)
Call 9818705508 for special offers or just visit the website 
LIKE Curly Tales on Facebook | Instagram | Twitter
You can subscribe to our newsletters