In 2020, Durga Puja was celebrated on a low-key owing to the COVID-19 pandemic. This year, despite restrictions, desperate people broke free and thronged to the streets to ring in the spirit of the festival. The pandals in the city witnessed tremendous crowds. During Durga Puja, demand for popular restaurants in Kolkata also surges. Ahead of Durga Puja 2021, restaurants in Kolkata had stocked up well to cater to the pent-up demand. But the rush got heavier than expected and many restaurants had to pull down shutters after running out of food.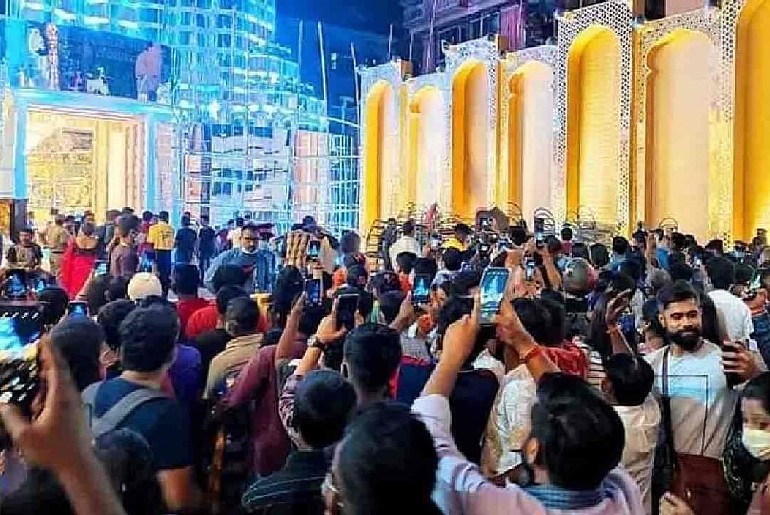 Also Read: Kolkata Has A Durga Museum That Preserves The Best Artworks Of Durga Puja Pandals
Revenge Dining Emerged In Kolkata During Durga Puja
After being cooped up at home for a couple of years, Kolkata people welcomed Durga Puja celebrations 2021 with skyrocketed excitement. According to a Times of India report, Hotel & Restaurant Association of Eastern India president Sudesh Poddar has said that while restaurants usually get two times the regular business during the puja days, this year the sales went up by around 25% to 30% than what it was 2019. Popular restaurants in the city had to shut their doors due to lack of space and shortage of food for the overwhelming crowd.
Also Read: Devour Traditional Arabian Delights Like Mandi & Kunafa At The All-New Barkaas Arabic In Kolkata
Restaurant Businesses Went Up By At Least 25%
Recently, legendary restaurants in Kolkata's Park Street -Mocambo, Kwality, and Trinca's become the city of joy's first restaurants to receive heritage status. These places, along with other renowned restaurants like Oh! Calcutta, Peter Cat and Peter Hu had long queues at their entry points during Durga Puja. As reported by the Times of India, Anjan Chatterjee, who owns restaurants like Oh! Calcutta and Frame & Grill said that the restaurants could have done 30% more business if they had more tables, stating that they had done 25% more business than before.