The world of food dishes is not the same as it was some time ago. With new experiments and food trends, we have seen some completely bizarre food combinations and trends. All the foodies, with all their hearts, hate such weird combination makers, and just as they see a weird trend and think that it is the worst they could see, they walk in with another worse dish. Adding to the list of bizarre food dishes is now the Rajnigandha Omelette, and netizens are simply disgusted. 
RJ Shares Rajnigandha Omelette Video
View this post on Instagram
Omelettes have been an important part of Indian breakfast. If you want to eat something light yet fulfilling, you go for omelettes. If you want something quick, go for omelettes. In fact, India's street food also offers a variety of omelettes for all egg lovers. 
From egg bhurji to egg pizza, we thought we had seen it all but just then walked in something unbelievable. A food combination that we are sure you too might have never imagined. A man on the streets of India serves Rajnigandha omelette. 
Yes, you read that right. A person is selling Rajnigandha omelette in Kanpur, and RJ Abhinav, who is known for his comical sketches, shared this video on his Instagram account. As RJ is known for his own tadka to any video, he tried playing with this video as well. 
Also Read: From Matrimony Store To Astrology Kiosk, 5 Unusual Things You'll Find At Airports In India & Across The World 
Fusion On The Streets
The video opens up with a cart on the streets and two men standing there to serve people what they desire. Just then, one of them breaks two eggs in a glass and then proceeds to add two packets of Rajnigandha to it. 
He then whisks the mixture, as eggs are generally whisked, before making a fluffy omelette. It is then poured on a hot tawa and spread around evenly. Just then, the person preparing this dish adds two vertically long slices of bread to the not-yet-cooked mixture. 
Once one side of the omelette is cooked, it is flipped on the other side. After both sides are cooked, the Rajnigandha omelette is ready!
Also Read: Will Mumbais Air Quality Improve? Maharashtra Guardian Minister Says It Will In Next 2 Months
Social Media Users Hate It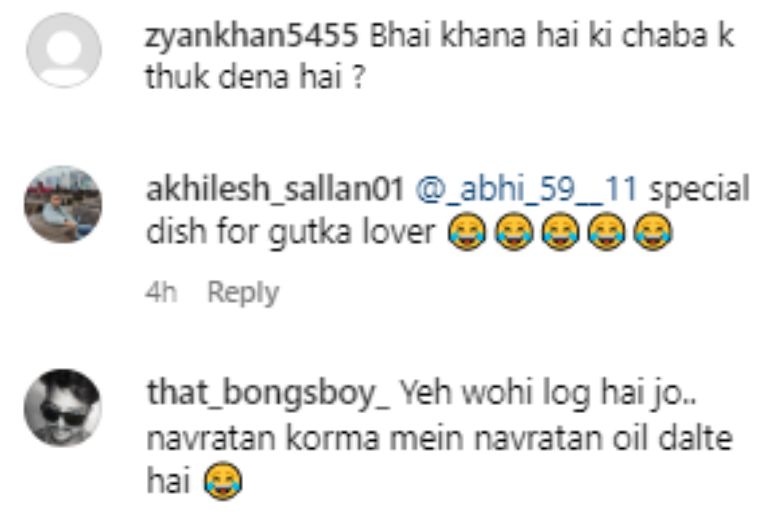 RJ Abhinav, who is known for his funny additions to various viral videos, continues the video with a similar-looking omelette and bread slice on the screen. 
In the background, his mother asks him why he always orders this. He says that it is very yummy and then tears a piece and places the piece behind his lower front teeth, just like they eat paan masala. To this, his mother too tastes it, and he offers her a small mug to spit it out. 
The video was posted on Instagram and has by far received about 8.6 million views and over 300 K likes. Netizens looked completely disgusted as they called this recipe a complete waste. One user called it "RajniAnda" while others called it "Cancer Masala Omelette". 
Another user commented "Ajay Devgn is on the way with Vimal Masala Omelette". This comment was followed by many Ajay Devgn gifs. 
Also Read: From Pumpkin Pie To Jelly Shots, Make These Halloween Special Dishes At Home
What are your views on this dish? Would you try?
Cover Image Courtesy: @rjabhinav/Instagram
For more such snackable content, interesting discoveries and latest updates on food, travel and experiences in your city, download the Curly Tales App. Download HERE.
Good news! We are on WhatsApp! Subscribe to Curly Tales WhatsApp Channel to stay up-to-date with exclusive content and BTS. Join HERE.