While some people wouldn't even dream of climbing anything higher than a flight of stairs, others embrace the opportunity with open arms – and maybe with a helmet, rope and some karabiners! Yes, Rock climbing can truly be an adventurous and thrilling activity, whether you're just taking your baby steps at learning the drill or you are already an experienced pro and scaling up. It is an amazing way to experience the Mother Nature and also to push yourself physically and mentally. So here's our list of the top 5 rock climbing destination in India that you should definitely give a try in 2019:
1. Malshej Ghat, Maharashtra
Leave the maddening chaos of Mumbai and Pune and head directly to this beautiful mountain pass in the Western Ghats. Malshej Ghat is located on the Thane-Pune Road and is a perfect place to learn trekking and rock climbing. The rocks have an uncommon slope with an average height of about 700 meters. Don't miss the breathing view from the valley, along with some beautiful flowers, birds and waterfall on the way that makes Malshej Ghat a perfect place to spend your weekend.
How to reach: The nearest railway station is Kalyan which is located 85kms from Malshej Ghat. One can directly drive to the place; the roads are well maintained and picturesque.
2. Hampi, Karnataka
Whether you are an amateur climber or a veteran looking for more adventurers, Hampi will not fail to satisfy your hunch.  It's a place of historical significance and is one of the UNESCO Heritage sites in India. Hampi houses giant temples, palaces, forts, monolithic structures, ancient monuments and their impressive ruins. A major part of the landscape is dotted with granite rocks and is a challenge for climbers which make it to the top of the list for international climbers too!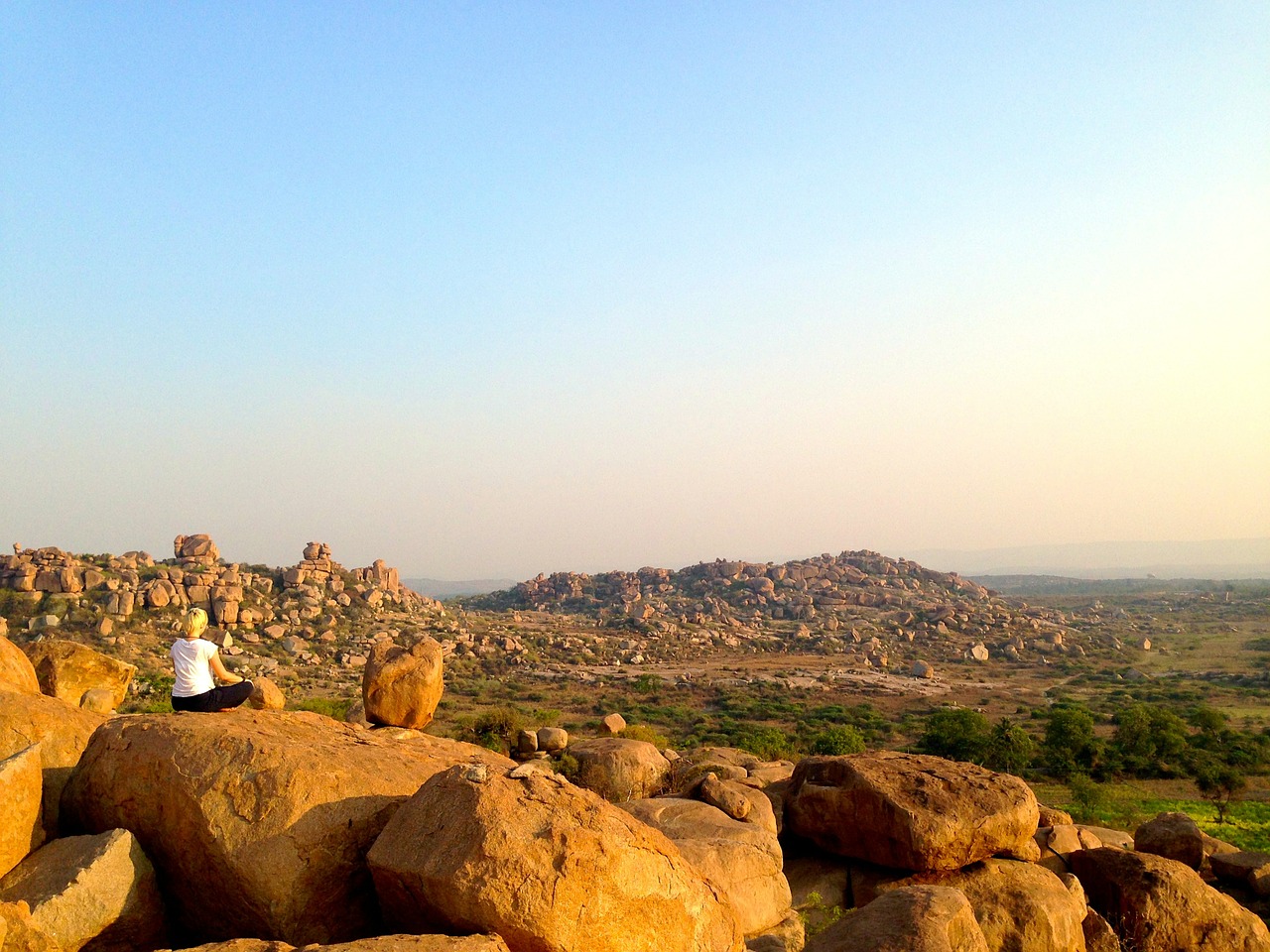 How to reach: Hampi is located in North Karnataka along the bank of Tungabhadra River. The nearest town is Hospet (13 kms), Gundakal (97 km), Bellary (74 km). Distance from Bangalore is 364 km.
3. Lado Sarai, Delhi
Delhi houses many places where one can try rock climbing, Lado Sarai is considered to be the most popular and situated well in the heart of the city. This rock climbing spot has quaint charm and some stable old rocks to spend your weekend. Lado Sarai is located in DDA Park near Qutub Minar, apart from rock climbing one can experience boating, bird watching etc.
How to reach: One can easily drive and reach Lado Sarai as it's situated within the city. Nearest metro station is Saket.
4. Shey Rock, Kashmir
Leh has always been on the top of the list for those looking for some adventurous activities. Shey Rock in Leh is a must go place for rock climbing lovers. The unique terrain due to its different rock formation makes it ideal for experts and amateurs. They have more than 20 bolted sports routes for you to reach the top to experience the breathtaking panoramic view of the mountains.
How to reach: Jammu is the nearest railway station which is about 734kms from Leh. Get a taxi and go to Shey, rocks are about 20 minutes ride from there.
5. Miyar Valley, Himachal Pradesh
Located on the borders of Leh, this steep rock side valley and meadows offers a lot to its visitors as trekking, rock climbing, splendid views and much more. Miyar Valley is perfect for those seeking an adventurous trip in a peaceful and isolated place. The valley is often referred to as 'Himachal's Valley of Flowers' and has a sensational view of 15 or more snow-covered peaks. One can witness the great Himalayan ranges while climbing the rocks.
How to reach: Miyar Valley is in the Lahaul region of Himachal Pradesh. The easiest way to reach there is via Rohtang Pass from Kullu or Manali.
So, these rock climbing destinations made it to the top 5 of our list. Do share your experience in the comments below and let us know your plans to visit them.