Dubai Bling walks its viewers through the glamorous lifestyles of the uber-rich in the multicultural Emirate. This popular Netflix series took the region by its storm and also created quite a stir amongst the people. And if you have also religiously binge-watched all the episodes of Dubai Bling, then you already know who is the fashionista of this series. We're talking about the one and only Safa Siddiqui. This fashion icon met with Kamiya Jani, our Editor-in-Chief for the latest episode of Curly Tales Sunday Brunch Middle East. Talking about her life after the series, she admitted that she cannot wear bad clothes anymore. Here's what she had to say!
Safa Siddiqui Cannot Wear Bad Clothes Anymore!
As Kamiya Jani and Safa Siddiqui boarded a yacht in Dubai Marina, the latter admitted, "I just cannot wear any bad clothes anymore, not that I do! But you know, you have those days when you're just going to pick up kids, the supermarket, and you just wear those leggings that have a bit of bubble on them. No, that's all gone now!" While gorging on the delicious feast from China Bistro, this gorgeous fashionista also talked about her favourite restaurants in Dubai.
Also Read: Dubai Bling Star Zeina Khoury Thinks Ebraheem Is Fake Because Of This Reason | Curly Tales
She Has Developed A Radar To Recognise Who Is Genuine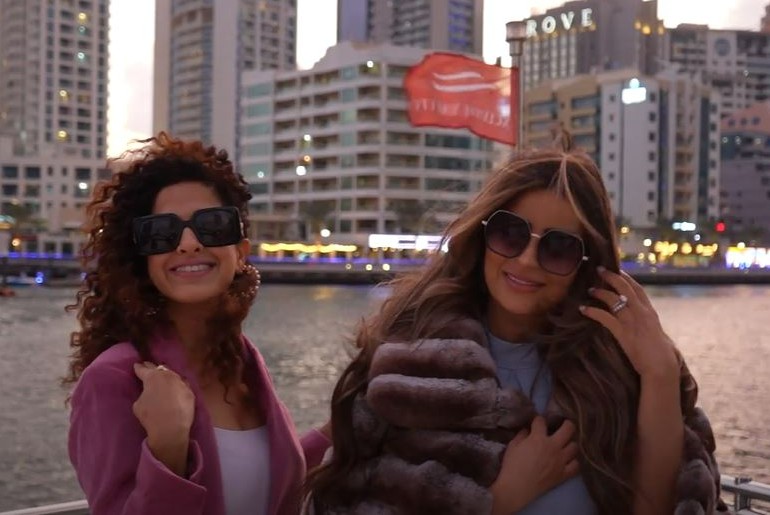 As it happens, she is not a cook, however, she is planning to learn this culinary skill! Safa also confessed to being a fan of Indian street food, and she admitted that she loves pav bhaji and panipuri, and even enjoys dosas and idlis for breakfast. While talking about her life in Dubai, Safa mentioned how making friends in Dubai is difficult as everybody here is looking for an opportunity to move up in life. However, over the 10 years of her life spent in the Emirate, she has now developed a radar where she can tell who is genuinely her friend and who is just there to take her for granted.
This is just a little snippet from the engaging interview that's available on the YouTube channel of Curly Tales ME. So, if you have also watched this series and have loved her bubbly nature, then go ahead and watch the entire interview!
Cover Image Courtesy: Internal