Bollywood celebs strolling in London streets is quite a common sight of late. And it's no secret that Sara Ali Khan is enjoying her London vacation to the fullest. The actor's online family has all the updates of her travel diaries from the foreign city, all thanks to Instagram. On Sunday, Sara is seen sharing a glimpse of her favorite bakery to gorge on fresh donuts in the city. Later the actor is seen basking in some late pride month love in front of a gay bar in Soho. Read on to know more tidbits of her latest Instagram stories!
Sara Ali Khan Spends A Funday With Donuts From Bread Ahead In London
Who doesn't love some fresh donuts right? Donuts are like glitter sprinkles in a bland world. And Sara sharing her donut love from a London bakery is totally understandable! On Sunday, Sara Ali Khan took to Instagram to let her fans have a glimpse of her favorite bakery in the city. And could it be anything else than the legendary Breath Ahead? When it comes to delicious baking, the only proper direction is this famous bakery in London. But we can see the Sara's hard work in getting to those donuts because those tend to disappear rather quickly. By midday, you have to be at any one of the six locations of Breath Ahead in London if you wish to savor those. And it seems the actor totally did. There's no better feeling than munching on a donut that's overflowing with cream, whilst wandering in the London streets. We get you, Sara!
Also read: Hrithik Roshan Snacking On Yummy Burgers Makes Co-actor Deepika Padukone Feel Left Out!
After Donuts, The Kedarnath Fame Actor Visits An Iconic Gay Bar In Soho
Although June's over, love needs to be celebrated every month. And Sara Ali Khan is doing exactly that in Soho, London. On Sunday the actor is seen posing in Soho's world-famous, G-A-Y Bar. Sara goes for a casual yet hip look with a pair of ripped denim and a cool crop top. She also has white shoes and carries a neon bag to compliment her look. The perfect look to pose from the G-A-Y Bar. This chic bar is a place you should never skip when in a foreign city. From cheap drink offers, a young crowd, and pure love, G-A-Y Bar has everything. Well looks like Sara Ali Khan has a great choice when it comes to picking places in London. She is giving her fans glimpses of some of the most legendary spots in the city. And we absolutely love it!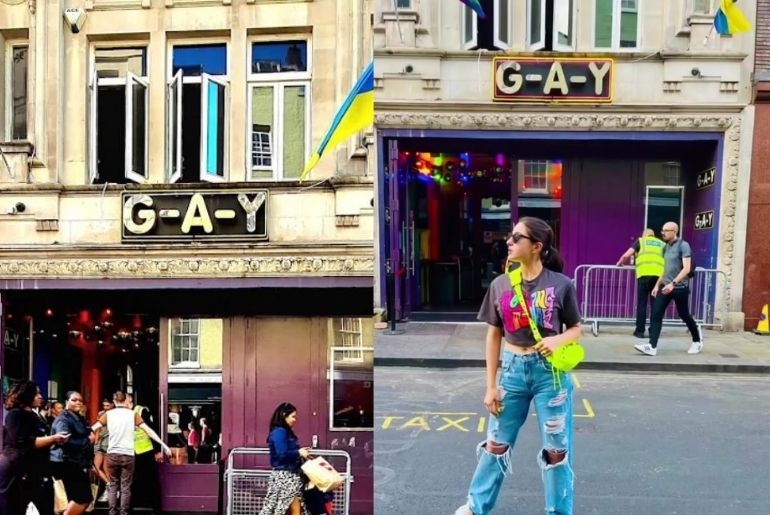 Also read: Karan Johar Dines In This Iconic Indian Restaurant In London, Spots Ranveer Singh And Alia Bhatt
View this post on Instagram