Makkah's Grand mosque is getting prepped for Iftar and how! In order to keep infections at bay and ensure the safety of worshippers, the mosque will be cleaned 10 times a day, using 60,000 liters of water. In addition, the venue will be equipped with 30 thermal cameras that will scan for signs of fever in the limited worshippers who enter the praises.
Also read: 7 Mosques In Oman So Timeless & Magnificent You Would Be Amazed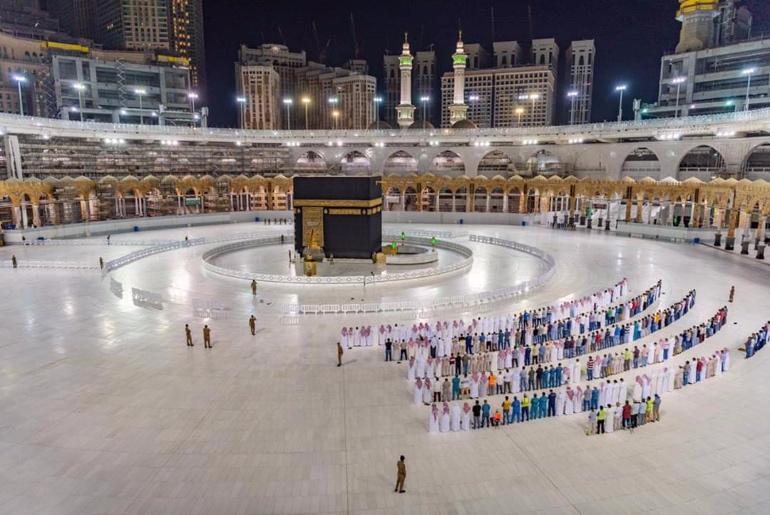 Ever since Umrah pilgrimages resumed in October after seven months, worshippers were urged to register on a government app, for daily prayers. Besides, social distancing and wearing masks will be mandatory for all visitors, the authorities said. People with disabilities will be allotted designated prayer areas, as well as ready-made iftar meals will be served to worshippers visiting the mosque for evening prayer.
In addition, worshippers will also be given the holy Zamzam water, which is widely consumed during the annual pilgrimage of Hajj, the smaller Umrah pilgrimage and during Ramadan. The kingdom of Saudi Arabia banned buffet dinners and Ramadan tents as part of precautions.
Also read: Saudi Arabia To Launch Record-Breaking Roller Coaster With Speed Of 249 Km Per Hr
Saudi Arabia Issues Permits For Iftar Meals During Ramadan
The Kingdom of Saudi issued permits to distribute iftar meals during Ramadan this year. The move comes as an effort to return to normal as prayers. Last year, the government had banned meal distribution in the Grand Mosque and residential spaces in the city, to curb the spread of Covid-19.
However, this year, the government announced that packaged food and hot meals can be distributed in neighborhoods, while dry meals can be distributed inside the Grand Mosque as well as residential neighbourhoods. Those who want to participate in the distribution campaign can apply for the permit through an online portal. Authorities would then select volunteers based on the number of applicants and plans for distribution.
Also read: Saudi Arabia Increases Hajj Visa Fee By Six Folds
Dubai Cancels Permissions For Ramadan Tents
On the other hand, with the pandemic still in place, residents and citizens in Dubai are expected to break their fasts at home, rather than with extended family or friends. The Islamic Affairs and Charitable Activities Department (IACAD) has announced that all Ramadan tent permits in Dubai will be cancelled this year.
Before the pandemic struck us, mosques across the UAE hosted larger gatherings throughout Ramadan with people coming together to break the fast and share iftar. However, amid the pandemic, the permissions for tents and gatherings were cancelled in 2020, and the same ban will apply for Ramadan this year as well.
A report in the Gulf News states that the IACAD will not be issuing permits for Ramadan tents outside mosques, homes and public places during Ramadan 2021. The order is issued by the authorities to limit the spread of the Covid-19 virus and prevent large gatherings.
The authorities have also advised citizens to avoid public gatherings during Ramadan. It further advises limiting family visits and avoid distributing and exchanging meals between homes and families. Besides this, iftar tents in public are banned this year.
Also read: Dubai Extends COVID-19 Precautionary Measures Until Start Of Ramadan
Guidelines For Iftar And Public Gatherings
One cannot distribute iftar meals in front of homes and mosques, and those who wish to do so must go through charitable organizations. For donations and charity- they must be made online and not in person. Restaurants cannot distribute iftar meals for those fasting inside or in front of the restaurants.