Finding a perfect stay at an affordable price is a major task. The process can get quite tedious and tricky while booking a budget-friendly property. There are many places in India where you can travel without a big hole in your pocket. And pocket-friendly accommodation and fare process helps a lot in making that successful. You do not have to spend a lot to travel to Pondicherry if you plan and sort out everything properly. Here's a list of 5 sea-view properties under ₹2500 in Pondicherry that you rent for a comfortable stay.
1. Soorya Beach Resort
Nestled near Auroville, Soorya Beach Resort is one of the most stunning sea-view properties under ₹2500. Located on a secluded white sand beach at Periya Mudaliar Chavadi, the view from this property is simply mesmerising. The views of the beach and the waves calm the visitors and make their stay relaxing. The most striking part is that it comes with a swimming pool too.
Also read: Live In This Quaint Bungalow In Pondicherry's Auroville For Just ₹1000 Per Night
2. Sea View Resort
Sea View Resort is one of the best sea-view properties under ₹2500 in Pondicherry. Nestled closer to the serenity, this property should be on your list if you want to experience a comfortable stay within budget. This property has 10 rooms and every room is decorated properly for comfort and spending days in between nature and its serenity.
View this post on Instagram
3. Purple Resorts
Purple Resorts is the best stay option if you want to stay closer to the tourist attractions. The resort is well known for its hospitality and how they work hard to ensure its guests have a good time. The Auroville Beach is just 3 km away from the stay. On top of that, this property has a beautiful garden restaurant that serves the yummiest international cuisine. To make you stay more comfortable, they offer spa services too.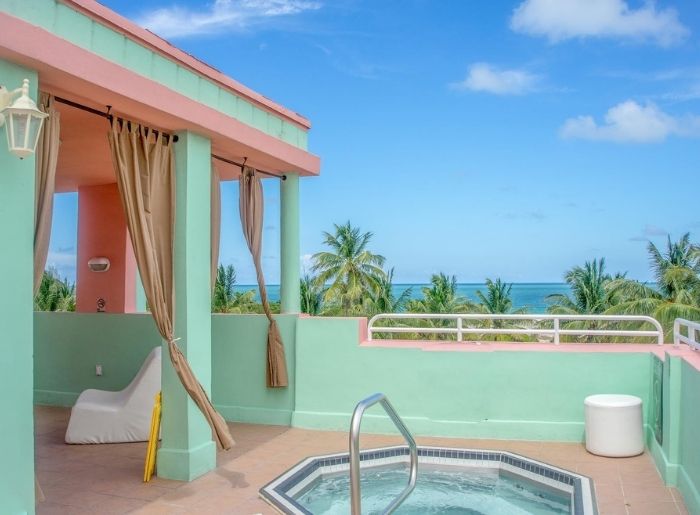 4. La Grrande Malar
La Graande Malar is the perfect stay in Pondicherry under ₹2500. Located a 7-minute walk from Promenade Beach, this property caters to all categories of guests; be it solo travellers or traveling in group. They have amenities like an in-house bar, airport transportation, conference facilities, banquet hall, and so much more to make your stay comfortable.
Also read: Pondicherry To Host 4-Day Beach Festival From April 13 That You Can't Miss
5. Ananda Inn
Ananda Inn is a great option if you are looking to rest a property in Pondicheery on a rigid budget. This property is located at the heart of the city, only 10 min walk away from the beach. This 4-star classified hotel is near to every transportation facility such as  7 km to Auroville- the international township,3 km to the railway station, and 4 km to the bus terminal. Also, historical touristy places like Mahabalipuram and Chidambaram are within a 1-hour drive distance.
Now that your stay for your Pondicherry trip is sorted to an extent, plan a trip ASAP and dive into the most beautiful beaches of the town.