[nextpage]
We heard the ladies share their solo experiences, now let's listen to these five very fine gentlemen!
1.  Abhinav Chandel, Itinerary planner & Travel blogger
Statutory Warning: His Twitter feed will compel you to pack your bags and follow his footsteps!
Abhinav's avid Twitter followers know him as that guy who tweets frame-worthy photographs from his trips. These are pictures that illustrate a familiar place in a different light.
He left for the mountains in Mcleodganj in 2013 and has been staying there ever since. This April, he will be completing three years of living in the mountains.
While travelling came to him naturally, he only actually began his journey to quench his wanderlust 4.5 years ago. His first solo journey began in 2012 and he hasn't looked back ever since.
He recommends solo travel as he believes it gives you a first-hand experience of life and makes you a better person.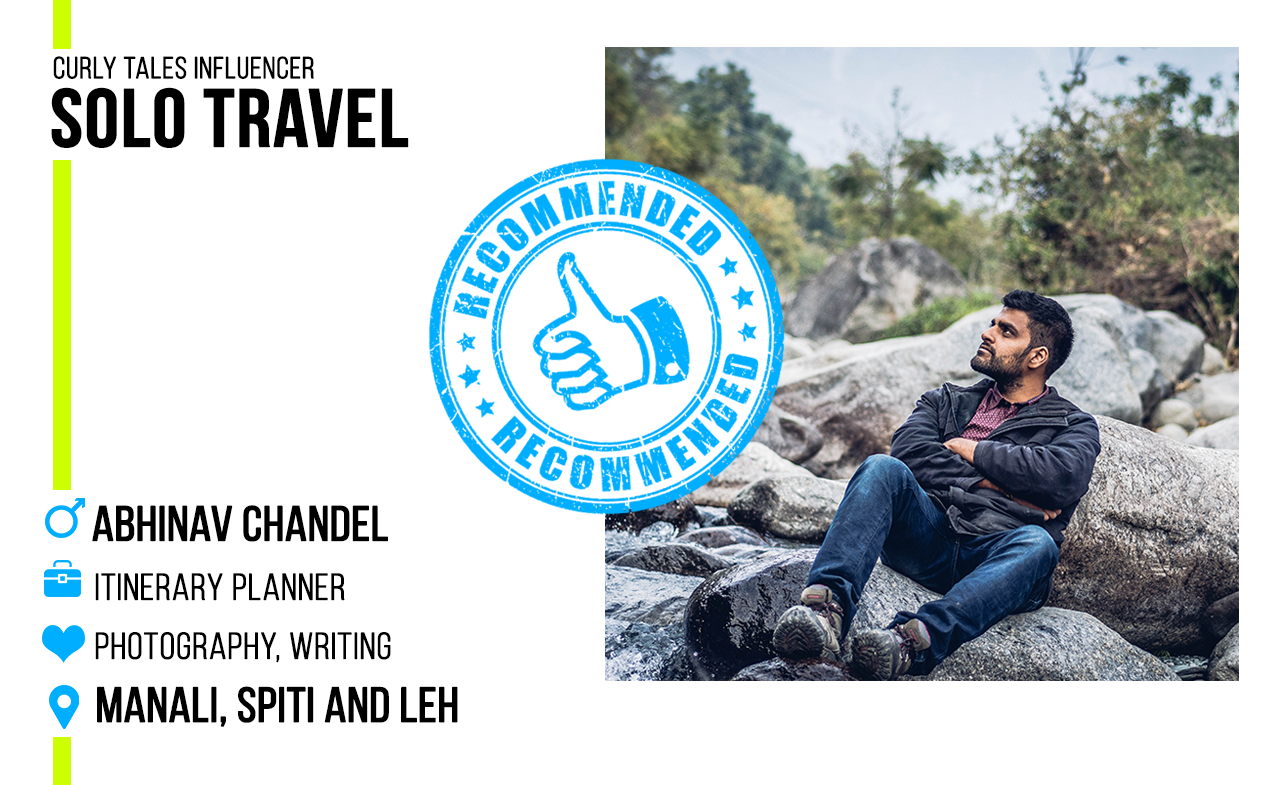 I once travelled to Ladakh with just Rs. 1700 in my pocket, and while it was quite an adventurous journey, I had a bad case of high altitude sickness while travelling to Keylong – Leh. We didn't have water or medicines and I had to struggle through it. It was quite horrifying, and I actually thought that I might not be able to make it.
Life Hack: Get better with your directions, it'll save your life sometimes. Learn how to spot North-South-East-West using the location of Sun/Moon/Stars. Or carry a compass.
Are you single and wondering how to cope amidst couples this Valentine's Day? Stay tuned, I will be back with Abhinav's inspiring story on loneliness.
[/nextpage]
[nextpage]
2. Ameya Kolambekar, Marketing Professional
Disclaimer: DO NOT open his Instagram feed unless you have finished your work
Meet Ameya, he currently leads the marketing team at Bill Bachao – an Online Bill Recharge & Payment mobile app.
When not planning his next big idea, this trek enthusiast travels to feed his soul. His highly active Instagram feed fills us with wanderlust – 90% of which includes solo travel.
Popular as @northstalgia on Instagram, Ameya does have a very interesting story behind his handle and you can read about it here.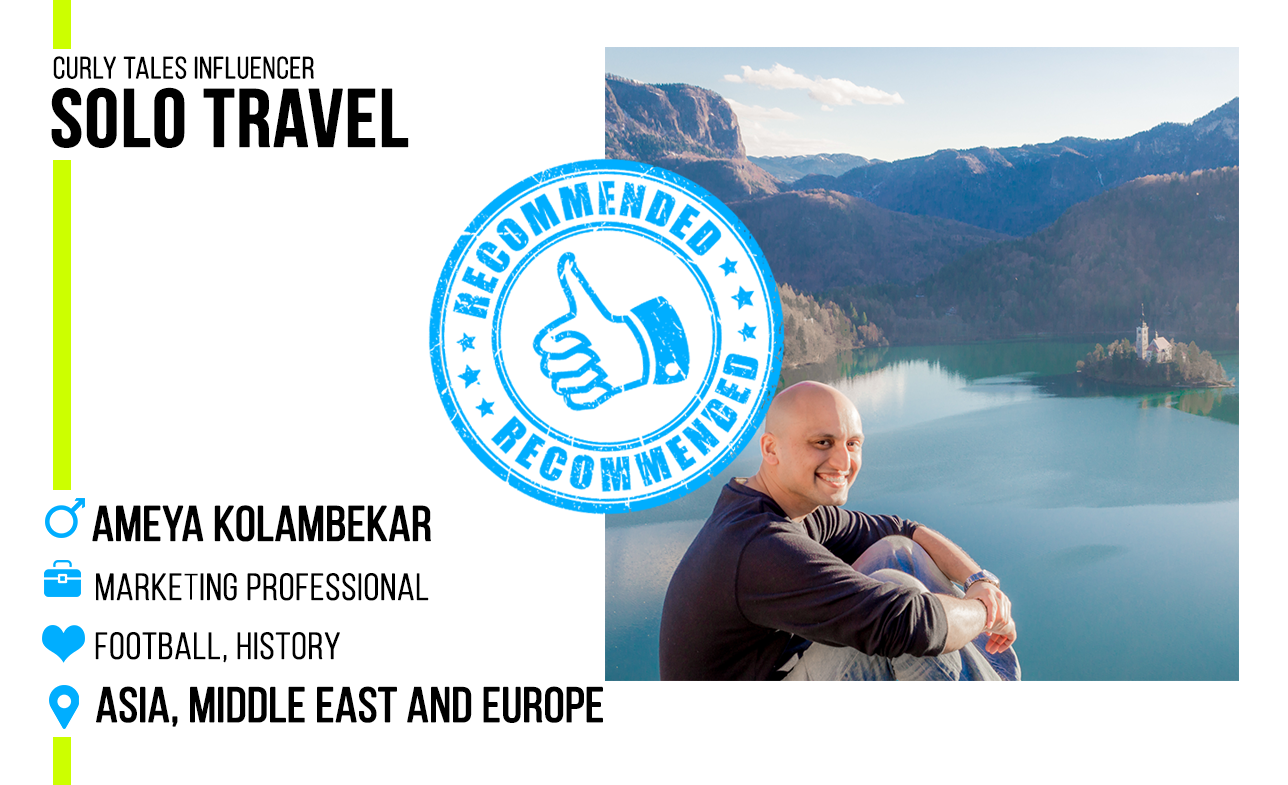 Bad experiences make great stories. Spent some time in a lock up in Bahrain, got picked up by cops in Austria for hitchhiking illegally, got dangerously lost in the jungles of Cambodia at night. But they were all a result of my wrongdoing or stupidity so they aren't bad (experiences) at all.
Life Hack: Start young! You simply can't be in a denial that things will always remain the same because they won't.
34 countries & unique experiences, the man with the compass tattoo is a man with interesting stories. Don't go anywhere, I will be back with his interview soon!
[/nextpage]
[nextpage]
3. Utsav Mamoria,  Insight Consultant
QUICK QUESTION: When was the last time you received a handwritten note from someone? Utsav's friends get a postcard from him each time he goes on a trip with a personalised handwritten message behind it! How lovely is that?!
I will yearn to be a Livsnjutare – One who loves life deeply and lives it to the extreme. Carpe Diem!
Witty, humorous and highly engaging is how I would describe my first conversation with this dude. Apart from getting paid to observe and understand human behaviour (he is an Insight Consultant), this man shares my passion when it comes to travelling.
As a matter of fact, he plans his trips in advance (he has already planned this year's itinerary!) and is already booked out until October: Long Weekend in Kerala (March), Tanzania/ Uzbekistan (August), and Switzerland (October). This is precisely why I was puzzled when I asked him if he recommended solo travel and he said he doesn't.
"Solo Travel is great, but I would not recommend it to everyone, " he admits. Why? Not because of the practical aspects of solo travelling, but of the less spoken emotional and mental effects of it. Read more about it here.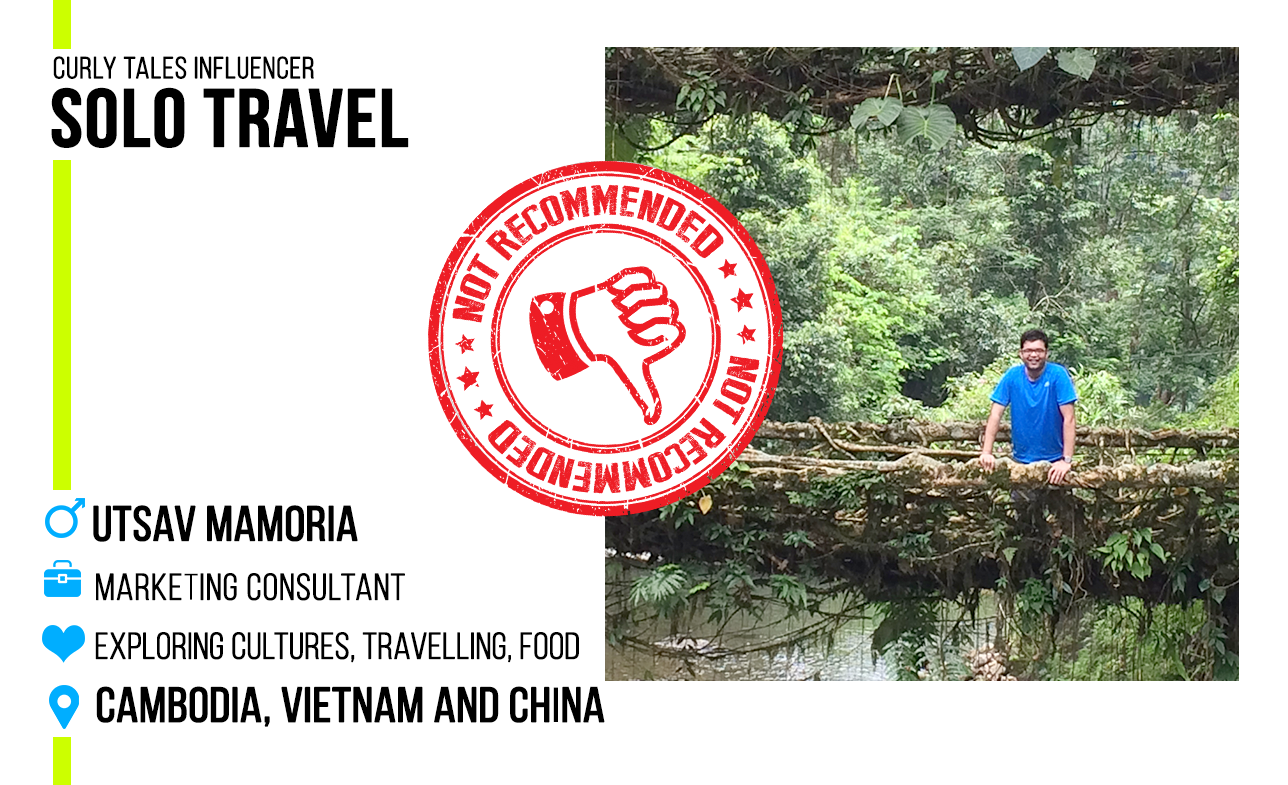 My absolute high point was this Argentina trip. I got stuck in a snowstorm while hiking Aconcagua — Confluencia — a day trek to the base camp of the highest mountain in the Andes. We were only prepared for a summer trek, got hit by bad weather, escaped charging mules, emerged battered and tired saved by the heroics of our mountain guide. As I was back on the bus to Mendoza, my feet were killing me, my head was hurting, my muscles were screaming murder in a few hours and my hands were swollen. As I felt the cold seep right down to my bone, from the deepest recesses of my heart emanated a warmth appreciating the beauty of nature, the pleasures of companionship and an unrelenting belief in the goodness of humanity.
Pro-tip: Book cheap tickets and pack light (I typically pack between 5-6 kgs).
Utsav reveals his hacks on travelling cheap and shares more pro-tips in his next story. Don't go anywhere!
[/nextpage]
[nextpage]
4. Subhkirti Sinha, Media Professional
Staff writer at TVF by the day and a tale spinner by the evening, Subh's exceptional culinary skills fill the void your stomach experiences after a high-energy laugh work-out.
Subhlu as we fondly address him is a story-teller whose travel tales instantly transpose you to the place he travelled and makes you experience it as if it were happening to you.
When he isn't travelling, he's busy making (funny) videos and gets paid for it too! Follow his travel trails here.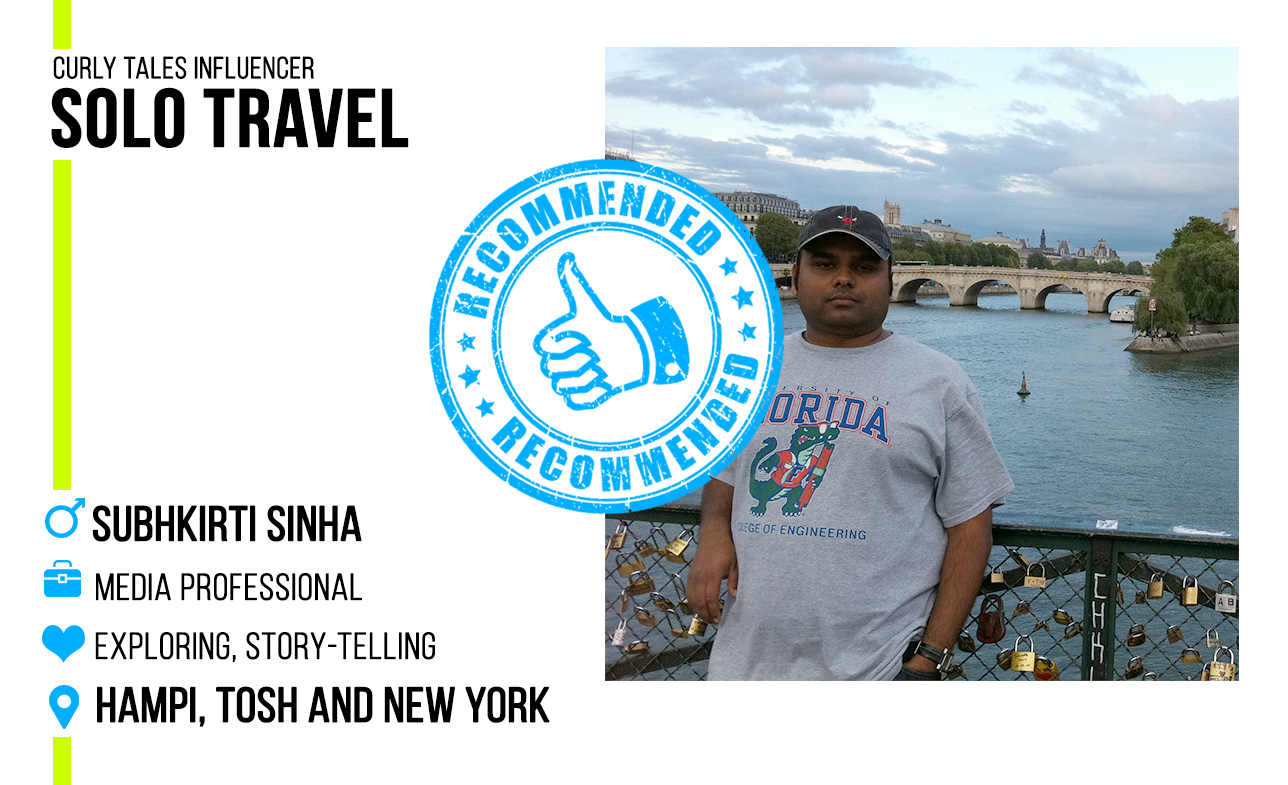 I was on a beach in Zandvoort and I saw a family of 4. Mother, Father, a teenager and a toddler. I was watching the sunset on the beach. However, I noticed that the teenager was clicking the pictures of everything around her. She seemed pretty detached from the moment that was right in front of her eyes. Instead, she was watching the world through a 5 inches screen with probably a shitty instagram filter. The toddler on the other hand was enjoying like crazy. She was playing with the sand, running, crying, screaming in joy, and falling over. It was in that moment that I realised how we get consumed by some many things around us when we grow up.
Pro-tip: Try talking to strangers. Strike up a conversation.
Subh's Amsterdam escapade was his first solo trip ever and I will be telling you all about it uncensored in my next story about him. In the meanwhile, tell me your idea of freedom and solo travelling in Amsterdam!
[/nextpage]
[nextpage]
5. Rahul Shankhwar, Product Manager
I have always fantasised owning a bike and going on a road trip, meeting new people, visiting unheard places, trying different flavours or experiencing diverse cultures. And this is exactly why I was very envious of Rahul when I interviewed him. He has been doing this and more.
Rahul's first motorcycle ride was a 140 km ride from Chennai to Vellore. At 27, he upgraded to a bigger bike and his rides only got longer! Read his motorcycle stories here.
Rahul has visited nearly 25-30 places, a majority of which was covered riding a bike. He sometimes squeezes in multiple places in one trip. The longest one of which, was a 12-day solo ride to Leh in September 2015.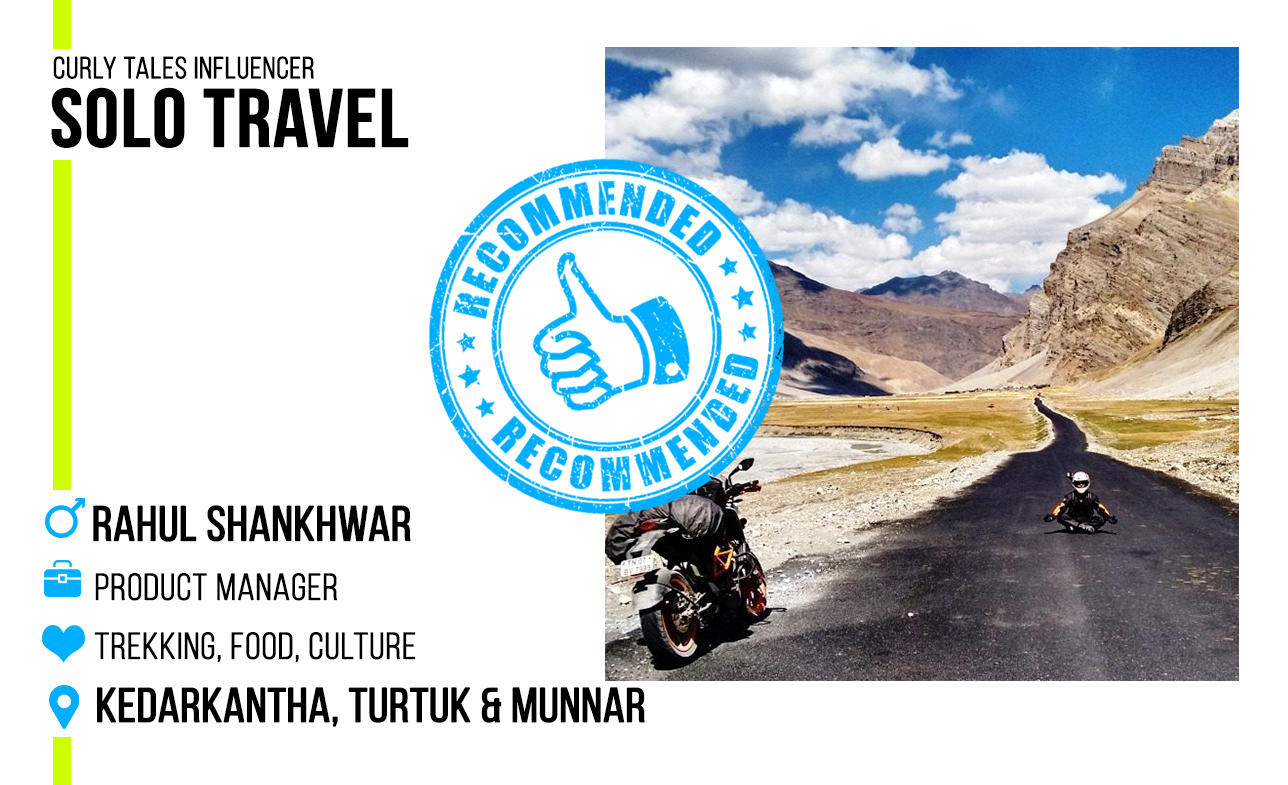 While returning from Pangong Lake to Leh, I was stuck in a bad snowstorm with other riders. As we road along the way towards Chang La pass the bikes stopped and refused to move on the slippery layer of ice. At about 14,500 ft, the lack of oxygen already made it difficult to breath. And to lift your fallen bike was not an easy task in such a situation. I had to take the help of a JCB loader to pull me out of the difficult stretch of the pass to a comparatively less icy road, on which my bike could get some traction to continue riding. Apart from this one incident, I have never face any problems whatsoever.
Biker Hack: Be respectful to the people and places you travel to. In return, you will gain their trust.
 Are you tempted to go backpacking? Which of these men inspired you the most?
LIKE Curly Tales on Facebook | Instagram | Twitter
You can subscribe to our newsletters.