Dussehra, on the last day of Navratri, marks the victory of Lord Rama over Ravana. And to celebrate Rama's triumph, people gather to burn effigies of Ravana at the end of Navaratri every year together. People also burn effigies of Kumbhkarn and Meghnad along with the man-made Ravana model. This year Salt Lake Sanskritik Sansad & Sanmarg is organising the celebration of good over evil and it is going to be the grandest!
Sourav Ganguly To Burn The Ravana Effigy This Dussehra
Salt Lake Sanskritik Sansad & Sanmarg is going to celebrate Dussehra in all pomp and glory as always! They make sure to burn the tallest Ravana in Kolkata during Dussehra. They are organising a massive event to burn a 50-feet-tall effigy of Ravana this year. And the models of Kumbhkarn and Meghnad are of a height of 40 feet. The chief guest of this grand Dussehra is the pride of West Bengal, Sourav Ganguly. He will burn the Ravana effigy in Central Park.
Also read: All You Need To Know About Mysuru's Dasara Aahara Mela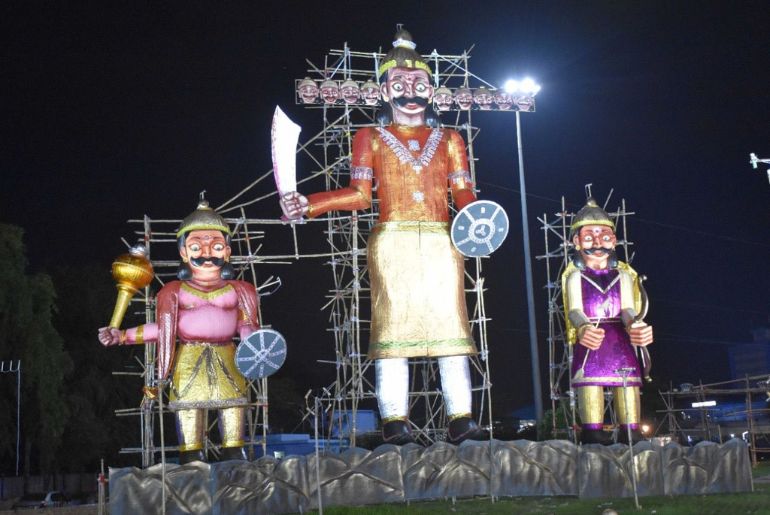 Here Are Some Details Of The Mega Event!
Pradeep Todi is the President of Salt Lake Sanskritik Sansad and he shared the news of Dada being the chief guest. He shared many details about the celebrations and we are here to share everything with you. Pradeep Todi said that the committee organised unique arrangements to celebrate the day. Along with burning the humongous effigies, they are going to conduct a fire show as well. All these arrangements are to celebrate the victory of good over evil.
Lalit Beriwala is the Margdarshak of Salt Lake Sanskritik Sansad & Sanmarg and he also shared some interesting facts about the celebrations here. This is the 10th year of celebrating Dussehra here. This is also the biggest event in East India. He added that they are conducting some cultural programmes where many artists and performers are coming to the event. In fact, they are working to perform some rituals before burning the Ravana effigy amidst an expected crowd of over 25,000.
Also read: 5 Different Ways Navratri Is Celebrated In Different Parts Of India
After the celebration of Durga Puja from Prothoma to Navami, people celebrate Dussehra in Kolkata to enjoy different festivities among the people of West Bengal and provide more to the state's culture and traditions. What are your plans for Dussehra this year?