With so many travel destinations to choose from in India, the best way to pick your next pit stop is by following the gorgeous accommodations. Remember that the place you choose to stay can make or break your trip. To help you curate your 2021 travel plan, we got you the list of some of the most breathtakingly beautiful Airbnbs from around the country. We could've spent days exploring through all the unique homes, but we were able to narrow down seven standouts in India. Read on:
1. The Chalet, Kausali
Perched at the height of 1,800m, it lies 65 km away from Chandigarh, Kausali was initially established as a British colonial hill station. Escape to the Chalet in Kasauli for a leisurely reprieve in the woods. While the stay offers many facilities, the obvious highlight is the beautiful balcony with an astoundingly brilliant view. You Can Soon Enjoy A Sky Dining Experience In Chandigarh & Savour Your Meals Mid-Air.
Tariff: Starting from ₹4,500 per night
2. WoodyVu Stok House, Leh
To make the most of the dreamy landscapes of Leh, book your stay in the archaic wooden house. It offers a 360-degree uninterrupted view of the Leh Valley and is a perfect blend of vintage entwined with modern amenities. If you want to escape the hustle and bustle of city life head to this quaint house, and fall in love with the simple aesthetic! 
Tariff: Starting from ₹6,000 per night
3. Loktak Aquamarine Floating Homestay & Campsite, Manipur
Manipur's Loktak Lake is one of the most exquisite travel destinations of Northeast India. The lake boasts of floating school, post-office, homes and much more. Suppose you want to live in the floating houses of Loktak Lake and spend your nights under the starry skies, book Loktak Aquamarine. Here you can try your hands at fishing or enjoy the murmur of nature. 
Tariff: Starting from  ₹1,200 per night
Also read: I Lived In The Floating Huts Of Manipur's Loktak Lake & It Was An Out-Of-The-World Experience
4. Maharaja's Castle, Rajasthan
Do you fancy living like the Maharajas? Then book this castle in Rajasthan and live like a king. The court is nestled amidst the jungle in Aravali Hills where you can experience all the royal aesthetics infused with modern wonders. What's more, the castle boasts of a private lake, and bustling wildlife giving you an experience of a lifetime.
Tariff: Starting from ₹22,824 per night
5. Quinta Da Santana, Goa
There are many unique places to stay in Goa but none like this villa nestled amid hills, valleys and springs. With modern and traditional facilities, it promises a relaxing and rejuvenating holiday. The show stopper here is the beautiful swimming pool filled with natural spring water amid serene environment. Also, Chill In An Outdoor Jacuzzi & Enjoy Stunning Sea Views In This Charming Resort in Goa.
Tariff: Starting from ₹3150 per night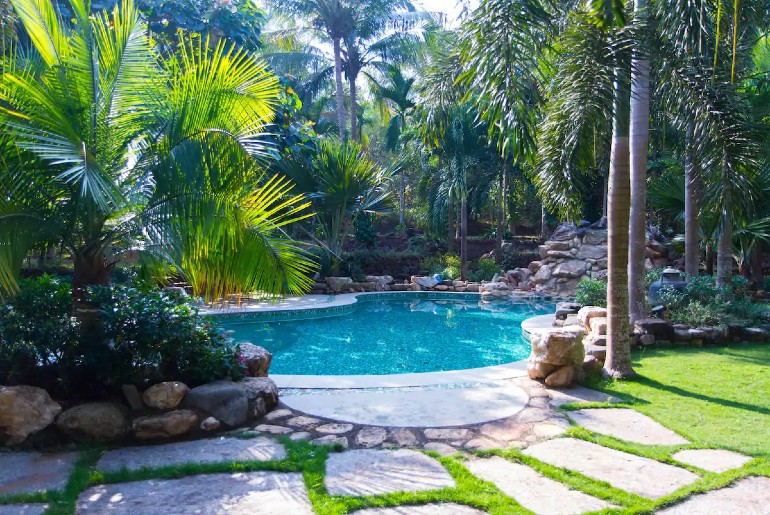 6. La Belle Vie, Nainital
Are you heading to Nainital? Then spend your vacation in the beautiful La Belle Vie just 100 metres away from the astounding Naukuchiatal Lake. Made with natural stone and reclaimed wood, the house gives you an authentic feel. You can cook your food here, but if one seeks only leisure, 
Tariff: Starting from ₹19,571 per night
7. Rosie's Retreat, Udaipur
Ditch the overpriced five-star properties and stay in this house overlooking Lake Pichola in the heart of Udaipur. It's a two-floor apartment tastefully refurbished with all modern facilities and traditional antiques. The conventional bamboo ceilings keep the room cool in summer and warm in winter. The place also has a fully equipped kitchen for you to cook. Here are 5 Palatial Hotels In Udaipur You Can Book Starting From Under ₹2000.
Tariff: Starting from ₹3830 per night
Let 2021 be your most memorable year full of travel and gorgeous stays.