Dinner on the ground is so 2015. It is time to take your dining experience up a notch and enjoy your meals up in the sky. But if you could never reach Bangalore, Agra or Goa to experience this unique diving experience, now you can do it in Chandigarh. Sky dining is soon going to be a reality in Chandigarh where you can combine your meals with adventure. Excited? We cannot wait for it too!
Also read: Dine 160 Feet Up In The Air At Goa's Sky Dining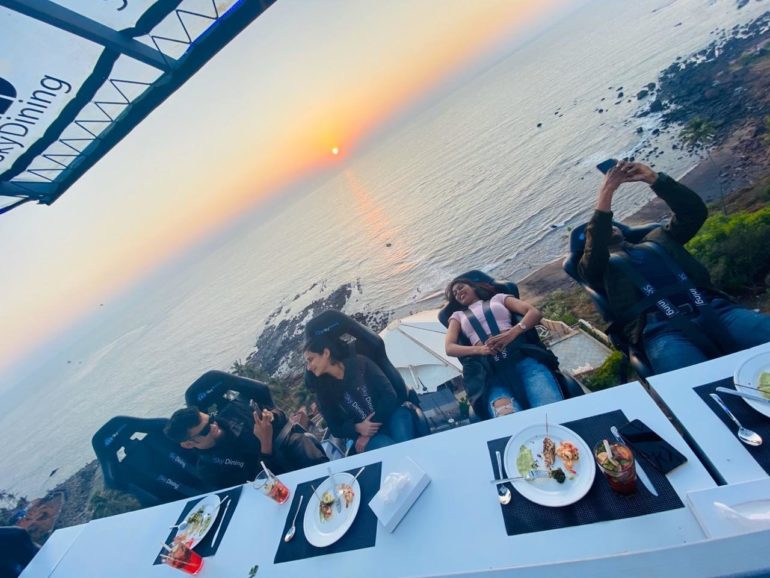 Hanging Restaurant To Accommodate 24 Guests
The UT Administration is looking to open a restaurant at a height of 165 feet. It will have a capacity of 24 guests at any given time, and the restaurant will hang at the height of 165 ft from a crane. The sky dining project will provide a boost to the tourism sector in the city. Dine In The Sky At Fly Dining Agra With 20% Off On A 3-Course Meal.
Location Yet To Be Finalised
While the location is still not finalised, they have identified many places for the project, namely the Sukhna Lake, Kaimbwala village and Leisure Valley. However, the Forest Department objected with the sites at Sukhna Lake and Kaimbwala. The terms and conditions of the hanging restaurant and the site would be talked about in a meeting soon. Travelling From Delhi To Chandigarh In Just 2 Hours Will Become A Reality By 2023.
Visitors Will Take 90 Seconds To Reach The Peak
The hanging restaurant would give a new experience to the people in the city. Visitors would take around 90 seconds to reach the peak. The safety and security will be top-notch given that visitors would stay mid-air for almost 40 minutes. The price of the experience is yet to be finalised, and it could range from anything between ₹2,500 to ₹4,000. 
All the concept is awaiting is a green signal from the government. But we still have so many questions. How do you go to the bathroom? What if you spill over the table? Only a visit to the restaurant can probably answer our questions.