Do you think that binge-eating for an entire day in a luxurious mall is a costly affair? What if we say that there is a shopping mall in Kolkata where you can eat for the whole day within a budget of less than ₹1000? You just got to pick the right places and the right dishes. Guys, it's tried and tasted. Roughly 30 minutes drive from the Kolkata Airport Gate no.1 bus stop, on Madhyamgram's Jessore Road, lies the enormous Star Mall. Not many people in Kolkata know about this place, as it is a bit off the main city. However, the food scene here is drop-dead crazy.
The mall offers oodles of drool-worthy food options at prices that will make you gasp in wonder. Believe it or not, filter coffee at a lavish food joint in the food court at this mall comes at only ₹30. Below I am unveiling some delicious dishes that I have gorged on at Star Mall, without hurting my pocket much:
1. Instaworthy Chocolatey Waffles At Wafflewich @₹100
This is my favourite grub spot in Star Mall, thanks to its utterly delectable waffles. In fact, they serve some of the best waffles in the whole of Kolkata. I had all my heart for the Dark Chocolate Waffle here, which was large and aromatic with dollops of chocolate syrup on it. Their Nutella Waffle is equally awesome. And these delish treats come at just ₹100.
View this post on Instagram
The place also serves scrummy Waffle Sandwiches. I also love the Booster Drinks at Wafflewich, which are served in inverted bulb-like glasses. And they come at ₹60. You can also try tea and coffee out here by shelling out ₹40. The stall is right opposite the escalator, on the mall's 3rd floor.
2. Creamy Coffee And Snacks Combos At Coffee World At @₹99
From cheese loaded fries, heavenly grilled sandwiches, creamy hot coffees and hot chocolates to fried ice-creams, iced frappes, monster shakes and burgers, Coffee World has got myriad options to pamper the foodie in me. What excites me most about the place is its insanely amazing ₹99 combos.
The ₹99 combo I tried last time included a burger, french fries and a cold coffee. The shop is located in the food court, just at the entry, on the 4th floor of the mall.
3. Jumbo Channa Bhatura At Masala Kitchen @₹135
When I first saw the price of the Channa Bhatura at Masala Kitchen, I thought, "Okay, this one is pricy." I am used to eating the dish on the Delhi streets at ₹30. So, the bread being priced above ₹100 felt expensive to me at first. But anyhow I ordered it, as I was missing authentic Channa Bhatura for long. And then, when it was actually served, I was bowled over by seeing the size of the poori. Oh boy! It was huge. At ₹135, it was a steal deal. I kept wondering if I could complete it alone.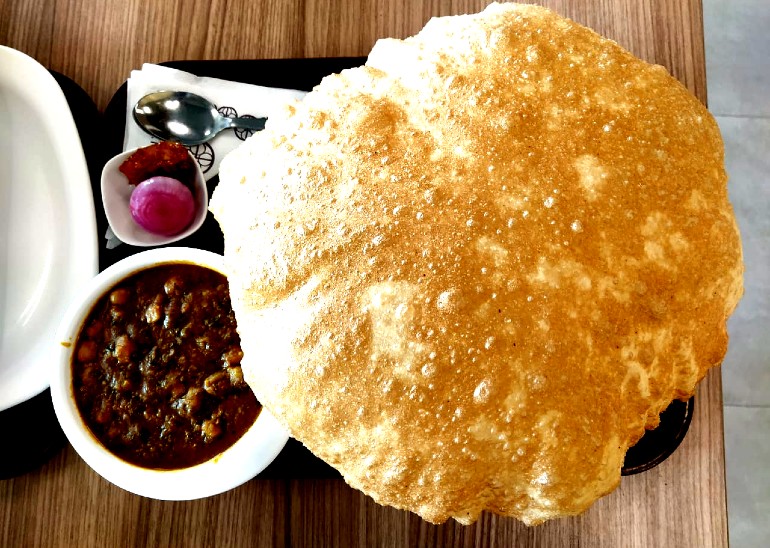 That single dish had filled up every bit of my tummy. The chola curry served with it was succulent and zesty. If you're missing North Indian food in Kolkata, you can head straight to Masala Kitchen to try them out at affordable prices.
Also Read: I Had A Hearty & Filling English Breakfast At Just ₹180 At This Bollywood Themed Cafe In Kolkata
4. Super Long Plain Dosa At Desi Streat @₹110
If you're still not over the jumbo Channa Bhatura, get ready to have a OMG overload, as I am about unveil a jumbo dosa too. And guess what? We had ordered both the jumbo dishes together. We couldn't guess their quantities of course. Both the dishes had arrived together and our table was food-packed to the hilt.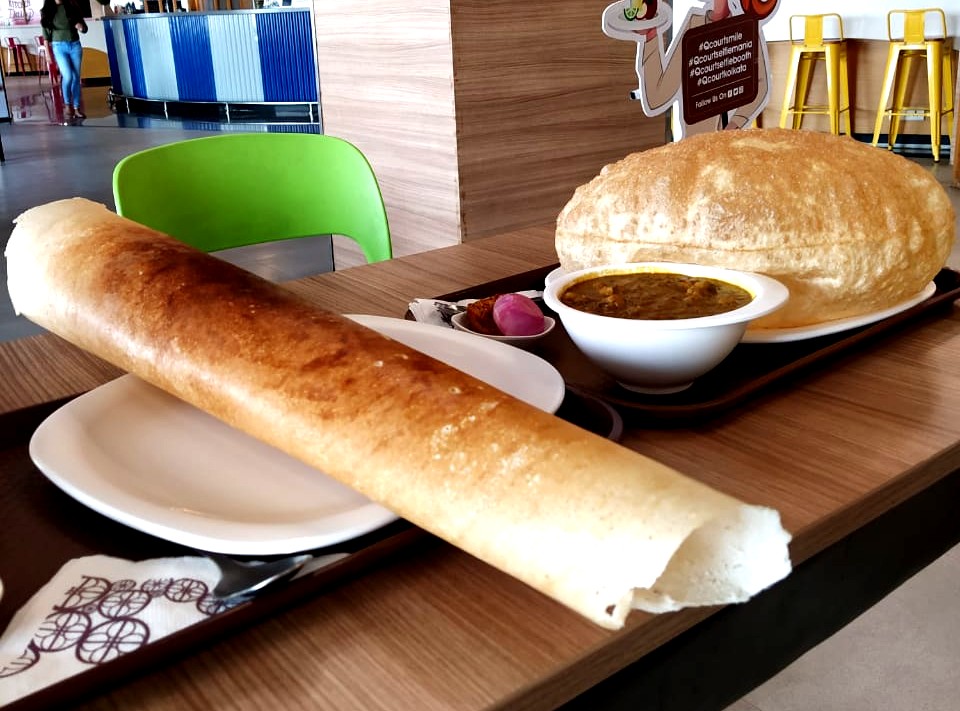 Also Read: Friends Of Pho In Kolkata Makes Colourful, Highly Exotic Dimsums That You Won't Find Elsewhere
5. Dining With An Ambience At HakkaLand @₹700 For Two Peeps
Want to dine out amid an elegant ambience without shelling out too much? Star Mall has an option for that too. HakkaLand, on the 5th floor of the mall, dishes out a wide variety of Indian and Pan Asian dishes like momo, bao, Kung Pao, sizzlers, Asian Biryani, fried rice and more. 3 pieces of Oyster BBQ Cottage Cheese Bao come at only ₹199 here.
Also Read: Kolkata Has A New, Pet-Friendly Cafe Hugo & Finn That Offers Scrumptious Food & Pleasing Aesthetics
So, if you want to save money as well as have the experience of eating out at a swanky place, Star Mall has to be your go-to place.
Address | 74, Star mall, NH34, Jessore Rd, Sisir Kunja, Madhyamgram, Barasat, West Bengal 700129