The legendary Australian fast bowler, Glenn McGrath graced this episode of Sunday Brunch with our Chief Editor, Kamiya Jani. The Aussie fast-bowler and Kamiya Jani went on Mumbai Darshan, ate delicious brunch at one of Mumbai's oldest restaurants, Olympia, went on a BEST bus ride and strolled down Marine Drive. Catch this interesting interview with Glenn McGrath below.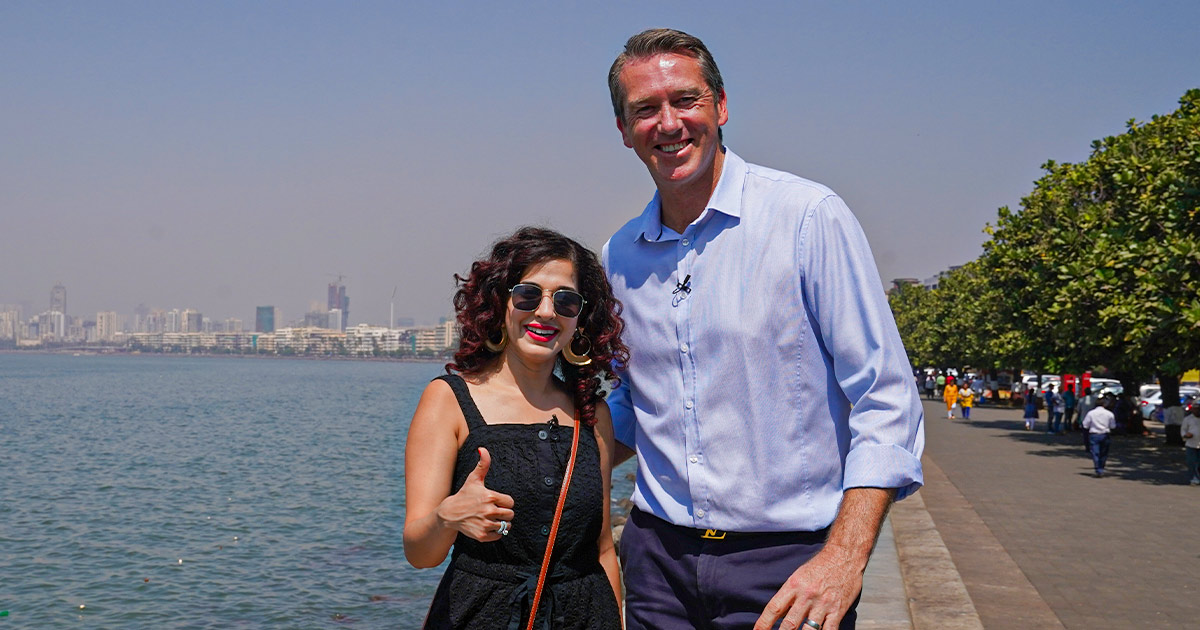 Kamiya Jani (KJ): Hello Glenn! Welcome to Sunday Brunch, tell us what brings you to India? 
Glenn McGrath(GM): I'm just here for a couple of days doing some stuff for Tourism Australia. The bushfires are all out, we are open for business and we're inviting Indians to come to experience Australia.
KJ: We will know all about Australia in a little while. For now, I want to ask you how was your first trip to Australia like? What was your perception when you first landed in India? 
GM: I got off the plane to land in India in 1992. Everything was different and a contrast to what we had back home in Australia. But it was an amazing experience and I think I have been every year, at least once a year since then. So it's like a second home for me.
KJ: You know, Glenn your sweet rivalry with Sachin Tendulkar is world-famous. How is it now when you meet him?
GM: We've always got on really well. it was tough and hot in the middle, the way it should be. I got him out a couple of times, he scored some hundreds again also. But now when we catch up we are good mates.
KJ: So who is your current favourite cricketer from India? 
GM: I love all the bowlers from India, they are the best. They are better than the batsmen like Jaspreet Bumrah. I like the way he goes about it, he's got a good attitude, I would say he is good.
KJ: And what about your all-time favourite cricketer from India? 
GM: Well, Sachin's up there, Rahul Dravid, Venkatesh Prasad those guys are quite a few good mates.
KJ: Do you miss being on the field? 
GM: No, I'm happily retired, it has been nearly 13 years now since I finished playing for Australia, so I haven't missed it so much. You know when you go out there in front of a big crowd its an incredible feeling and you can't really replicate that in anything you do in life, so that's the one little bit that I miss.
KJ: Well who do you think will make it to the finals of the ICC Women's T20 World Cup? 
GM: I don't want to talk too much about that. There was a tri-series before where Australia beat India in the finals so it's about one-all at the moment. So you don't want to pick at the start of the tournament. My hope is that Australia continues to prove to continue and make it to the final and India makes it to the finals, that would be the perfect game.
KJ: India vs Pakistan, we all take leave, sit at home and watch TV. Is there a particular match that you love watching?
GM: What's similar is Australia vs England, the old enemy but it's not with the same passion and energy that India vs Pakistan is. I remember I went to a match in Adelaide last, during the one-day world cup and there was just noise and energy, and it was incredible. I have never experienced something like that back home in Australia.
KJ: Has your family come to India before? 
GM: Yes, I spend at least 6 weeks a year in India. I come with my wife, she loves it. My children have come over here before and travelled around. But they've just moved out of home, my elder children, and I also have a little four-year-old daughter, she loves coming over here. She said she has got a little boyfriend over in India, but I have told her she is not allowed to have a boyfriend.
KJ: Let's see your negotiation skills shopping at Colaba. 
GM: I will see how we go. My wife's a talent, she negotiates and barters a lot better than I do, but let's see how we go.
KJ: Has she told you to bring anything for her from India? 
GM: No, I don't think she trusts my fashion sense.
KJ: What's your height Glenn?
GM: Only about 6.5 to 6.6 feet, just fairly average height. It's hard to hide in a crowd, especially over here.
KJ: Are you okay trying sugarcane juice and all these things?
GM: I'm okay with all this like I said, I have been here for the last 18 to 25 years. I have eaten here a lot of times so my stomach is used to anything.
KJ: Most foreigners think Indian food is very spicy, what about your palette? 
GM: I used to think Indian food is very spicy. I still think its spicy, but not as bad. I don't mind a little bit of spice now but not too much.
KJ: So how is breakfast in Australia? 
GM: It's probably very English. I grew up on a farm so we'd start with cereal, maybe porridge and then some eggs, bacon and things like that, so to me, breakfast is the most important meal in the day. So I hate missing breakfast.
KJ: Tell me something, if I ever came to Australia what is the dish you'd like me to try and where?
GM: I wouldn't want you to eat the food that I grew up eating cause it will be far too plain for you. But in Australia we have food from everywhere in the world, so once a week, we'd have Sushi or Chinese, Thai, Greek any food you want. But to me, Australia has the best seafood like fresh lobsters, prawn, fish, you name it. It's definitely seafood.
KJ: Given that you come to India so often, is there anything you know in Hindi?
GM: Not too much. It's the usual like 'Namaste', 'Shukriya', 'Thanda Paani' and things like that. And if we are in the car then its 'Chalo Jaldi Jaldi!'. I think everyone learns 'Jaldi Jaldi'.
KJ: Do you like travelling Glenn? 
GM: Yes, I love travelling. I think Australia is an amazing country. We have everything from deserts, rainforest, great barrier reefs, amazing cities, amazing food, natural life, you name it, and its good everything. I also love travelling out of the country, coming here to India. I love going to Africa and I like getting out and experiencing other cultures, other people, other foods, I think that's what life is all about.
KJ: Have you travelled alot in India as well? 
GM: I played quite a bit of cricket in India and I have travelled to different cities with the Australian team, and I even played for Delhi Daredevils in the IPL. But now I am coaching here at the MRF foundation for 7 to 8 years now, and I have been around a little bit. I have brought my elder two children here before my youngest was born. And we went to Delhi, Agra, Jaipur, Udaipur and I think that was amazing. I loved the Taj Mahal. I think that's something amazing and very special.
KJ: Do you have a favourite place in India? 
GM: Chennai is like a second home, as I spend so much time there. But India is so vast and has so many different cultures, languages and people, it's an incredible experience.
KJ: And what about Australia, where would you recommend me to go if I visit Australia again?
GM: Sydney, Melbourne are the two major cities, they are incredible. They have so much to offer and they are so different as well. Melbourne has great food, culture, art and everything out there.
KJ: I believe you're also learning how to fly, is that true?
GM: Yes! I have nearly finished my helicopter lessons. It's something I have always wanted to do, so I would love to finish that this year. And I might go fly down myself.
KJ: What about adventure sports? How much of an adventure junkie are you?
GM: I quite enjoy it. For my 40th birthday, we went skydiving. I was tandem, I thought it was a little boring. When we were in New Zealand, we did sky jump, where you jump off a tower. It wasn't too bad but I haven't bungee jumped yet. It's something I would like to do.
KJ: I heard Australia is known for its adventure sports, especially diving at the barrier reef, have you done that? 
GM: Yes, I have done that. I got my scuba diving ticket and I enjoy free-diving. Just the freedom of you diving down and you sit there and it's so quiet. And that's what I love. But I am a country boy, born and brought up on a bush in Australia on a farm. I never felt I belonged in a city, I always felt I needed to get out to recharge my battery, and get out to the water, get up in the water. So you got to get out and explore life out there.
KJ: Since you have been a cricketer, you got to travel a lot. So have you kept a count of the countries you have travelled to? 
GM: Ya I'd say that number would be into the 30s. In the West Indies, every little island is another country, so probably that number would be in the 40s. that's what it's like.
KJ: Do you have any favourite country or anything on your bucket list?
GM: I would love to visit every country, but that's a big ask. I would love to spend a bit more time in Portugal and South Africa.