As lockdown restrictions ease, Dubai is taking baby steps towards resuming a normal life. Bars and restaurants in the city are having to resort to a new normal- what promises to be a very different approach in the F&B landscape. According to The National Restaurant Association, the restaurant industry estimates a loss worth $225B due to the pandemic. Dine-in restaurants in UAE alone have seen an 80% drop.
So, what's the way forward? Are restaurants in the city coping after the restrictions eased? Are businesses crawling back to normal?
CT Dubai spoke to a few leaders from the F&B business to find out what the future looks like.
Before The Pandemic
Before the outbreak of Covid 19, UAE was the proud leader of the food and beverage industry. Dubai has more restaurants and cafes than New York and owners expected steady growth in the near term, according to 2018 analysis by KPMG. However, an April survey of 1,500 restaurants revealed that owners believe sales will be 40 percent or less than what they had expected.
Has Reopening Helped Boost Business?
Although restaurants in the city are slowly opening up, most of them we hear, run on loss due to the precautionary restrictions. The capacity for diners is reduced to 30% and that has caused a significant hit in business.
"Dubai has reopened a lot of places but the situation is pretty much the same for restaurants. People are not fully convinced that it is safe to step out. Besides, the 'reduced capacity' rule is not cushioning the hit businesses took in the past months. We are, in fact losing now, then when we were closed. We have to pay the rent, utilities, as well as keep business up and running. This is an extremely tough situation for restaurant business", said Cassim, General Manager of Grill Shack.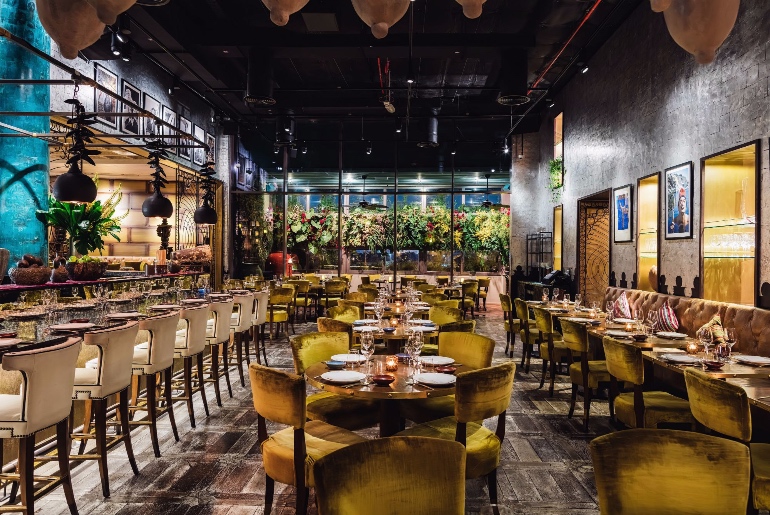 On the other hand, for many F&B owners, it's not the safety guidelines that are proving a problem- it's the rents that are in question. Paying up monthly rents, rental advance, marketing fees, chilled water charges, without fees and deposit is one of the catalysts of an unsustainable business.
"Landlords aren't considering rent reduction. Ever the cheques are not put on hold. There is no deferral and liability will accumulate. Some landlords place cheques on our behalf, and the cheques are getting dishonored. Our Barsha branch is now shut down. The Jumeirah branch is open only for delivery. Dine-in is not permitted as yet as we are concerned about the health of our staff. But how long it will sustain is a big question mark. The business has dropped by 80-85%. However, we have managed without any layoffs. Our staff work on reduced shifts and payment is made as per shifts," said Divyendu Gupta, owner of Wok's Den.
Home Delivery: Yay Or Nay?
Dubai's delivery culture made the stay at home easier during the pandemic. Delivery service operators bring anything under the sun, from a hot cup of morning coffee to your office, pharmacy items at midnight, or even giant ice cubes to cool swimming pools in the scorching summer heat. But, this has not helped the business.
The situation is worse for small-scale restaurants. A few of them like Ravi Restaurant have been so badly affected by the pandemic that they had to sell off personal assets to repay debts. Much like other restaurants in the city, Ravi closed its branches in March, only allowing deliveries from one outlet to sustain its operations. However, the biggest fear is that delivery alone has not been able to cover the salaries of its more than seventy staff, let alone other expenses.
"A restaurant like ours makes more money on dine-in than delivery. There were days we didn't even get AED 1000, and food aggregator apps did nothing to help. How can we sustain on that much?"- Said Waheed Abdul Hameed, managing director Ravi Restaurant.
Though deliveries are a good source of income for restaurants, it is also important to note that most delivery apps like Deliveroo and UberEats charge restaurants a hefty commission for each order, hence lowering restaurants' income significantly.
How Are Restaurants Coping?
Given the current scenario, restaurants wear an empty look despite easing restrictions. This has in turn led to them resorting to other options to avoid wastage and provide an enjoyable post-lockdown experience to customers.
For starters, most restaurants are considering á-la-carte as it avoids wastage and is more beneficial for F&B businesses. "An á-la-carte option is more beneficial for F&B businesses because they can avoid the food wastage that comes with a buffet brunch. Even though venues will have to maintain social distancing and hygiene practices, it's still vital that they turn up the music and create the right kind of vibe at a Friday brunch", said Charlie Weaving, Managing Partner, The Bungalow.
Besides, bars and restaurants might also drop all-you-can-eat food stations and buffets. A new era of brunching will be born where there will be a drastic shift. The focus will now move to the quality of the experience, allowing the restaurant to showcase their ability to create diverse menus, complemented by an enjoyable atmosphere.
How Can You Help?
-If you are at home and not going out – consider takeout or delivery. Many restaurants offer expanded menu options for delivery. And, don't forget to order directly from the restaurant.
-If you've already made reservations for a future date and don't intend on going, please cancel. your reservation. No-shows cost restaurant money.
-If you're dining out, make sure you follow the protocol- social distancing, sanitizing, disposable cutlery, etc.
-While most of us can work at home, a few others are striving in the scorching sun to feed us. Tip your delivery boys generously.