Under 140 Characters
Beauty has an address & it is most definitely Oman. A lot of history, majestic mountains, pristine beaches, desert adventures & charming hospitality are only a few of the reasons you will want to visit this stunning country. We went on a trip to Oman & brought you some of the most exciting ways to experience this Arabian jewel.
India to Oman Flights 
Traveling to Oman feels like a breeze with direct flights from India & just 2.5 hours of flying time from Mumbai. Visa rules are very relaxed for Indians & extremely easy to apply through the online government portal. A 10-day tourist visa will cost just OMR 5. You can start your cultural experience with Oman right from the aircraft with Oman Air, which is the flagship carrier of the Sultanate of Oman. It has won many travel awards including Middle East's Leading Airline Business & Economy Class 2018 as well as World Travel Awards 2017.
Currency
1 OMR is equivalent to approximately 180 INR. Handling Omani currency may be a little tricky initially as 10 notes of 100 baisa make 1 Omani Riyal.
Here's how you can plan your perfect 5-day itinerary to the Sultanate of Oman. 
Day 1: Escape Into The Mountains
From the moment you enter into the Omani terrain, you will notice mountains everywhere! But just 2 hours away from Muscat, on the peak of these mighty mountains is crowned the splendid Anantara Al Jabal Al Akhdar Resort that offers dramatic canyon views which remain unmatched. The resort is 2,000 meters above sea level. We watched the glorious sunset at Diana's viewpoint where Princess Diana once stood to soak in Omani splendor in the most breathtaking natural setting.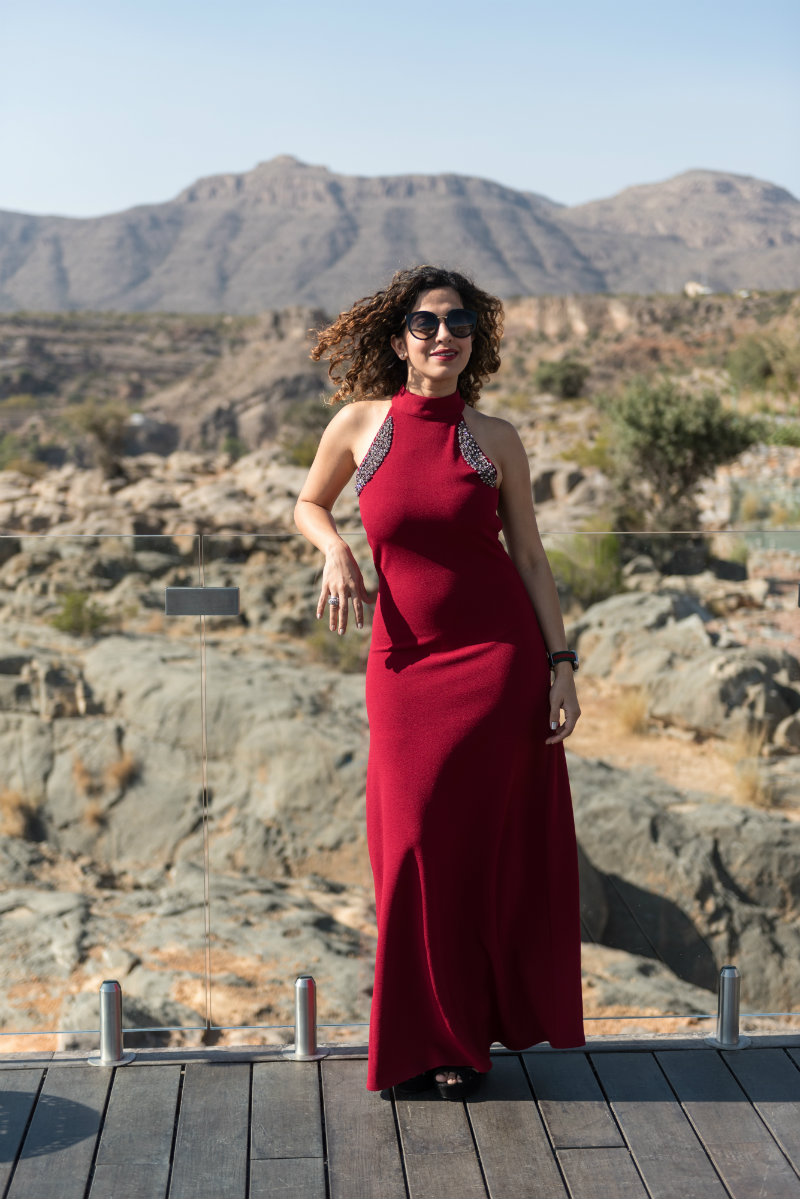 Enjoy dining at any of the 5 restaurants within the property offering a range of global cuisines or have a tailor-made private dining experience at Diana's viewpoint. The property offers a range of activities including yoga after sunrise, rock climbing for all levels, guided villages tours & much more. Walking distance from the property are abandoned villages made from palm leaves & rocks. The villages offer a deep visual appeal & are open to tourist visits. Along the way, you will also be able to spot pomegranate plantations. 
Day 2: Drive Deep Into The Desert 
Nestled 200 kilometers away from Jabal Akhdar mountain, is the Desert Nights Camp in Sharqiya Sands that brings to life the truly magical desert experience with luxurious tents to live in. If you are looking for an ideal Arabian Desert Adventure secluded within the vast isolation of the Omani desert then this is the place to be. The camp offers various activities like:
Camel Safari

Visit a Bedouin family house

Dune Bashing

Quad Bike adventures

Sand Boarding
We also got to visit a Bedouin home deep in the desert & had an insight into what an Arabian nomadic life is like. Although many Bedouins have given up the traditional way of life, there are still few who retain ancestral traditions, practices & concepts.
Day 3: Discover Wadis 
Wadi Bani Khalid is one of the most popular wadis in the country & is like a paradise in the desert. A wadi is a dry riverbed that contains water only during times of heavy rainfall; however, at Wadi Bani Khalid, the water never dries up throughout the year. It acts as a natural freshwater pool & you'll find tourists and residents enjoying a swim there. You can even dip your feet in for a natural fish pedicure with all the tiny fish in the pool.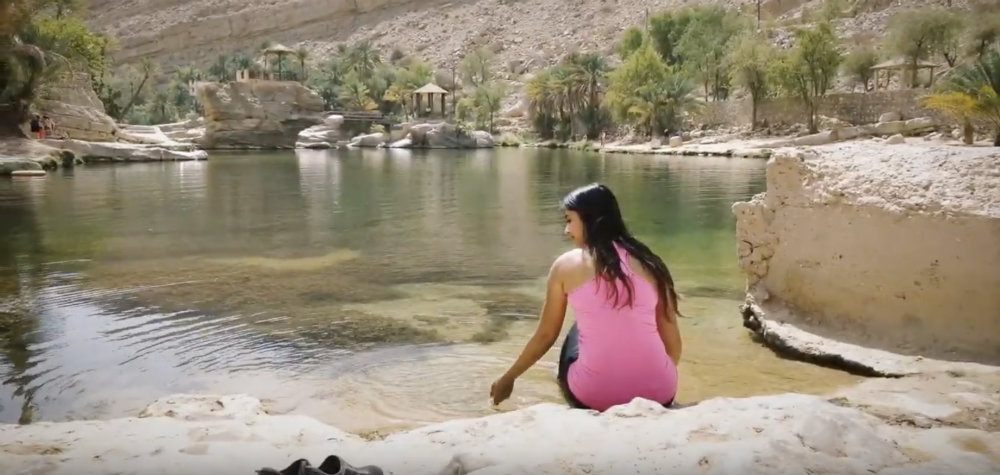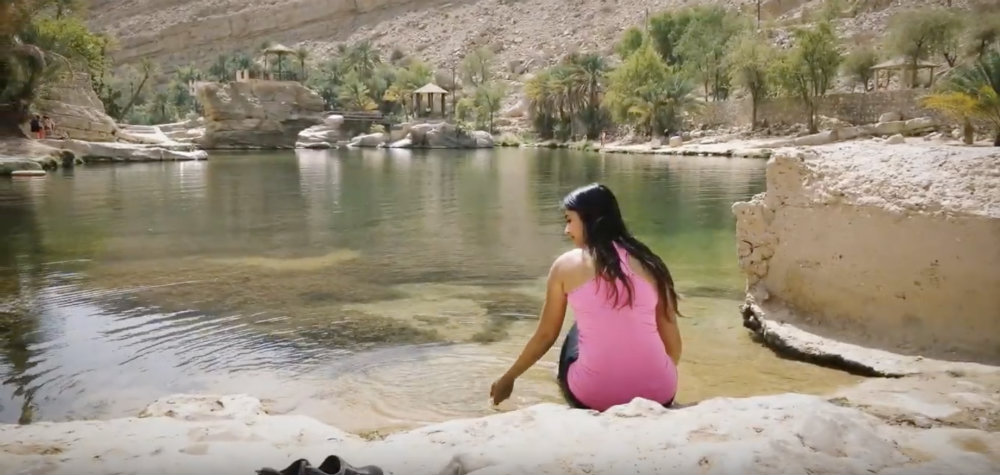 Trek uphill along the path of the wadi to explore the gorgeous view & to discover the source of this beautiful oasis. You will definitely need some time exploring & relaxing here. There is a canteen on site so you don't have to worry about running out of food & water. Tourists are advised to dress decently at this location to respect the culture of the villages nearby.
Day 4: Tour Around Nizwa  
Our next stop was Nizwa which is about 140 km away from Muscat and, was once the capital of Oman. The city is famous for its agricultural products & local handicrafts which are easily available at the expansive souq. The Nizwa souq is bustling with vendors selling everything from dates, Omani halwa, spices, silverware, silver jewelry traditional pots, Khanjar (dagger), & souvenirs.
You will be in for a surprise with the wide variety of dates & date products available at the date shop in the souq which is very reasonably priced. We bought the Khalas dates that are supposed to be the tastiest of them all.
Right outside the souq is the Nizwa Fort which was built in 1668 AD & is Oman's most visited national monument. It was a stronghold against raiding forces that desired Nizwa's abundant natural wealth.
If you really want to get to know the life of the locals better, then a traditional Omani lunch is perhaps one of the most humbling ways to do so. We ate at a local restaurant nearby that serves authentic Omani food, usually served in large plates & eaten on the floor with a sizeable spread of rice that remains a staple. Curries like fish, chicken & vegetables, compliment the rice along with a salad. Harees which is wheat mixed with meat/chicken & butter, is generally prepared on special occasions. But at the local restaurant, you should be able to find it on a regular day.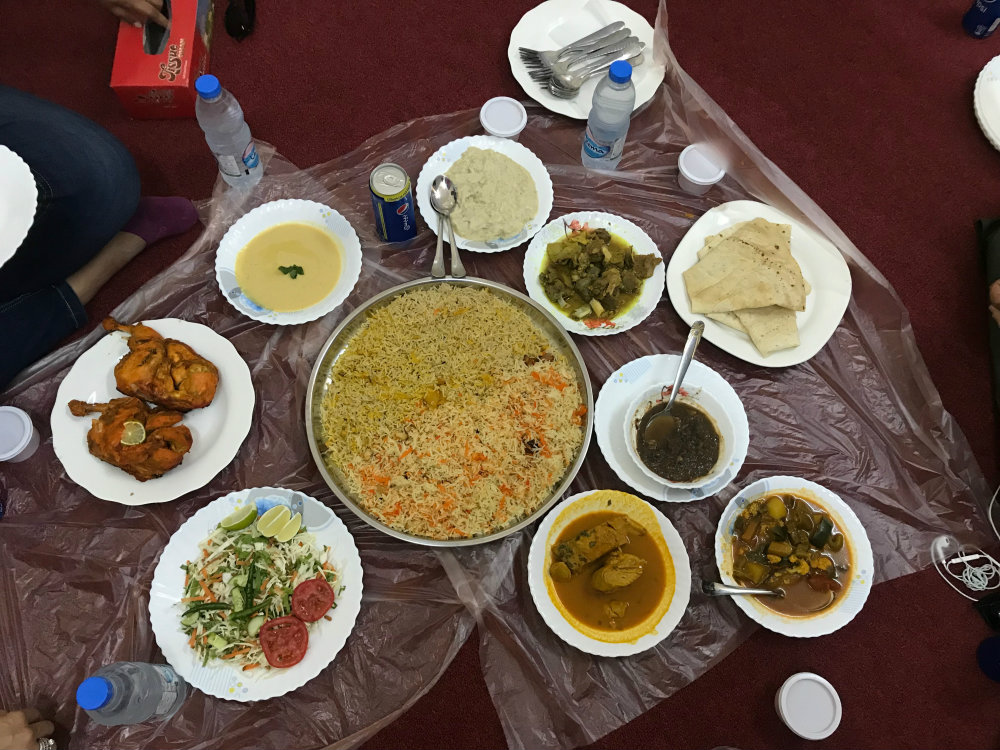 If you're feeling a little extra adventurous then head to Bahla which is 40 km away from Nizwa. It is a town known for its folklore & is also a UNESCO world heritage site town. A trip to the Bahla Fort is interesting as it was built in the 13th century. A short distance beyond Bahla lies the Castle of Jabreen which is a massive three-story structure built in the mid of 17th century. The castle is a fine example of Islamic architecture with beautiful wooden inscriptions and paintings on its ceilings.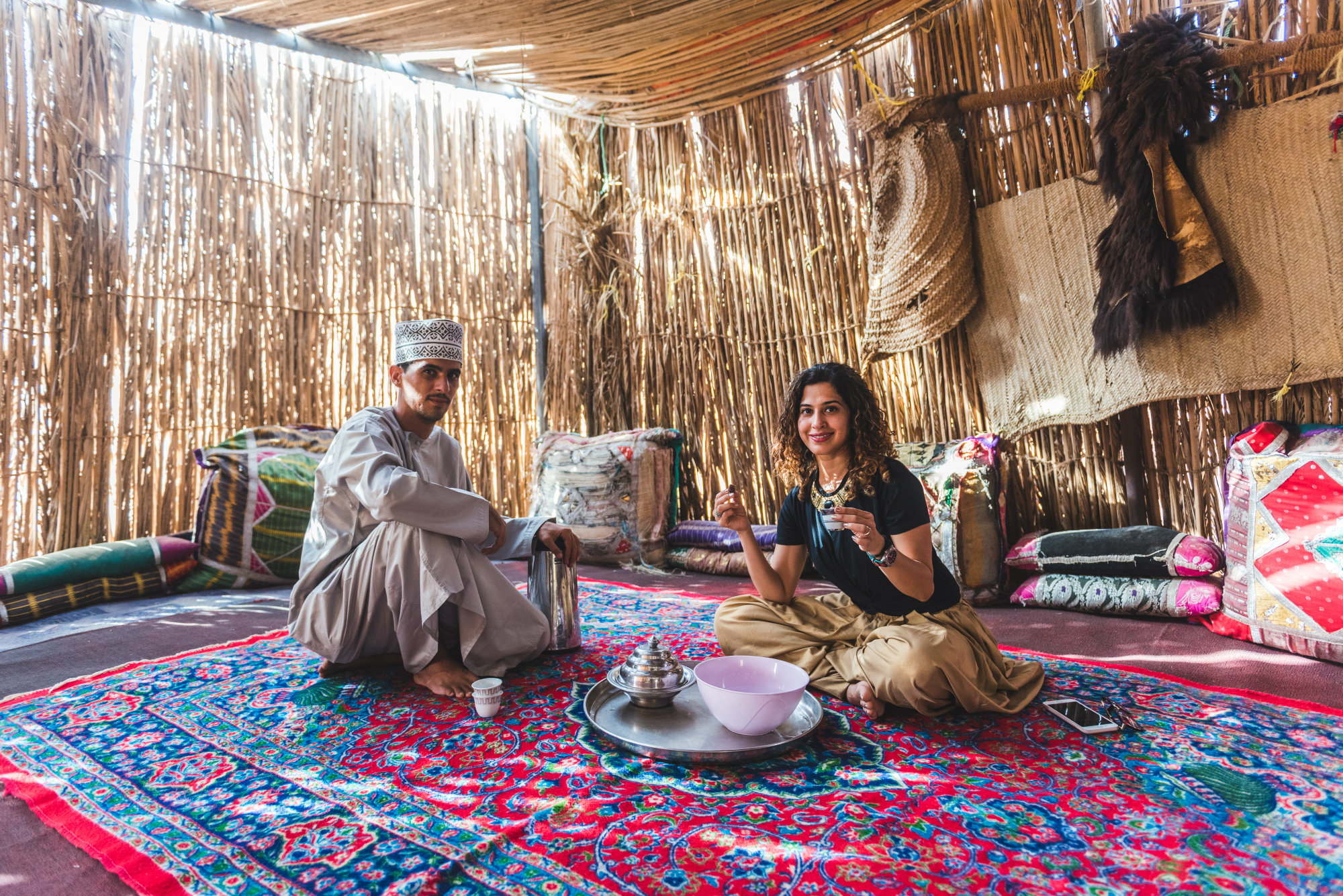 Day 5: Explore Muscat City
Our next & final stop was the beautiful city of Muscat which is the capital of the Sultanate of Oman. There is so much to soak in this gorgeous city. Our first stop was the Sultan Qaboos Grand Mosque which is a stunning place of worship. It is the main mosque in the country which is open for tourists from Saturday to Thursday from 8 am to 11 am. Women are required to be fully covered with full sleeves, long pants or skirts & headscarves, while men are required to wear long trousers.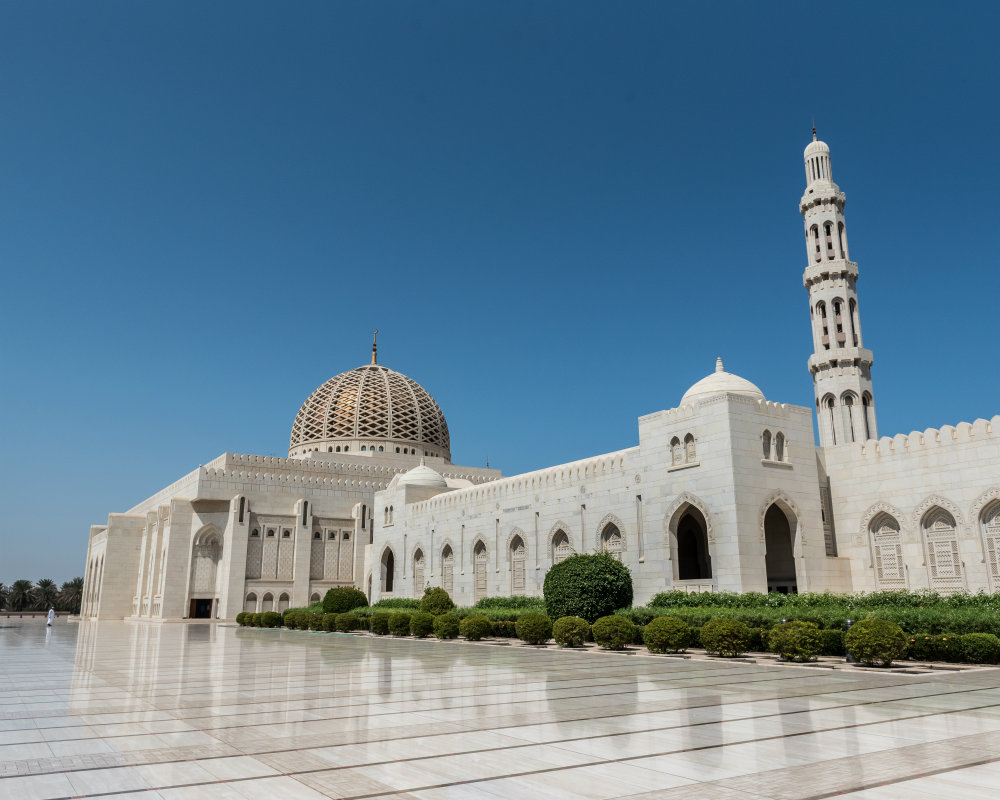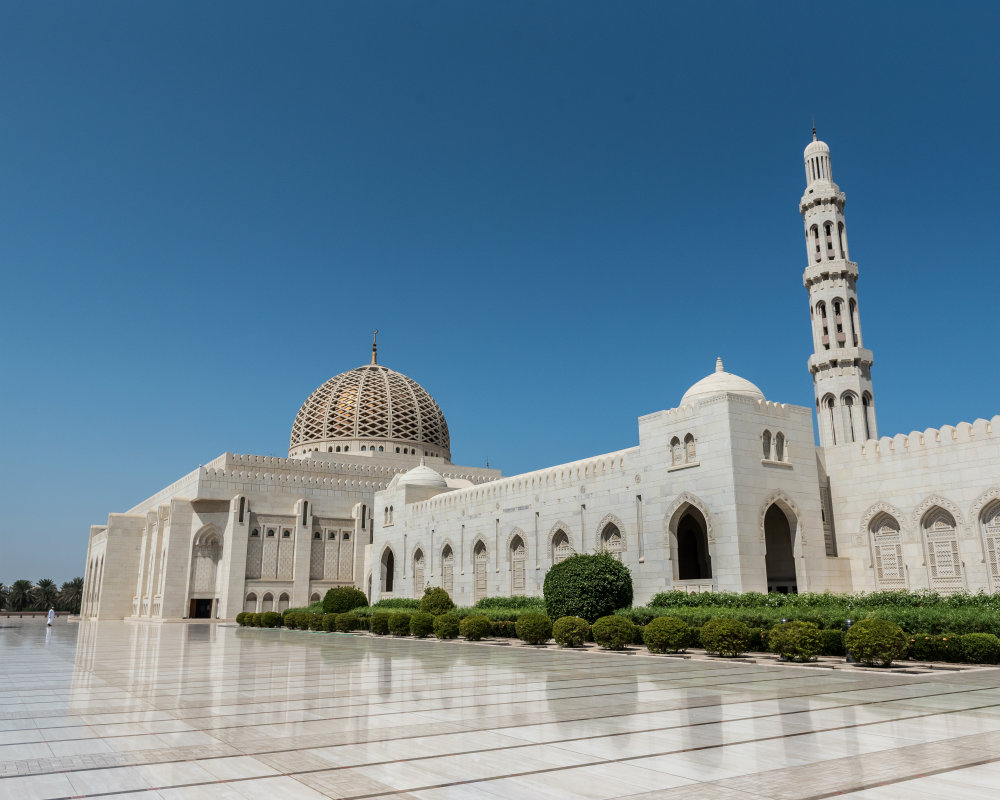 For lunch, we head to Bait Al Luban in Muttrah which is famous for its Omani cuisine in a beautiful traditional setting. Around sunset, we head to Muttrah Souq which is one of the oldest marketplaces in the Arab world & maintains its vibrant & bustling charm. Here you will find everything from frankincense, antiques to silver & souvenirs.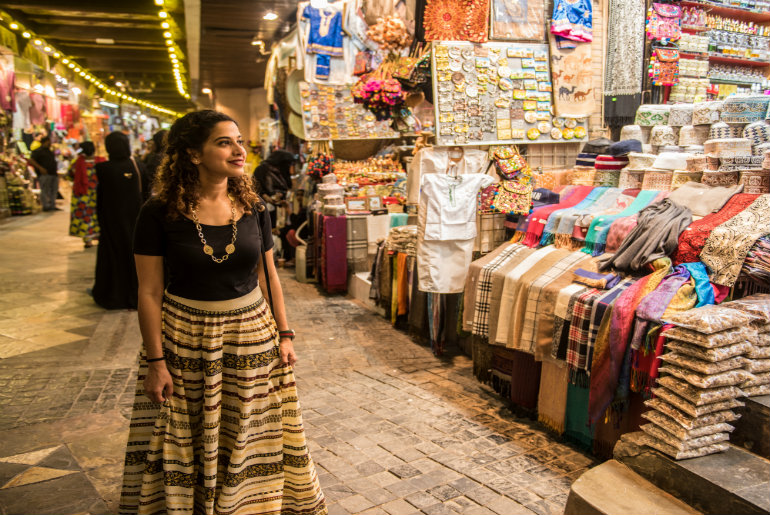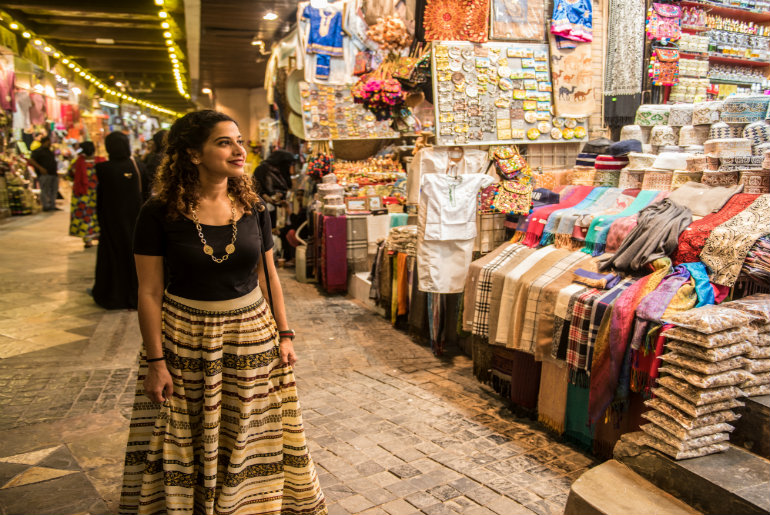 We started our morning the next day with a coastal tour of Muscat on a yacht where we could meet the aquatic sweethearts – dolphins. And to our delight, deep in the vast ocean of Oman, dolphins came out to greet us in large numbers. After a pleasant cruise, we decided to have lunch at the gorgeous property  Shangri-La Barr Al Jissah & soak in the beachside views while we're at it.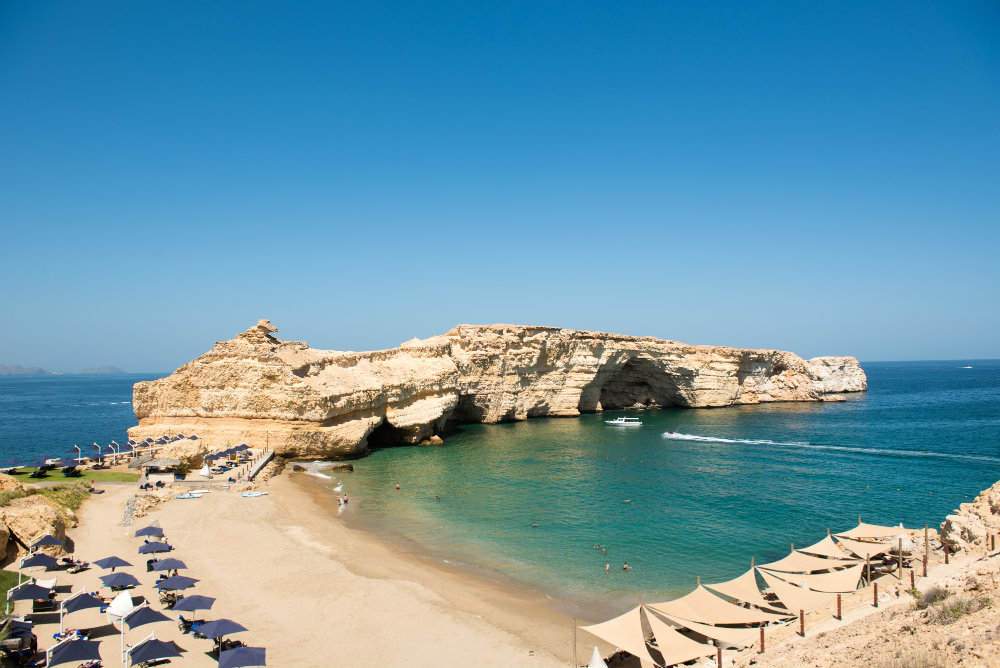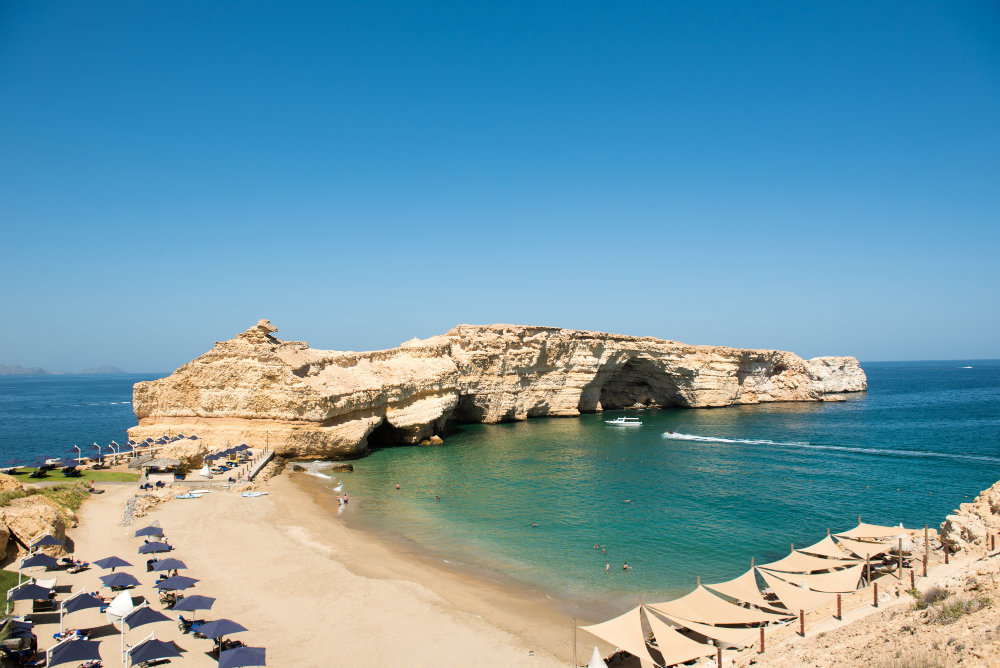 From there on our next stop was a visit to the Royal Opera House which is the premier venue for arts & culture in the country. Lavishly designed, this beautiful venue is home to one of the biggest pipe organs in the world & is adorned with Omani architecture. A concert is not the only way you can experience this beauty, visitors are allowed a guided tour from 8:30 to 10:30 am but make sure you are dressed in formals.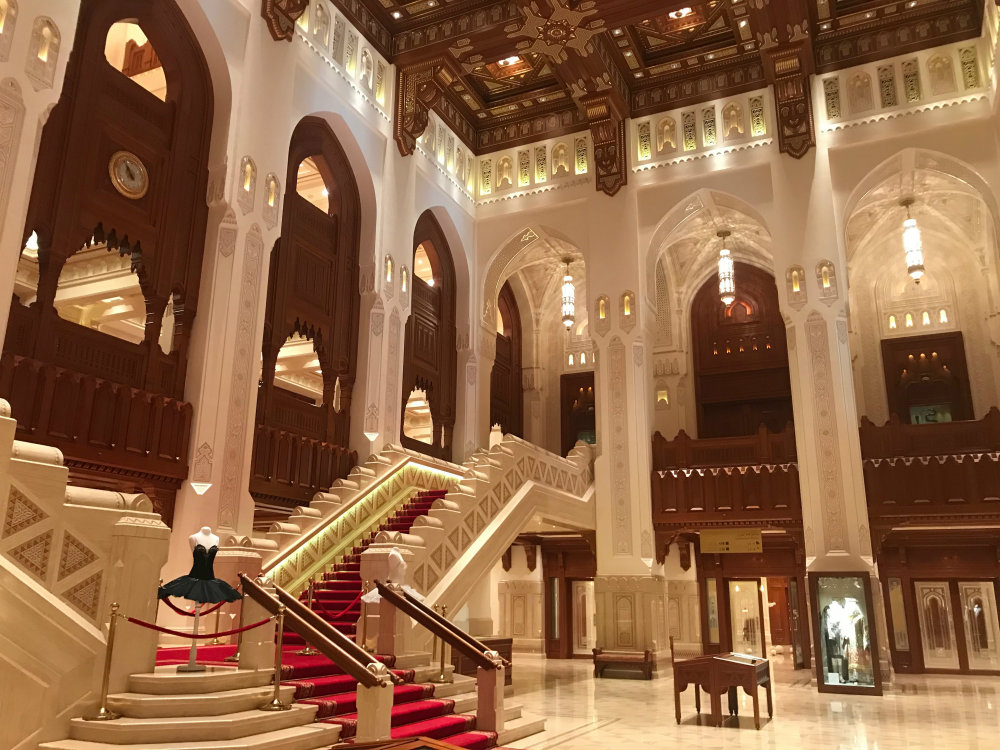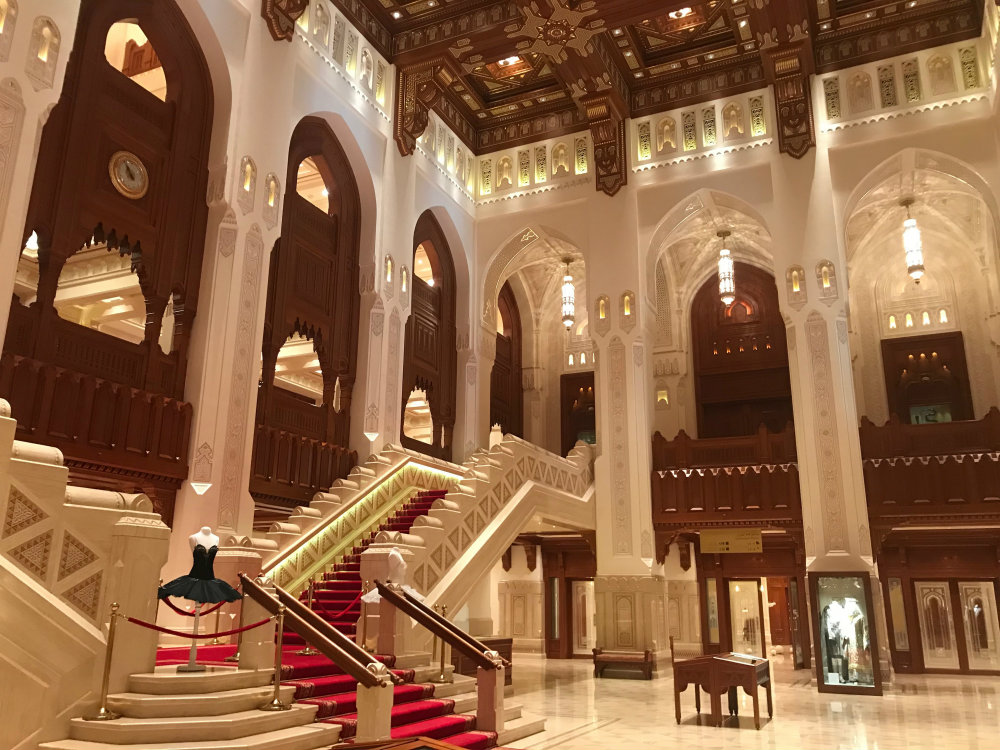 To experience the nightlife, we headed to The Cave which is a man-made complex. Located off Qurum heights, The Cave has 8 restaurants & 3 bars under one roof; ideal to visit if you are looking to drink, dine & party. Cuisines available here span from all over the globe at this complex, so you'll be spoilt for choice. 
Experiencing Oman has certainly been a retreat like no other & we can't wait to go back for more adventure, tranquility & of course to meet the many humble local friends we made along the way.