Under 140 Characters
The Serai Camp Relais & Châteaux is an oasis, a place for rest and rejuvenation in the desert, mapped out with precision and detail.
What Is It?  
Set on a one hundred acre private estate, The Serai draws inspiration from the royal caravan sites of Rajputana. The Serai is simple, contemporary and elegant. Built on a linear grid rising up from the desert, it stands proud with some walls carved in sandstone; with tents built on a majestic scale. From the 'grand' in scale, to the smallest precious object and artifact, the camp captures the spirit of Jaisalmer.
What's In It?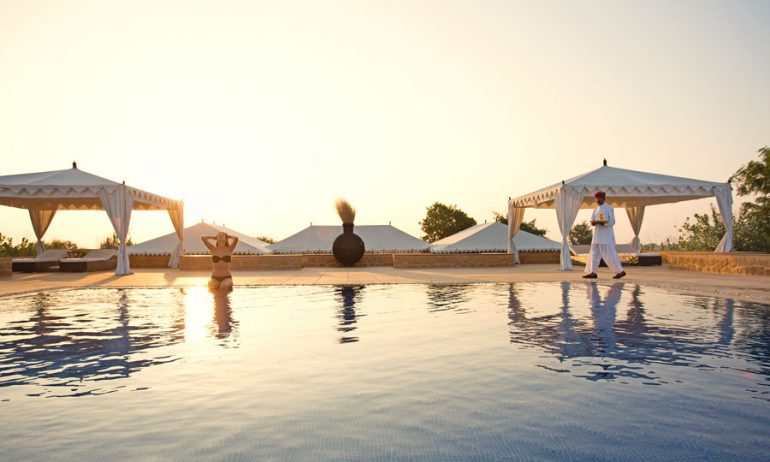 For your accommodation, you can choose from an array of spectacular tents ranging from the Luxury tent to the Royal tented Suite. The luxury tent, priced at ₹50,000 per night, has an outdoor veranda, a covered living room, and a large and spacious bedroom with an en suite bathroom, covering a floor area of over one thousand square feet.
The Royal tented suite,  priced at ₹1,00,000 per night, has its own spa, a heated outdoor pool and separate tents to dine and lounge in. Privacy, peace and comfort define this spacious and luxurious paradise.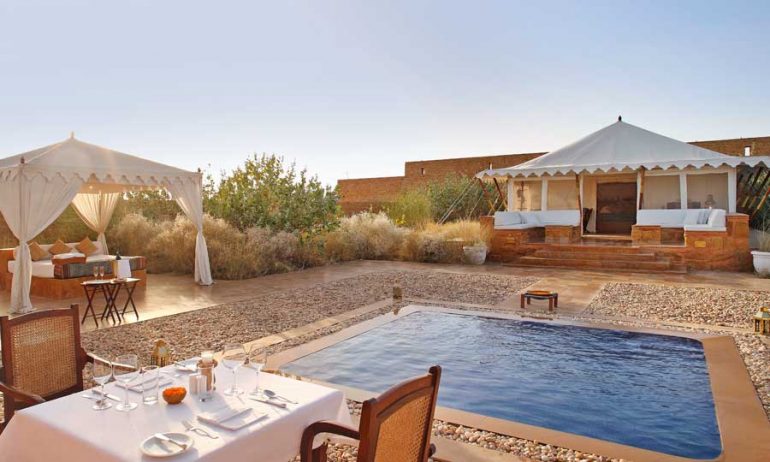 The Serai serves sumptuous local delicacies, meticulously planned, to give you eclectic fare using fresh homegrown organic ingredients. You may choose to dine at the dining tent or anywhere on site and that experience will be made available to you.
What Else? 
The Camp is perfectly located for excursions to the fabled, twelfth–century desert kingdom of Jaisalmer. Camel safaris, desert drives and sundowners on the sand dunes are just some of the other memorable and sought after escapades offered here. Each of these tailor–made excursions are led by an experienced guide and can be booked in advance, which is preferable, or else on arrival at the camp, which will then be subject to availability.

Located 37 kilometers away from the Jaisalmer Airport, The Serai is the perfect place to go to on a long weekend. Book Here
Address: Bherwa, District Jaisalmer, Rajasthan 345001
Contact No:+91 11 4617 2700