"It's easy to understand why the most beautiful poems about England in the spring were written by poets living in Italy at the time." These words from Philip Dunne are true and those who've been to Italy will agree. My name is Vaishnavi and I went on a family trip with my husband and my 4-year old son (whom I will refer to as 'N') to Southern Europe's little gem- Italy.
The capital city Rome is home to the historic Vatican, and a whole lot of other landmarks. Other major cities include Florence, Venice, and Milan. Traveling with N meant there was no way we could do an out-and-out historic trip. So, we decided to do a mix and explored the three biggest cities -Rome, Venice and Florence.
Why Italy?
There are many reasons why we picked Italy. Firstly, N and I are BIG pizza fans, so the thought of going on a trip to the land of pizzas fascinated us. Besides, having lived in the UK for 3 years, I cannot stress enough on how I love getting lost in the picturesque countryside. Last but not the least, I wanted N to enjoy a holiday away from the hustle and bustle of the city. Meanwhile, the husbandman is a history buff, so Italy perfectly matched our expectations.
Brief Itinerary 
We started our trip with Rome and ended it with the same, so we could save up on flight fares. Here's a skeleton of our route:
Dubai-Rome-Venice-Florence-Rome-Dubai. Now, unlike most travelers, we had decided NOT to make this trip all about museums and churches. We wanted to experience the country side as well, so our itinerary involved the iconic attractions and the untouched countryside. I'm so glad we took that route! 🙂
Detailed Itinerary
Day 1
Vatican
Saint Peter's Basilica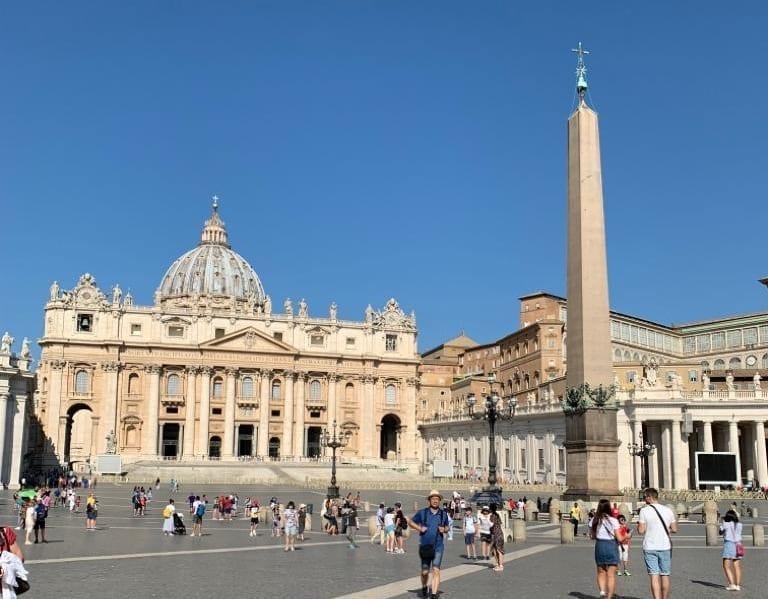 Our day 1 was completed dedicated to Rome's iconic attractions and we decided to tick it off on foot. The city's architecture is a grand mix of Roman, modern, and Renaissance. The idea of the city is as fluid as a dream and that's the best part of the city. Walking is an absolute must when in Rome because the city has cobbled roads and driving around can kill the fun. So, we booked a walking tour (almost all hotels have guided walking tours you can book) and explored the touristy attractions.
The first half of the day was meant for the Vatican Museums, Sistine Chapel and Saint Peter's Basilica. We booked an open tour of the Museums and Sistine Chapel. After soaking in the rich architecture and history, we walked towards the Saint Peter's Basilica. Although we had booked a skip-the-line tour, we skipped it, clicked a few pictures from outside and proceed to the other attractions. Going by my watch, we had already walked about 5000 steps- and we were tired as hell.
Day 2
Colosseum
Trevi Fountain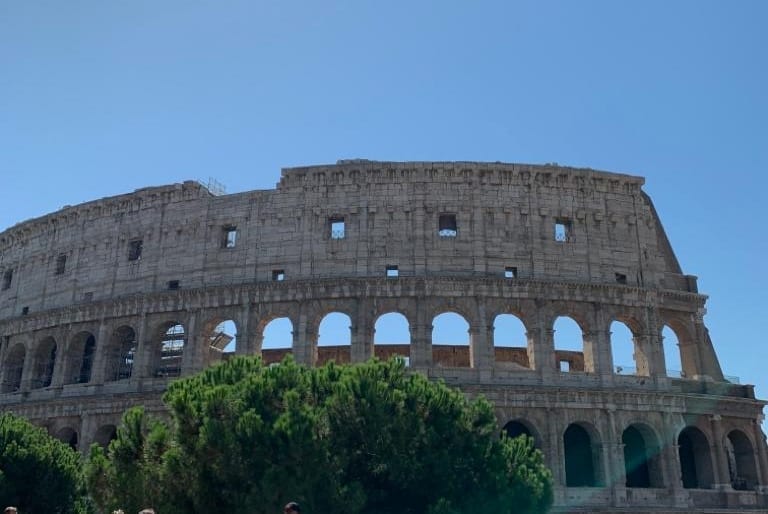 After a hearty breakfast we headed on an open tour to the explore the magnificent Colosseum. The amphitheater and the underground are something you must not miss when in Rome. In the evening, we walked our way through the pretty lanes to get to the Trevi fountain followed by the Spanish Steps. On our way back (we were tired as hell), we picked our car for our day trip, the next day and headed to the hotel.
Day 3
Amalfi Coast
Naples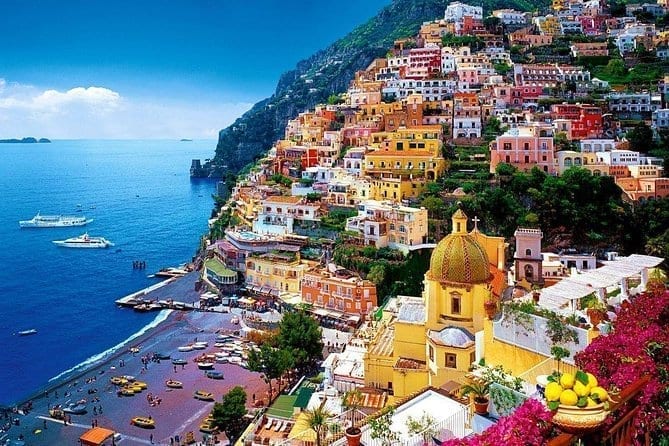 The next morning, drove down to Amalfi Coast- a stunning coastline in the Sorrentine Peninsula. This was my favourite part of the trip. I LOVE long drives and if it includes sea views, and pretty villages, I'm totally sold.
The drive was spectacular, taking us through winding roads, pristine beaches, idyllic villages, and pretty blue coastline. The coast is dotted with high mountains, rugged shorelines, and quaint cafes. One of the best things to do when here is to pick a spot, get into your beachwear and soak it all in. Grab lunch at a cafe perched on the hill-top and you'll feel like this is the best place on earth.
Note: The coast can be crowded and finding a spot to park can be tricky, but its allure is simply irresistible!
On our way back we drove past the historic town of Naples and sealed the day with a sumptuous dinner and local wine at one of the oldest pubs in Rome.
Note: There are tons of road-side shops that sell gorgeous crockery (I went berserk :))
Day 4
Venice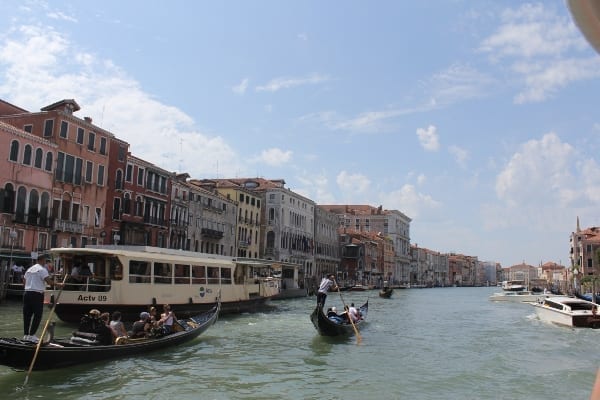 It was time to explore the backstreets and canals of Venice. A 3-hour train ride took us to the land of water. On arrival, we checked into our hotel by the Grand Canal. The hotel we picked was a little expensive, due to its strategic location but the rooms were spacious and it was in the city center, so we didn't have to commute much within the city. We chose to spend the evening wandering around canals and lazy lanes, sipping on the best quality wine. One look at the place and you'll sure know Venice is all things romantic, picturesque and historic. The endless stretches of water, alongside colourful houses, were perfect to gaze, laze and be lost. We enjoyed a relaxed dinner by the Grand Canal and sealed the evening with a large scoop of Gelato.
Day 5
St. Campanile di San Marco
Doges' Palace
Bridge of Sighs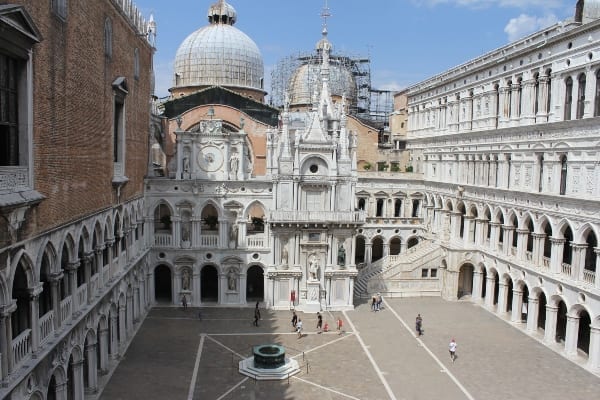 Day 5 was all about rowing our way through the city, hoping in and out of the iconic attractions. Before we started, we did a thorough research of Venice and realized the list of sightseeing places was long. We then picked a few we liked, and a few that were a must-see. First on our list was St. Campanile di San Marco. A quick ferry ride took us to the 'Heart of Venice'- where we clicked 360 degrees panorama pictures, fed pigeons and marveled at the magnificent bell tower. A quick elevator ride took us to the top of the Campanile di San Marco, only to be rewarded by some more breathtaking views of the city.
After a quick pit-stop at one of the quaint cafes, we headed to the Doges' Palace. We booked skip-the-line tours and spent quality time soaking in the royal architecture, the dramatic history and the fantastic views of Venice. As we stepped out, we took a quick sneak-peek at the Bridge of Sighs, for yet another iconic view.
Note: Ferry tickets to all the attractions are available at the Grand Canal station. We skipped the Gondola ride because it was just too expensive and nothing fancy (If i may say so)
Day 6
Murano
Burano
On day 6 we skipped the chapels and set out to explore the lesser-known islands in Venice- Murano, and Burano. Murano is famous for hand-made glass while Burano is a pretty island known for laces. We spent the evening shopping and loafing around the charming streets of Venice. The street shops are best if you wish to take back artifacts made of Murano glass, and pretty Venetian masks.
Note: Do not shop in the souvenir stores on the islands, as they are expensive and you might be paying twice the price.
Day 7
Florence
The train journey from Venice to Florence was picturesque, taking us through highlands, mountains, and pretty houses. We reached early in the evening and checked into our hotel- Garibaldi Blue, located in the city center. We spent the evening exploring the Dome- one of the most recognizable buildings in Florence. Feel free to judge us, but we chose not to climb to the top, because it sounded like a mammoth task with N, plus we had a taller tower to explore the next morning- The Leaning Tower of Pisa.
Day 8
Leaning Tower Of Pisa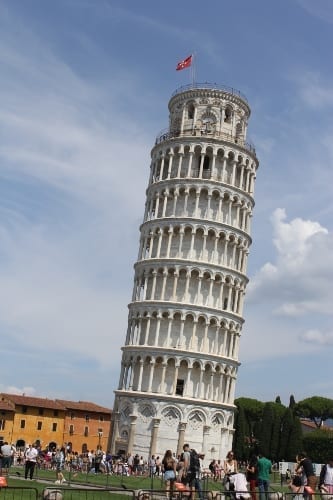 Italy, in a way, is synonymous with the Leaning Tower of Pisa. The tower is known for it's four-degree lean, and that made the trek up a tricky one. Make your way through 251 steps and you're in for a breathtaking view of the city of Pisa. On average, the climb takes about 10-15 minutes and has several spots where you can stop and break. The incline of the stairs can make you feel woozy, so watch out. And finally, that's one off my bucket list 🙂
A Little Mishap
Although the experience was fantastic, N was a little disappointed. It somehow skipped our eye while booking tickets that children under 8 years of age were not allowed inside the Tower of Pisa. N was mighty thrilled to climb the tall tower, but we made up for it with his favourite pizza and a big scoop of gelato. 🙂
So, make a note: Kids under 8 years are not permitted inside the tower and those between 8-10 MUST be accompanied by an adult.
3 Things To Know About The Leaning Tower Of Pisa
The Leaning Tower can accommodate only 45 people in a time
Timings are everything. So make it on time or you'll have to miss your chance
Carry a bottle of water, camera & your phone
Once you're done with the trek, refresh and rejuvenate at the many cafes and restaurants around the tower. You can also shop for souvenirs, but don't forget to bargain. I recommend you keep one full day for the Tower of Pisa.
Day 9
Chianti Region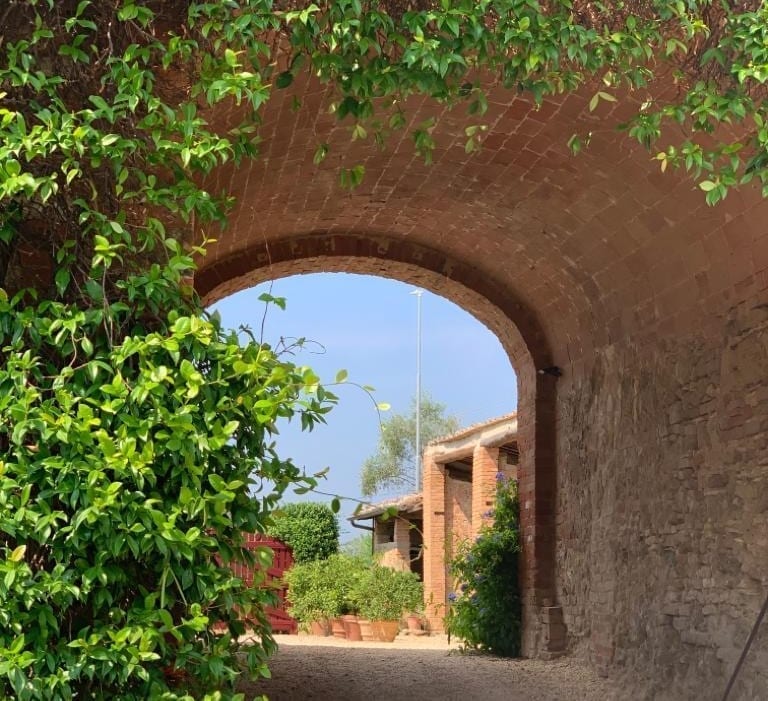 It was time to head to the countryside. There are plenty of day-trips you can plan to explore the scenic highlands of Florence. The Chianti region is most famous for wine and food tour and that was definitely on our to-do list. The drive through the gorgeous Tuscan hills is a sight I need no effort to recollect. We stopped to visit a wine estate, sampled some of the finest qualities of wine before heading to the Chianti countryside for a delicious 3-course meal by the hills. We sealed the day sampling the renowned Chianti Classico wine.
Day 10
The next morning we took a train back to Rome and flew back to Dubai the same evening.
Things To Keep In Mind Before Visiting Italy
Transport
Getting around Italy is significantly easier than any other European country. The most important part of traveling in Italy is the mode of transport. The country is well equipped with trains, trams, and taxis, so there's no way you will be stuck anywhere. However, if you want to explore a bit of the countryside, you will need a car. We booked our car online on Rentalcars.com– all you need to do is reserve your car online by just providing your credit card details, cancellation is free till a day before the pickup date and you don't have to pay util you pick up the car.
We booked all our train tickets on TrenItalia and Italo. 
Food In Italy
The usual spread is pasta, pizza, breads and of course a tiramisu for dessert. However, N and I are big fans of all of the above, so I was in for a treat! You will also find a lot of real Italian staples like spaghetti alla carbonara, bruschetta, – all with oodles of cheese. Rome, Venice, and Florence are flooded with petite cafes and old pubs that serve a hearty meal. Finish your meal with a large scoop of gelato or local wine. It's sure to make your trip much better! 🙂
Note: We had the best Gelato in Florence at Gelateria Della Passera
Stay Options
Italy is flooded with tons of hotels- luxury and budget. TripAdvisor was our 'guru' when it came to picking hotels. We booked our hotels through  RocketMiles– a website that lets you earn miles for every booking you make. You can join Rocketmiles for free of cost. A few days after the stay has been completed, the reward is sent to the loyalty program, which you can redeem within 2 weeks. You can view the status of all your rewards by logging into your account.
The hotels we picked did cost us a little more than we had planned, but it worked well because it was all located in the city center. This also meant we could see most of the places on foot, without spending on a taxi. Here are the names of the hotels:
Rome- Hotel Artemide
Venice- La Locanda di Orsaria
Florence- Garibaldi Blu
Visa & Immigration
We got our visa done through Cox & kings and the process was pretty simple. There are a list of documents required for a tourist visa which permits stay up to 90 days. Make a note and gather all the documents. Next up, fill the application form online and book an appointment. The documents are verified according to the checklist, after which you file the application. Lastly, you cab track you application on their website using your passport number. The whole process takes about 3 weeks.
Currency: Euro (1 EURO = 4.05 AED), All branded debit and credit Visa/MasterCards can be used without issue.
Language: The official language spoken is Italian, but almost everyone speaks English so there was hardly any need for Google translation.
Modes Of Communication: Being a UAE resident, it was almost like a celebration when we were told Whatsapp calls work in Italy 🙂 No paying extra for international calling!
And with that, a great trip to Italy came to an end. A few learnings:
1. Always validate your train and bus tickets at the little machines in the platform
2. Skip-the-line tours are saviours
3. You must pay to use public restrooms
4. Prepare to eat. A lot
5. Most cities can be explored on foot
6. You will never be able to see Italy COMPLETELY. So, make the best of what you can 🙂