Think that you can finish an entire burger in just 5 minutes? Then here's a challenge you need to grab right away. A burgerwala in Punjab's Ludhiana is offering a 24 karat gold burger for free to customers who can gorge it down in 299 seconds. That's not all. The one winning the game can also take home the prize money which is equal to the actual value of the burger i.e ₹999. Since it contains gold, it is one of the costliest burgers in the city. It weighs around 800 grams, which is surely a bit more than regular burgers.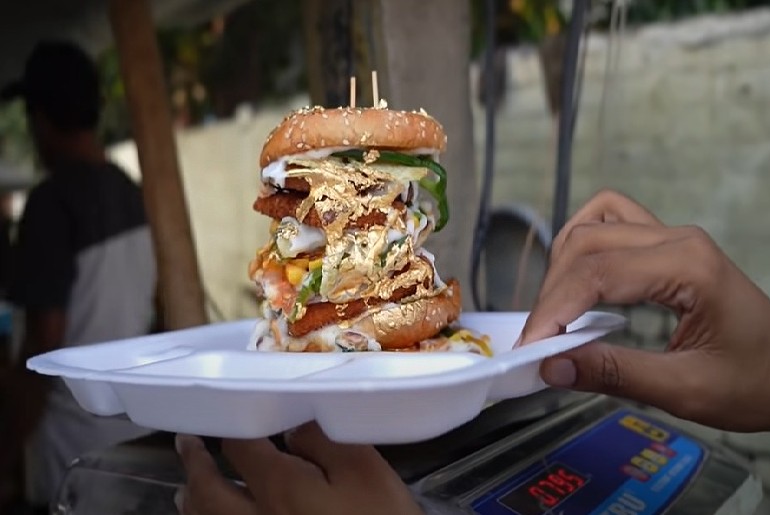 Also Read: This 24-Karat Gold Plated Bahubali Momo In Mumbai Is Our Latest Food Crush!
Get The Burger Free Along With A Prize Money Of ₹999
The Ludhiana street vendor who makes this special gold burger is popularly known as 'Baba Ji Burger' Wale'. It is a vegetarian burger containing vegetables, sauces, pineapple, kiwi, mayonnaise, chips, cashew nuts, pista and more. The tikkis stuffed inside the burger are made crispier with bread crumbs. Once the preparation is complete, the burger is wrapped from outside with 24-karat gold foil. You will have to pay ₹999 to try this royal burger, but if you finish it in 5 minutes, you get it for free, along with the prize money of ₹999.
Also Read: 6 Foods With 24 Carat Edible Gold You Must Try In India
The Video Of The Burger Is Going Viral Now
The video of the gold burger by Babaji is breaking the internet now and it will have you drooling too. Baba Ji has unveiled the offer in the video. Meanwhile, this is not the first time we're coming across a gold burger. Inferno Brewpub in Gurgaon also serves edible 24-karat gold vegetarian and non-vegetarian burgers. Louis Burger in Mumbai offers burgers with a gold leaf from ₹695 onwards. Also, Dutch chef Robbert Jan de Veen had created the costliest burger in the world costing ₹4 lakhs with gold, caviar and saffron.