Every Indian would have at some point, eaten at or gotten food from Ponnusamy Hotel! What started off as a small mess in Chennai in 1954, is now a global chain, satiating Indians across the globe. The restaurant now has over a dozen branches in India and four abroad, the restaurant has come a long way. And now, the restaurant has launched a big, fat thali called The Baahubali Thai! The thali is famous in Chennai and has also made its way to Dubai. Touted to be the largest thali in UAE, this one needs an army to be wiped off!
Also read: Six Dubai Restaurants That Serve Delicious Food For A Bargain Price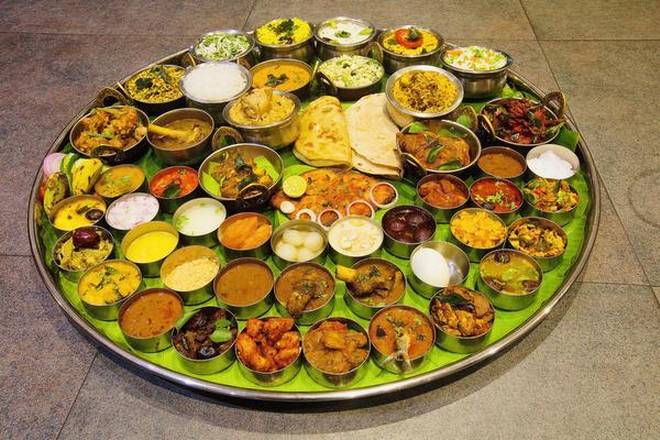 The Baahubal Thali Includes 25 Dishes & Costs AED 135
The Baahubali thali features over 25 dishes and literally needs two people to carry it to the table. The thali includes everything from soup and starters to main course, and dessert. The quantity of each dish in the thali varies between 60 and 400 grams. The thali is a fully loaded meal including a host of vegetarian and non-vegetarian dishes.
Start off your meal with a soup and move on to some nibbles like fish fry, prawn fry, tandoori chicken, mushroom fry or chicken fry. Once you warm up your appetite, get set to battle the main course, which comes with a sea of dishes. gorge on North Indian delicacies like roti, or parotta, served with a variety of gravies or opt for South Indian favorites like rice varieties, rasam, sambhar, vegetables, pickle, chips, and more. And finally, end your meal with a sweet and supari.
Full already??!
Also Read – Raju Omlet in Karama, Dubai Has Made It To Harvard!
The Bits You MUST Remember
The Bahubali thali serves four and there will be no second serving. The thali is priced at AED 135 and is available from Saturday to Thursday. The thali is served for both lunch and dinner and has to be pre-booked.
Well, you will need you gang to wipe this clean, but if you think you can wipe it off single-handedly , then you are a warrior already in our opinion.
In case you're not up for a thali, the restaurant also serves a host of Chinese, North Indian Food, South Indian bites. You can choose from Fried rice, chop suey, pulav, North-Indian bread, egg dishes and more.
Deets
Location: Sangeetha Building – Damascus Street – Al QusaisAl Qusais 3
Timings: Daily- 10 AM onwards
Contact: 04 261 9750