Hygienic food, quick service and clean toilets are three things, you'd absolutely need to make a pitstop during a road trip. Well, that's exactly what my family and I seek during our road trips from Bangalore. We'd often head to quick darshinis, gorge on the usual idli-vada-sambar, sip filter coffee and speed off before either the engine or the coffee gets cold. That was until we visited Thotada Mane in Srirangapatna. Nestled 130 km or a 3-hour drive away from Bangalore. This rustic vegetarian farm dining restaurant, surrounded by lush green farms and areca palms, compelled us to sit down and take a breath before we resume our journey. From a refreshing ambience to a traditional fare cooked and served with a dash of love by village housewives, I'd run out of reasons to recommend why you must visit Thotada Mane on your next road trip.
Thotada Mane Offers A Rustic Farm Dining Experience Amid Lush Greenery
Thotada Mane or "The House In The Garden" is the brainchild of Guru Dutt Bharadwaj, who quit his IT job in Bangalore to settle into Darasaguppe, a small village in Srirangapatna to care for his elderly parents. The traditional home of his parents, surrounded by verdant farms, and his love for cooking, inspired him to offer a rustic farm dining experience to weary travellers.
View this post on Instagram
What makes this restaurant stand apart is that it provides a glimpse into farm or village life. With an all-women team of housewives from neighbouring villages preparing traditional family recipes and serving guests like they visited not a restaurant, but their own home, Thotada Mane promises a breath of fresh air.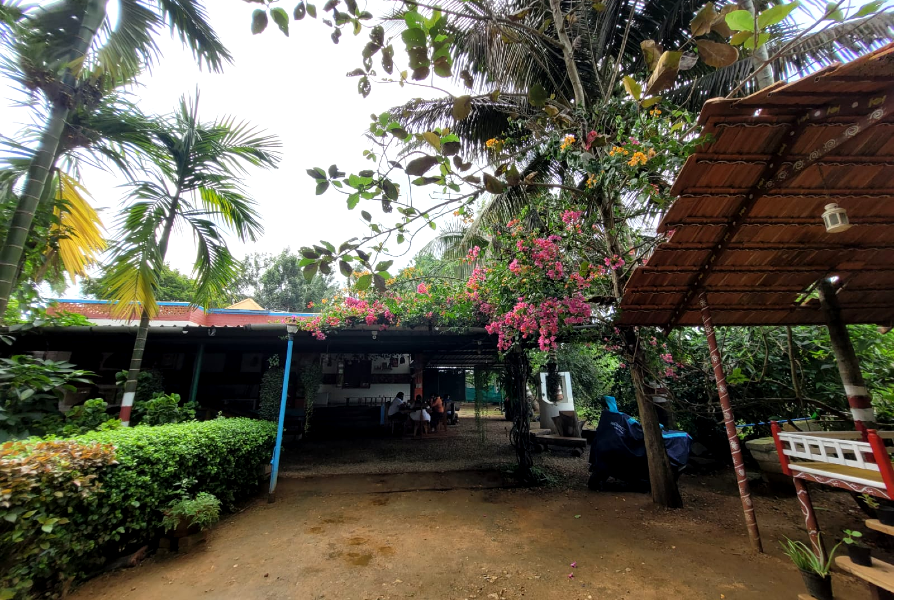 Also Read: This Bangalore Eatery Serves Dilli-Style Chhole Bhature That Will Transport You To The Gullies Of Paharganj
Charming Ambience Includes Log Benches, Worli Art, Well & More
Tall areca palms, green farms and bougainvillaea instantly leave you wondering if you arrived at a restaurant or a cosy homestay. Thotada Mane has a playful yet rustic charm to it. From gravel rumbling under your feet, low tables and benches made of logs, a small wooden bridge to a bubbling fountain, every element has a part to play. The walls are decked in Worli Art, souvenirs from across the world, and Bollywood posters that personalise the experience.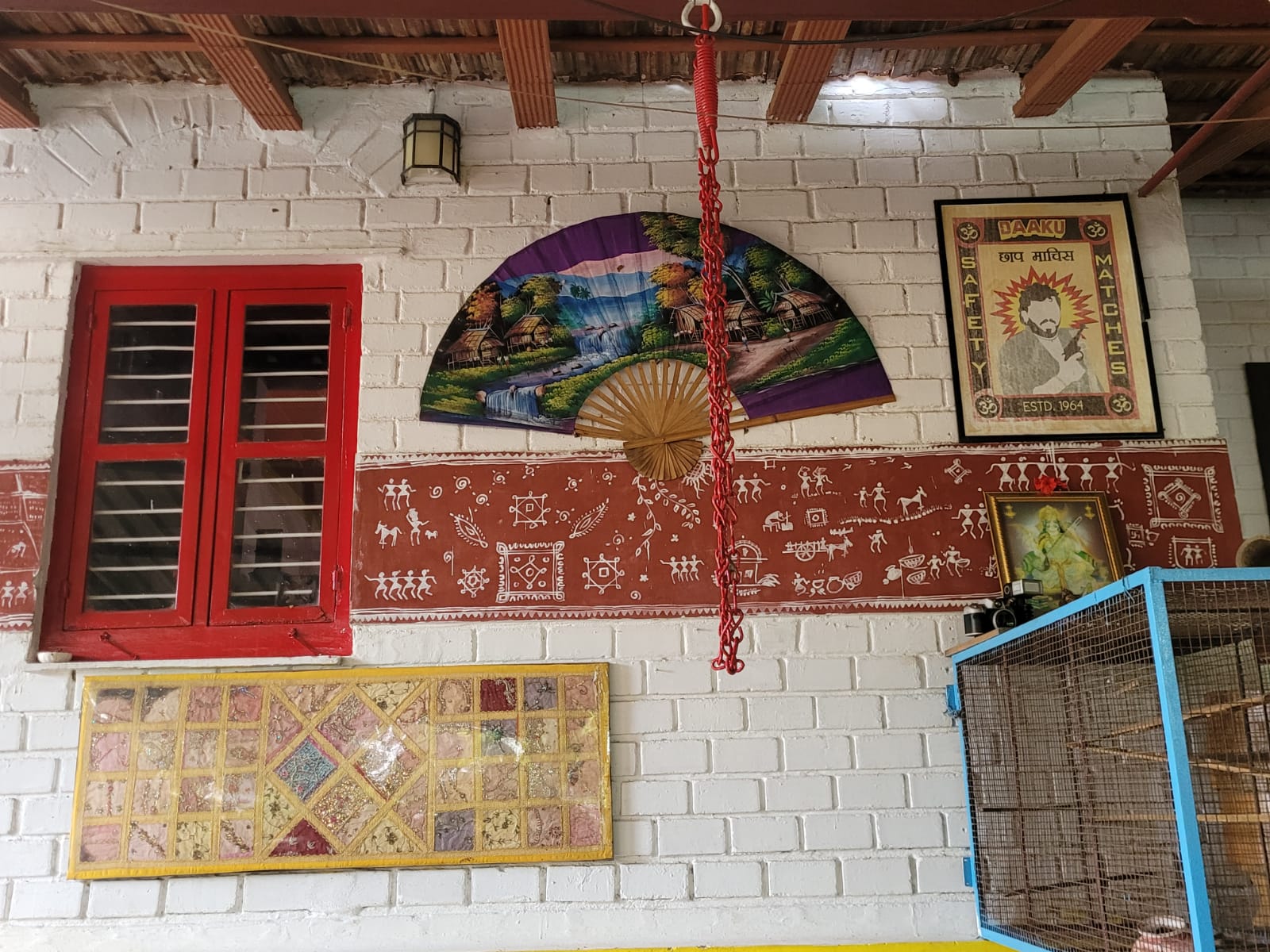 While the red-oxide flooring and the small well in the premise, exude an old-world charm, a basin made of a tyre whispers innovation. You can choose to dine amid tall areca palms in the open, sit down cross-legged around low tables or relax under the shelter.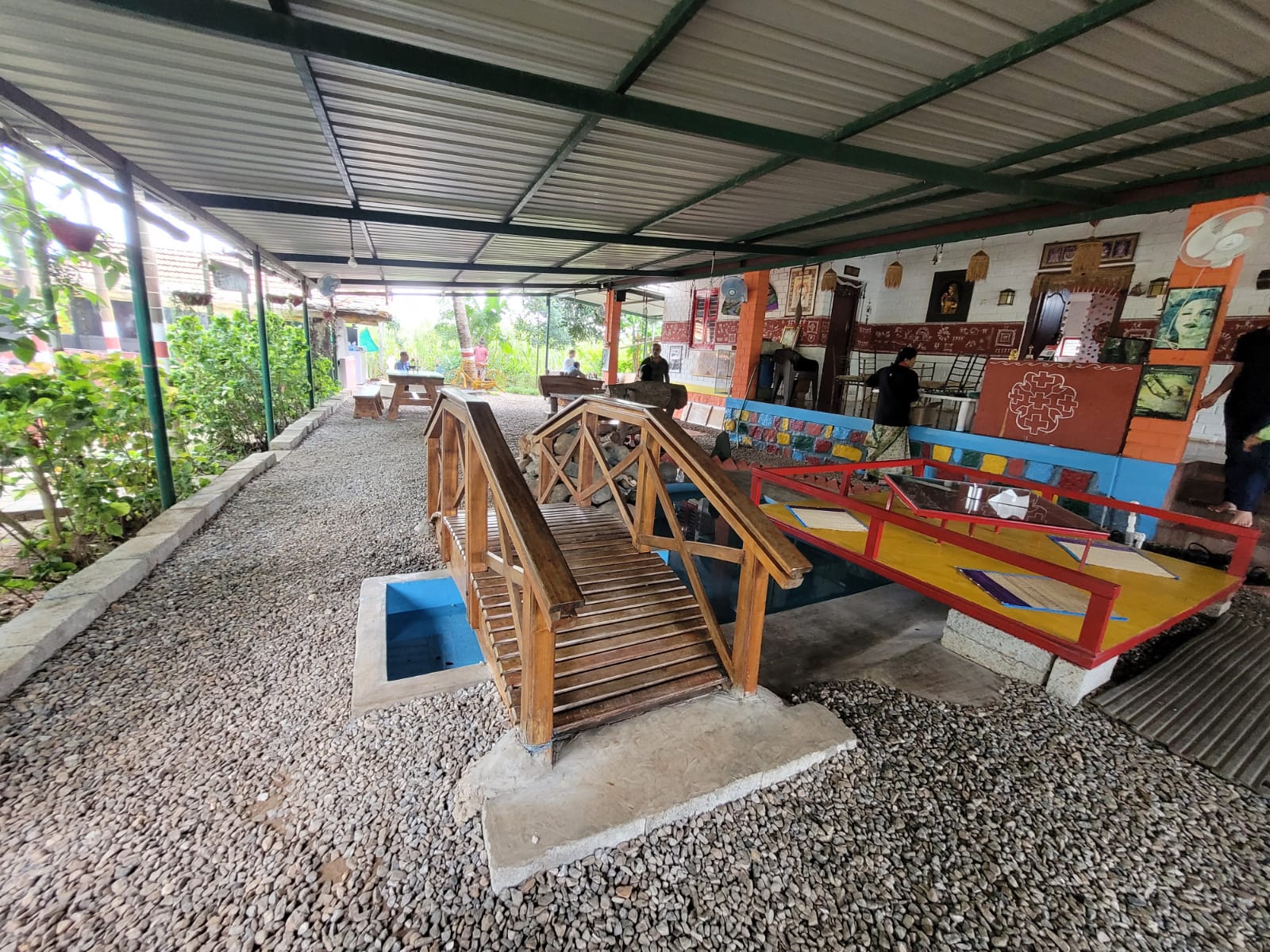 Also Read: This Tea Shop In Bangalore Serves Insta-Worthy Red, Yellow, Blue & Purple Tea Made From Fresh Flowers
Gorge On Traditional Thali Prepared By Village Housewives
Just when I thought I couldn't have enough of the breathtaking ambience, I tucked into the food. Thotada Mane serves an array of traditional snacks and wholesome meals from Karnataka, concocted from age-old family recipes. You'd also find a smatter of fun-contemporary dishes that would appeal to kids. My favourite has to be the traditional Thali or meal. This sumptuous thali comprises a bowl of rice, choice of chapati or puri, Maddur Vada, hot rasam, veggie-loaded sambhar, dry sabzi of the day, saagu, homemade curd, papad and kai obbattu for dessert. Priced at just ₹130, the portions are generous and the food tastes delicious and nutritious, just like what you'd expect if you were invited to a loving family's home for lunch.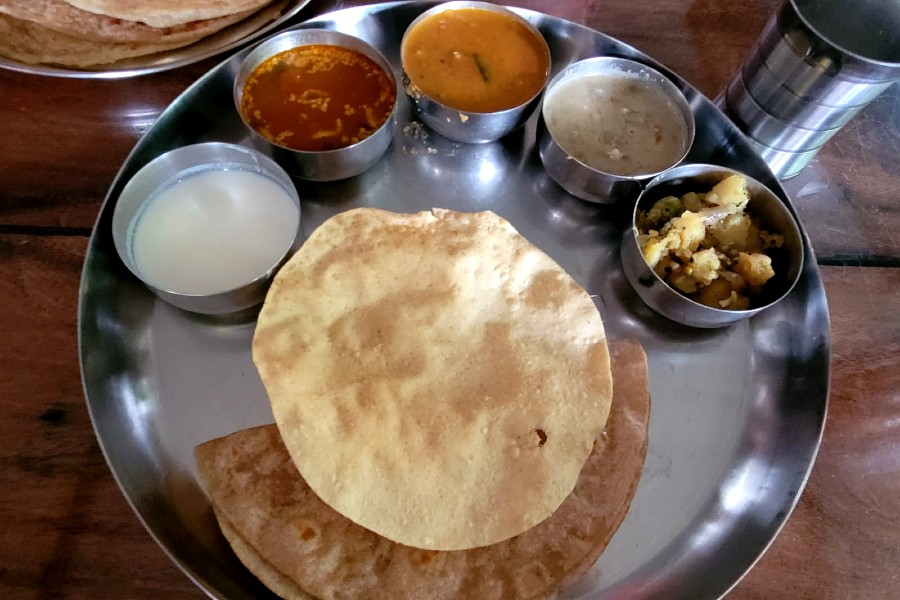 Also Read: Relish Authentic Gujarati Thali For Just ₹190 At This Bangalore Restaurant
Food Prepared From Fresh Farm Produce & Homemade Dairy Products
You'd know your body and soul is well-taken care of as the produce is sourced fresh from the village. Ghee, curd and butter used in the preparations are all homemade, in the open kitchen. There are no preservatives, artificial flavouring or colour used in the dishes. Apart from the nutritious thali, you can also try other dishes like the Special Bhajji, a delicious pakora platter of fried chillies stuffed with sliced onions, tomatoes, coriander in the in-house masala; Special Ghee Masala Dose, Cutlet Pizzas and Corn boats, to jazz up your order.
View this post on Instagram
Also Read: Enjoy Insta-Worthy Rainbow Ice Cream Sandwiches At This Bangalore Restaurant
Thotada Mane is an abode that would transform your walk into a saunter. The cool breeze, warm sunshine, cosy log benches, verdant garden setting and healthy food prepared with love and warmth, will compel you to go on a road trip, just to dine here. After all, it's not a quick pitstop, it could be a much-awaited destination on your sojourn.
Address: Survey No.294, Near Water Treatment Plant Pandavapura Road Darasaguppe, Srirangapatna, Karnataka 571438
Timings: 8 am to 3:30 pm ( Closed on Monday)
Cost: ₹400 for two approximately