The small quaint town of Ratlam is a destination that strolls at its own pace, a pace that's neither in competition with nor bothered by the nearby bustling town of Indore, but surely has a strong influence of Malwi culture like Indore. Ratlam is famous for the 3 S – Sari, Sona, and Sev. It is claimed by its residents that the purest gold jewellery can be easily found in different alleys of Ratlam without compromising on the designs. The second "S" of Ratlam, i.e., Sari, is for the availability of saris for all occasions, price range and style. Ratlam is a popular wedding shopping destination due to the high quality of gold found here, as well as spectacular design options and an abundance of options.
The city of Ratlam is also an unexplored gem of Madhya Pradesh blessed with breathtaking natural beauty, the magnificent Dholawad Dam, the serene Biprod Tirth and a stunning cactus garden of Sailana. But if you ask us what's the best part of Ratlam, the answer would be the diverse array of tasty food options at Ratlam. The culinary culture of Ratlam has developed its distinct flavour by blending the cuisines of Rajasthan, Gujarat, and Maharashtra. Many claim that the best dish to try out at Ratlam is Dal Baati. But, guess where the best sev in India comes from? The answer is Ratlam. Ratlamisev is popular all across the globe. So, wherever you visit Ratlam, apart from exploring the city, you must binge on its mouthwatering food options including the sev.  These are the must-try dishes in Ratlam:
1. Ratlami Thali
Ratlamis love their simple yet fulfilling meals, roti, vegetable curry, dal, papad, mixed vegetable, salad, boondi ka raita, Pulao, and Ratlamisev make up this simple yet fulfilling thali. The curries and dals from Ratlam have a distinct flavour unique to the region because of the blend of spices used by the locals.
When in the city, try these meals at| 1 Hotel Santushti in Bapu Nagar, Ratlam; 2. Larelappa Restaurant near Ratlam Railway Station
2. Kesar Chai
If you are tea lover and love experimenting with different flavors of tea your quest would be incomplete without a sip of kesar chai from Ratlam, that will instantly uplift your mood with its rich shahi flavour and aroma. Not commonly found flavor, this enriching beverage can ne tasted at the iconic Bajrang Bhai ki Restaurant in Ratlam which is known to serve the best kesar chai of the region. The place also sells kesar coffee, kachoris, aloo vadas and ginger garlic aloo vadas.
Must try at | Bajrang Bhai ki Restaurant, Ratlam
3. Ratlami Sev
While in Malwa region to eat Poha without sprinkle of Sev, Pyaz and jeeravan is pure sin, they are the best buddies of plate of poha and makes it all the more flavourful.Because of this reason the Ratlamisev has a special place in the heart of the people in Madhya Pradesh. The highly crispy, spicy and satiatingSev is easily available in shops of all sizes in Ratlam and can be brought from many of the National brands. But as they say, it is the water of Ratlam that plays a key role in giving the Ratlamisevits flavor and texture. The RatlamiSev isn't just popular in India, but in the US and the Middle East too. Take home some packets of Ratlamisev from the historic Goverdhan's shop nestled in Ratlam's Daulat Gunj and munch on them as and when you feel.
Where to try | 1. RatlamiSevBhandar, Shastri Nagar, Ratlam; 2. Ratlami Tadka, Kasturba Nagar, Ratlam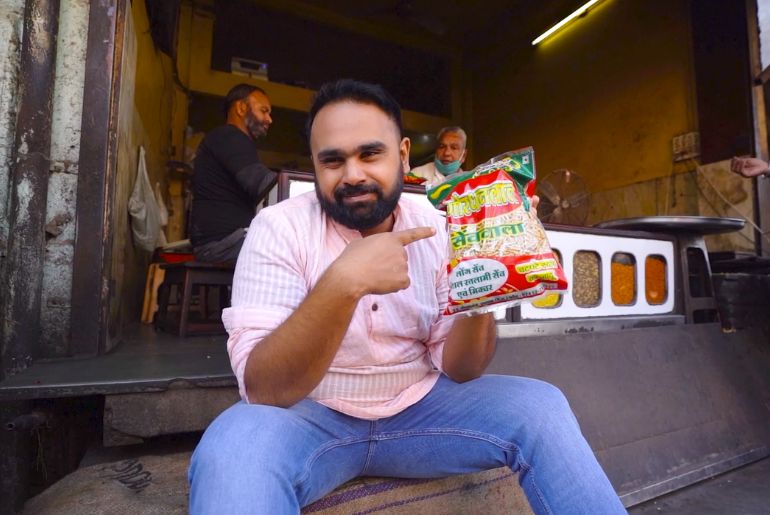 4. Poha
When in Madhya Pradesh, you should not miss out on this simple yet flavourful dish. Indori Poha is renowned all over India. And the magic spreads out to its neighbouring city Ratlam too. Relishing a plate of poha in Ratlam topped with the city's signature RatlamiSev, KachhaPyaz, Anardana, Hara Dhaniya and Jeerawan with a lemon wedge is surely a blissful gastronomic experience.
Try it at| 1. Ratlam Railway Station; 2. Pohawala Restaurant; 3. Rathod Nashta Point
5. Banana Samosas
We all have tried samosas. A snack that is mostly craved during Monsoons. What is best than a piping hot Samosas topped with Mithi Chatni, Hari Chatni and RatlamiSev. Yes, you are right, Ratlamis can eat their Sev with almost everything. But you haven't tried the best of them yet if you haven't visited Ratlam'sKarumama Samosa and Kachori Wale. Do visit Ratlam from July to October as the shop sells special raw banana samosas at this point of time. The Jain Version of traditional Samosa, a bite of Banana samosa explodes with multiple flavors in your mouth.
Where to try | Karumama Samosa and Kachori Wale, Ratlam
 6. Palak Patta Chaat
Ratlam is truly a foodie's paradise, the place serves some amazing variety of Chaat Dishes. One of the ,must try chaat at Ratlam is Palak Patta Chat. This delicious chaat comprises Palak Patta dipped in Besan and fried to perfection till it is golden andcrispy. These fried beauties are then topped with different kinds of chutneys and meetha creamy dahi.
Try it out from Lala Satish Chaat House, Shastri Nagar, Ratlam, which is truly a paradise for chaat lovers.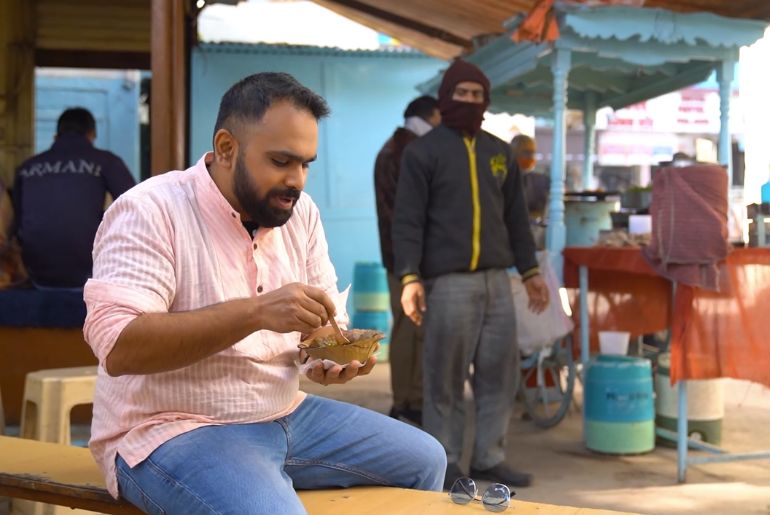 7. Kulfi Falooda
Being a small town, Ratlam enjoys supply of fresh, creamy and purest milk. Milk and Milk products at Ratlam are full of taste and flavor and make amazing Kulfi Faloodasthat is wholesome and delectable. A lip-smacking combination of Kulfi, Rabdi, Nuts, FaloodaSev, rabdiis loaded with calories but should not be avoided. You should try the dish in any sweet shop in the city as it is not only a treat for the taste buds but a treat for the soul too.
Must try at |  Harish Punjabi Kulfi and Ice Cream
8. Dum Biryani
In a place where there are so many food options, how can biryani be left out? Hotel Angara in Ratlam's Shastri Nagar is known to serve highly flavourfuldum biryanis. The slender-grained rice and tender pieces of mutton meticulously prepared by the chefs will leave you spellbound. The Biryani slowly cooked on Dum brings out the best flavors of spices used. Accompanied with Vegetable Raita this wholesome Dish can end the food tour of city on happy and satiating note.
Try this out at| Hotel Angara, Shastri Nagar, Ratlam
The food culture in Ratlam is represented by a variety of food shops of all sizes and styles. The city is home to upscale restaurants as well as basic street food shops that attract a large number of foodies due to the variety of delicacies on offer. In a nutshell, Ratnam is the ideal place in Madhya Pradesh to celebrate your passion for food, When in Ratlam, you should also visit the following tourist spots in and around the city like Dholawad Dam, Biprod Tirth, Cactus Garden at Sailana, Kharmour Bird Sanctuary etc. 
Connectivity of Ratlam: 
By Train :Ratlam Junction is a major junction on Delhi-Mumbai and Ajmer-Khandwa Rail routes. The four major railway tracks passing through Ratlam City, leading to Mumbai, Delhi, Ajmer and Khandwa. 
By Air: The nearest airport is Devi Ahilya Bai Holkar Airport at Indore (137 kilometres) which is connected to all major cities of country with International Flight to Dubai. 
By Road: Ratlam is connected to Indore and Neemuch via National Highway 79. The city has regularbus services to Udaipur, Neemuch, Indore, Bhopal, Ujjain, Jhabua etc.
For more information on Ratlam, visit the Madhya Pradesh Tourism website. 
Also, stay tuned to Curly Tales for more information on the unique attractions of Madhya Pradesh.