Uorfi Javed never fails to make heads turn with her risque outfits. The fashionista is known for taking inspiration from the most unusual places to design her outfits. From cotton candy to vark topped on kaju katli, she has used them all to create the most eyeball-grabbing looks you can think of. And now, Uorfi has just dropped another "hot" look on Instagram that will have a special connection with chai lovers. 
Uorfi Javed Sizzles In A Dress Made Of Tea Bags
Uorfi Javed took to her Instagram handle (@urf7i) to share her latest look. Garnering over 6 million views in less than 24 hours, the diva's new outfit has definitely turned heads. She captioned her reel, "Hello fraands, chai peelo". The video shows her casually dressed, sipping a glass of green tea. That's when she looks at the tea bag and has her eureka moment!
View this post on Instagram
Hit by a wave of inspiration, Uorfi designs a dress for herself made with just tea bags. The dress made with hundreds of tea bags, has a signature white colour with brown tea powder encased. The video also shows the dress made of tea bags changing colour when hot water is poured over it. Uorfi Javed stylishly poses in her new dress and even sips a mug of green tea to show us where she got the inspiration from in the first place.
Also Read: Sudha Murty's UK Address 10 Downing Street's; Leaves UK Immigration Officers In Disbelief 
Netizens Actually "Warm Up" To This Idea
India, a chai-loving nation, filled with tea lovers is a dress that seems to be dedicated to every chai lover. @nidhi.rick comments that she really liked this outfit for a change. @tomsgaur declares that Uorfi deserves at least 100 points for creativity. rjs_246_ comments that this tea bag dress could be a great one for tea lovers. The Netizen goes on to comment that all one needs is to dip the dress in hot water. The Netizen would honestly like to gift it to one of her colleagues.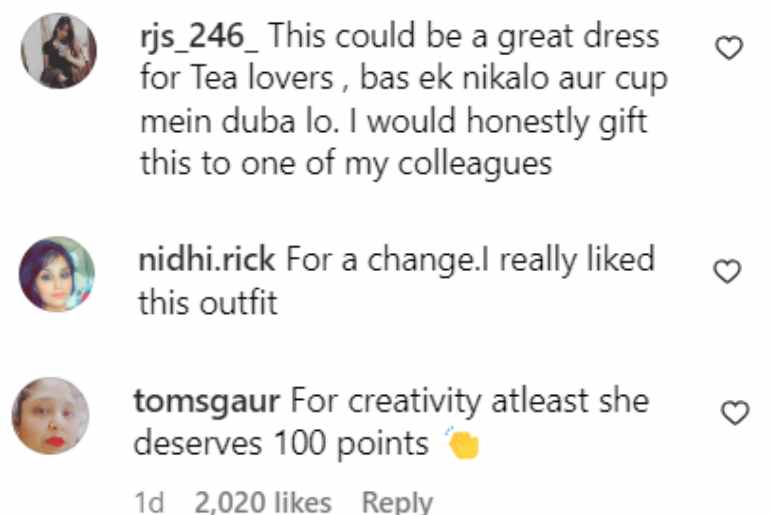 Also Read: Paratha In Aluminium Foil Or Dress? Aishwarya Rai's Cannes Look Starts Meme Fest
Meanwhile, would you ever like to wear a dress made of tea bags? if you're a true chai lover, you actually might!
Cover Image Courtesy: @urf7i/ Instagram