We are all aware that Varun Dhawan is a health enthusiast but did you know the actor is also a big foodie? Varun is currently shooting for his upcoming movie Bhediya and his in-between shots and food recommendations are what we are living for! Varun recently shared an Instagram story where the actor revealed that there's no better combo than Parle-G and a cup of Chai. And we can't agree more!
Varun Dhawan Says There's Nothing Better Than Dipping A Parle-G In Chai
Varun Dhawan took to Instagram recently and shared a video from the sets of Bhediya with a genius food tip. The video is uploaded by Director Amar Kaushik and opens up with Varun Dhawan taking a chai break while filming. The actor is then dipping a Parle-G biscuit in a cup of tea. The actor says, "Parle-G and Chai is the best combination. There's no better feeling than this." The video has a caption that says, "Aakhir Bhediya bhi khata hai," and towards the end of the video, you can see Varun Dhawan munching on the dipped Parle-G while imitating a wolf.
This quirky episode of Varun with his cup of tea and a Parle-G is the most adorable thing you will see on the internet of late!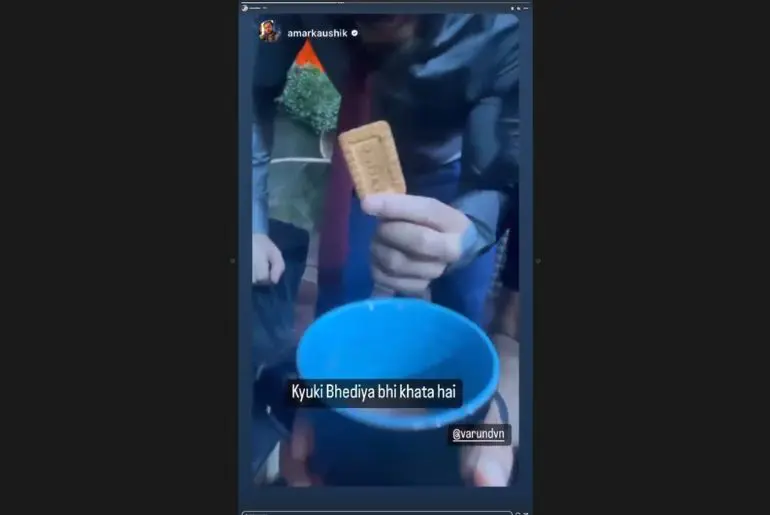 Also read: Kriti Sanon Went On A Goa Trip With Varun Dhawan And Friends
What Other Food Items Can You Pair With Your Chai?
Taking inspiration from Varun Dhawan and his favourite chai combo, here are a few other food items that go well with a cup of tea.
Marie Biscuit
Marie Biscuits top the list when it comes to a great Chai combo. The all-time favourite Marie biscuits are loved all around the world. Just dip one in your cup of tea and bask in the bliss!
Samosa
Indians love their samosas, especially with Chai! These crispy little triangles filled with hot yummy masala sabzi are one of the best food items that go well with a cup of tea.
Peanut Butter and Bread
This combo of peanut butter and bread with Chai might sound odd to you, but once you try it, you will be craving more! The creamy consistency of the peanut butter is the cherry on top.
Now that you have a few more food items to go with your Chai, are you still siding with Varun Dhawan or picking something else? Do tell us in the comments section below!
Feature image courtesy – Instagram/Varun Dhawan