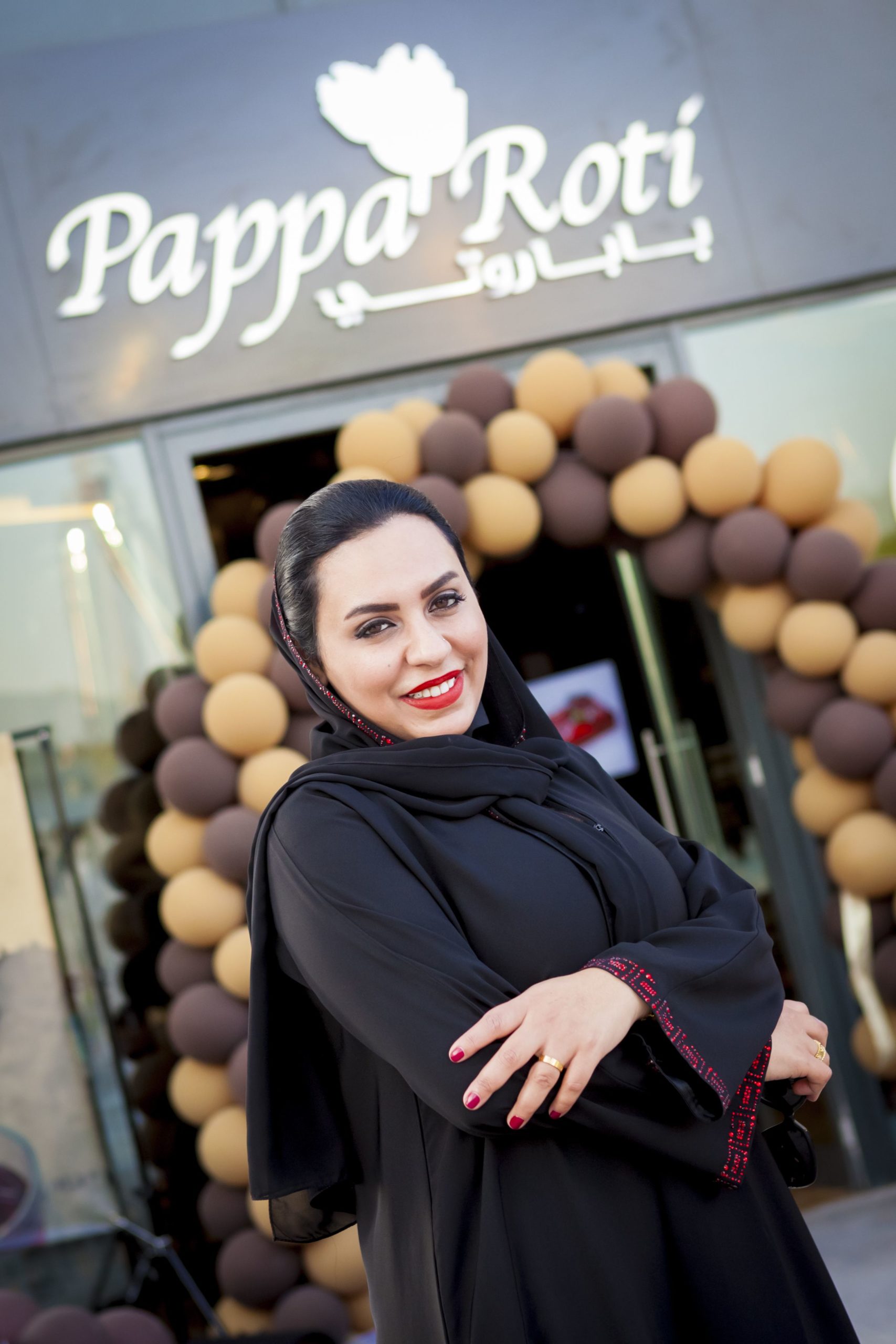 Women in GCC are more empowered and enabled than ever before. Curly Tales and Vatika team up to launch Vatika Voices- an initiative that sheds light on Emirati women who have made the world sit up and take note. As a brand, Vatika aims to help women by listening to their powerful stories and helping them achieve their dreams. The aid provided by the brand will differ from person to person. The brand will ensure to help the women with just one aim – Empowering Women to shape the future of our society.
Through the Vatika Voices campaign, Vatika aims to show that empowered women are self-sufficient and add more value to society. In fact, the campaign is solely run by women of determination who have managed to prove what it takes to be them. 
As part of the campaign, CT Dubai got candid with the Emirati entrepreneur, owner of Papparoti and a mother of four- Rasha Al Danhani, to understand what it takes for an Emirati woman to effortlessly flaunt so many hats.
Bun and tea is a combo that never goes old. And one Dubai restaurant has been thriving on this concept and has garnered much love among foodies out there. Papparoti is known for their delicious buns, a variety of coffee and beverages. The brand first launched in Malaysia in 2003, and today, it has its presence across the world.
The first branch in Dubai was started by Rasha Al Danhani, an Emirati entrepreneur who had entrepreneurial skills running in her blood. Read on, as Rasha spills the beans on her childhood, gender battle, medicine to failure and much more!
1. What Was Childhood Like? What Did You Want To Become As A Child?
My childhood was very normal just like any other kid, I have two sisters and a brother, but we were all treated equally. My father never discriminated between my brother and us. He knew from an early age that I wanted to be an entrepreneur and he always encouraged me and my sisters in whatever we wanted to do. Both my parents were very encouraging.
I studied entrepreneurship at Dubai Women's College, and graduated in 1998. I also worked in banking and property before I started off my own marine-themed spa, which I ran for two years. In 2008, I wanted to go big and was on the lookout for a good idea. Dubai was in recession at that time and I wanted to come up with an idea that would take off despite the economic situation.
2. How Did You Come Up With The Concept?
As a practice, every time I travel, I love taking pictures of food- the petite things and the exotic ones. On a trip to Malaysia, I was fascinated by an aroma as I passed by a kiosk at the train station. I tried it, and that was my first taste of the PappaRoti bun. I immediately loved it. The next day I went in again, talked to the staff and asked for the number of the owner. Everything happened very quickly after that.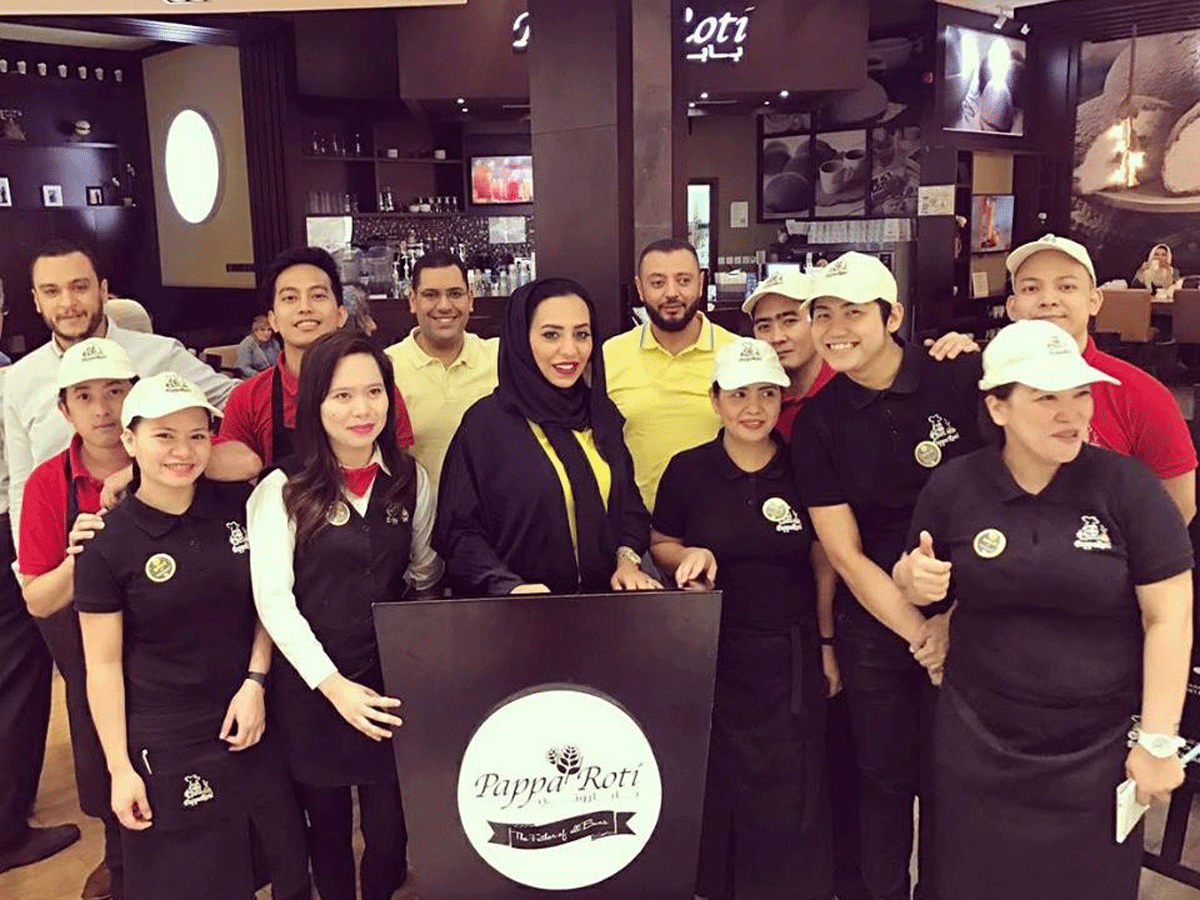 I called up the company and said that I really wanted to take this product to Dubai, and to the whole of the Middle East. I signed for the franchise and I knew I wanted to start my first branch in a central location. I wanted to start BIG and so I chose The Dubai Mall. This way, I also knew I could attract a multicultural dining crowd. Our first outlet opened doors to the public in 2009. Later on, I started my first franchise in Saudi Arabia. And today, we're all around the world, – Russia, Paris- not just the Middle East.
3. How Did Your Family React To Your Idea Of Entrepreneurship?
My father was a businessman and from a very young age I was inspired by him. I used to accompany him to meetings since I was young. To me, my parents have been my first school. Ever since then, my father also knew I wanted to start my own business. So, my family knew I would be an entrepreneur myself someday and so when they got to know about PappaRoti they were happy and excited for me.
4. Do Men Find You Intimidating?
Men imposed their placement in different fields and people thought differently of women. Especially, in the Middle East it was always a notion that women should not mingle too much with men. Women were always looked at humans who would fit only in certain roles like teacher, tailor or someone who runs her own salon. But, sadly, they were never looked at as individuals who could also excel in other fields. But, I was determined to start something on my own, prove my role and existence. Thank God it worked!

5. From A Small Kiosk To Hundreds Of Outlets Across The World – What Has The Journey Been Like?
I started my first outlet in the UAE inn 2019. From there, it has been a great learning curve. Every country has its own culture and rules and procedures, so it takes a while to study the market. We now have over 400-plus outlets, and that's a huge success. I get a lot of requests from people about opening in their countries, and I could have made millions off it, but I wanted to establish everything in my market at home first – have an operation manual, have a marketing wing. I opened up a marketing company to support the business as well. I decided early on that only after I was a 100% satisfied would I start opening the franchise door to others for sub-franchises.
 6. It Is Very Easy For Arab Women To Be Judged. How Was It Like When You Started?
Fortunately, the UAE has been extremely supportive of women entrepreneurs and so it wasn't as difficult. However I was judged by many along the way. People wondered if I would be successful, they doubted my skills and capability because I am a woman.
Back then on my trip to Malaysia, when I walked up to the owner and said I wanted to start a franchise of his store, he was surprised – not because of the request but because I was a woman. He said he didn't think I could start a business as a woman in the UAE. I said I'd prove it to him that not only could I do it, I'd succeed doing it. And I did.
In fact, once I was on a plane and a gentleman next to me told me he wanted to quit his job and start something on his own after he saw a brand acing the market in the UAE. I was curious and I immediately asked him more about the business concept. This was when he asked me if I've heard about Pappa Roti. I heard his opinion on the brand and was elated. Towards the end, he asked me what I do and that's when I told him I was the owner of Pappa Roti. He was shocked. It was this moment that I knew I was doing something right!
7. Did You Face Gender Bias When You Entered The Industry? How Did You Tackle It?
I always knew what I wanted, I was ambitious and driven. I had always been inclined towards the F&B industry. When I discussed my idea and the product with few of colleagues back then, I didn't receive a positive response. I was judged for being a woman, not having much F&B experience and for wanting to build a café idea around just one signature product. Thankfully the UAE has always encouraged women in all fields and I received a lot of support from the government.
8. How Do You Handle Failures?
I believe every failure has a learning curve. I have learnt priceless lessons from my failures that no book could ever teach me. I try to be positive and keep a calm mind, I trust my instincts. I know the failure is just a phase that will pass.
9. What Is That One Moment Or Episode Which Turned Things Around Drastically For You?
In 2010 I received a call from HH Sheikh Mohammed Bin Rashid Al Maktoum's office that he was at PappaRoti, Dubai Mall and how he loved the product and the concept. I was at the shop and he was visiting the Dubai Mall. His Highness then called the manager of the mall and asked him to ask the owner of Pappa Roti to meet him. This was just unbelievable! When I met HH Sheikh Mohammed he praised me for my work and also said he had faith in his daughters. That's when I knew that I had done something right.
10. One Piece Of Advice For Women Out There
My advice is to first have a clear idea, make up your mind on what you want to do. Make that your focus and do not let anyone or anything tell you, you can't. Follow your head and do extensive research and groundwork before you put your money in anything. If you are someone who does not accept challenges, you won't go places or get anywhere.