Under 140 Characters
This restored haveli in Old Delhi's Chandni Chowk is a museum dedicated to the poet among poets, Mirza Ghalib.
Mirza Ghalib
Ghalib is the pen-name of Mirza Asadullah Beg Khan. When anyone talks about Urdu poetry, his is the first name that comes up. He was a member of the court of Bahadur Shah Zafar and his poetry tutor too. Ghalib lived in the 19th century and witnessed the end of the Mughal Empire, the revolt of 1857 and the firm establishment of the British rule in India. No wonder his poetry is full of pain and gham (the 'gha' of both 'Ghalib' and 'gham' is produced way in the back of your throat! Try it, and laugh).
What Is It?
This is the haveli in which he spent his last years. He died here in 1869. After his death, it fell into disrepair and was bought and restored by the Delhi government at the turn of this century. It now serves as a reminder of the great man in the era he loved most.
Also read: 5 Must-Visit Book Cafes In Delhi NCR
Where Is It?
Remember the lyrics of Kajra Re? 'Ballimaran se Daribe talak, teri meri kahaani Dilli mein'? Ballimaran is a locality of Purani Dilli's Chandni Chowk and Ghalib's haveli is located here. This is the oldest quarter of the city and dates back to Mughal times. You can imagine Ghalib taking a carriage to the Red Fort just up the road, where the Mughal court is waiting to be regaled by his imitable verse.
What's In It?
Ghalib ki haveli is now a museum dedicated to his life. Arched walkways surround a central courtyard where he perhaps indulged one of his many passions: kite-flying. You see a bust of Ghalib commissioned by Gulzar saab. The walls are hung with his poems as well as those of his peers like Momin and Zauq, in Urdu, Hindi and English. Try reading them aloud to yourself; the place is just right for it.
Also read: Majnu Ka Tilla: Little Tibet of Delhi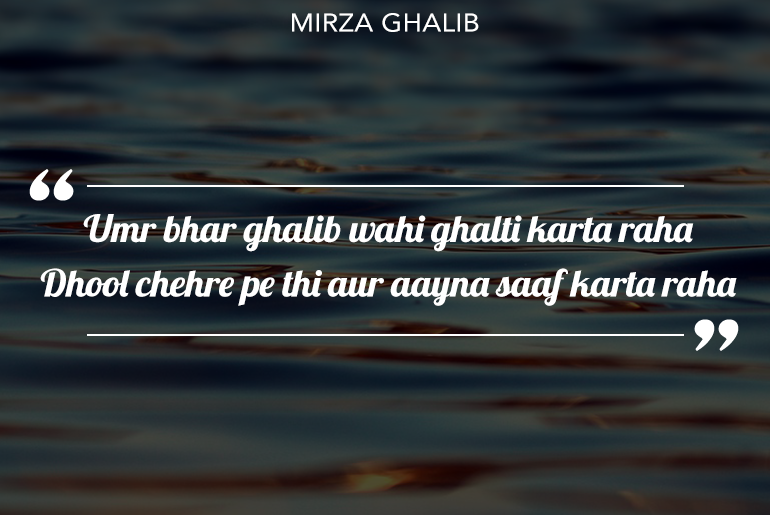 Deets:
Ghalib ki haveli, Gali Qasim Jaan, Baradari, Ballimaran, New Delhi – 110006.
Ghalib wrote: Hazaaron khwaahishein aisi ke har khwaahish pe dum nikle, bahut nikle mere armaan lekin phir bhi kam nikle. The next time you're in Delhi, fulfil your khwaahish and pay homage to the greatest poet in Urdu history.
LIKE Curly Tales on Facebook | Instagram | Twitter
You can subscribe to our newsletters