If you have watched Dubai Bling, then you already know who is Safa Siddiqui. This fashion icon from the popular Netflix series always turns heads with her fashionable clothes and she will certainly give you some rad outfit inspirations with her OOTDs. And if you too loved her bubbly nature on the show, then you must read on. We are here to share a snippet of her conversation with Kamiya Jani, our Editor-in-Chief, on the latest episode of Curly Tales Sunday Brunch Middle East. Here's what Safa had to say about whether Dubai Bling was scripted or not.
Dubai Bling Was Not Scripted – Safa Siddiqui
Safa Siddiqui met with Kamiya Jani at her beautiful beachside house in Palm Jumeirah. From there, the interview proceeded to a yacht where she ended up spilling a lot of details about her life, how the show came to be, and her love for fashion. However, while they were still at her house sitting on the gorgeous patio by the beach, this is what she said about Dubai Bling being scripted, "Not scripted at all, unfortunately! We are not actors or actresses. This is our day-to-day lives… what we're doing and what problems we're facing… and yeah, it's not scripted."
So, if you too have been thinking about the authenticity of the series, you have got your answers and you can definitely be assured that it is not scripted.
Also Read: Here's How Zeina Khoury Made Smart Financial Investments With Her Dirhams | Curly Tales
She Talks About Her Professional Life & Move To Dubai As Well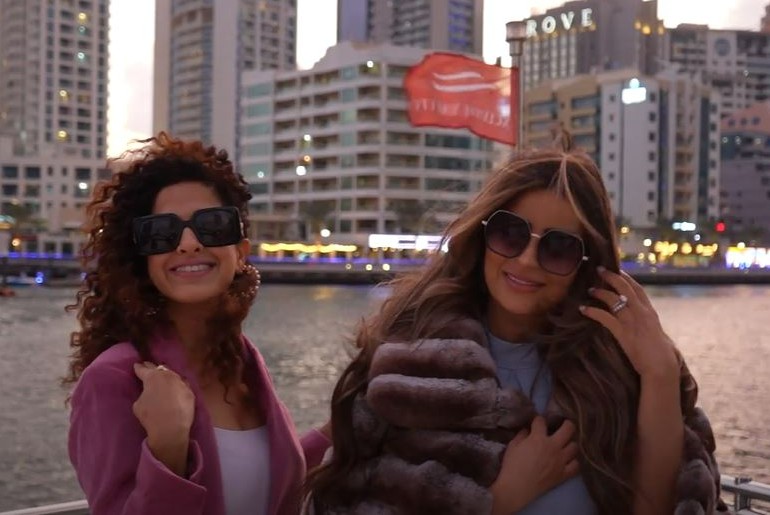 After talking about this, Safa also mentioned why she moved to Dubai. She said that initially; the move happened because she broke up with somebody and so she wanted to start afresh. After this, she told her parents she'd go and live with her brother in Dubai and soon after; she moved on the condition that she finds a job. Did you know she has worked in real estate? Yes, and she admitted that during her tenure, she would often have to travel from Dubai to Abu Dhabi almost on a daily basis.
Doesn't she sound absolutely endearing? Well, if you too wish to watch her being as glamorous and lovely as always, don't miss out on the interview on the YouTube channel of Curly Tales.
Cover Image Courtesy: Internal