Bengalis have started lining up outside the Durga Puja pandals since Mahalaya. No matter if devotees are standing in queues for some days before the puja starts, the crowd is bound to multiply rapidly every next day. Only Bengalis know the struggles yet the excitement and fun of standing for hours outside every pandal. If you want to beat this crowd and quickly enter the pandals, only VIP passes can help you. Today we will share some tips to get VIP passes.
Here's How To Collect VIP Passes For Durga Puja Pandals:
1. Buy Durga Puja Edition Magazines
No matter how digitalised the world and everything around us becomes, there are some old things that will always hold a very special corner in our hearts. For Bengalis, it is the Durga Puja edition magazines such as Sananda and Unish Kuri. It is a must in every household before the Puja starts. Also, buying these magazines have its own perks. These come with VIP passes of prestigious and popular pandals of Kolkata. So to sort out your problems of lining outside pandals for hours, do not forget to grab these magazines.
Also read: Durga Puja 2022: 15 Kolkata Pandals You Need To Visit
2. Buy Passes Online
There are several websites selling VIP passes for Durga Puja pandals this year. Sitting in the comfort of your home, you can purchase these passes and then use these to cut off the massive lines outside the pandals and Mandaps. You can check out the PayTM Insider website or app for these.
3. Ask For Passes From The Puja Committee
Simply go to the puja committee and ask for passes. If they cannot provide you with it, they can surely assist you to meet which people to grab the VIP passes and cut the lines. If you have a friend from the committee, you know whom to ask for the passes.
Also read: Durga Puja Enters The Metaverse For The First Time; Be Part Of Meta Pujo This Year
4. Contact The Puja Organisers
Puja organisers of many pandals sell these VIP passes to the crowd. You can buy your ones from here. Also, this is for a good cause as the committees use a share of the money from selling VIP passes for the welfare of the people associated with making the pandals, lightmen, dhakis, and more.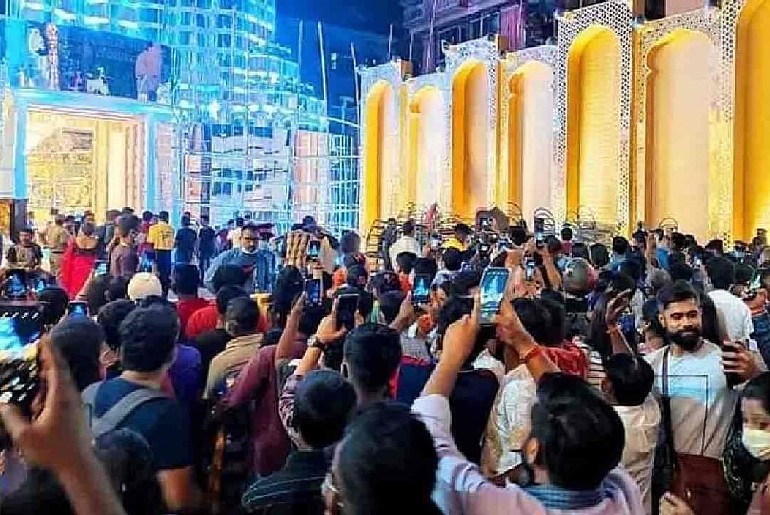 5. Some Shops & Companies Offer Passes
It is a mandate to shop our hearts out before Durga Puja. And while shopping, you can get your VIP passes. Well, there are various companies and shops that provide the customers with these passes to Durga Puja pandals in the city.
Now that your tension for VIP passes has sorted, when are you going out for pandal hopping? Are you waiting for Soshti or have you already started?
Cover Image Courtesy: Wikimedia Commons