Delhi is blessed geographically! We have access to the best places in Rajasthan, Uttarakhand and Himachal Pradesh by road with a scenic drive! And these places offer more than just beautiful accommodations! You can go for treks, camping, homestays/hostels and of course luxury getaways. So here is a round up of 5 weekend getaways around Delhi! What you can do and where you should stay.
1. Paragliding In Bir Billing, Himachal Pradesh
The 2015 Paragliding World Cup was held there, for the first time in India, in October 2015. Bir Billing is one of the world's best paragliding destinations at the twin towns of Bir and Billing. The peak paragliding season runs from March to May and October to November. Billing Valley Adventures & Billing Adventures of Himachal offer paragliding, trekking & camping. You can stay at  The 4 rooms hostel. A beautiful mud house, built in a traditional Himalyan style , here you can book rooms or even an entire suite! And this place has a quaint cafe & gallery called the 4tables café & gallery. Single occupancy with breakfast is ₹3000 & double occupancy with breakfast is ₹4000. You can also book a suite for yourself with breakfast included for ₹4500.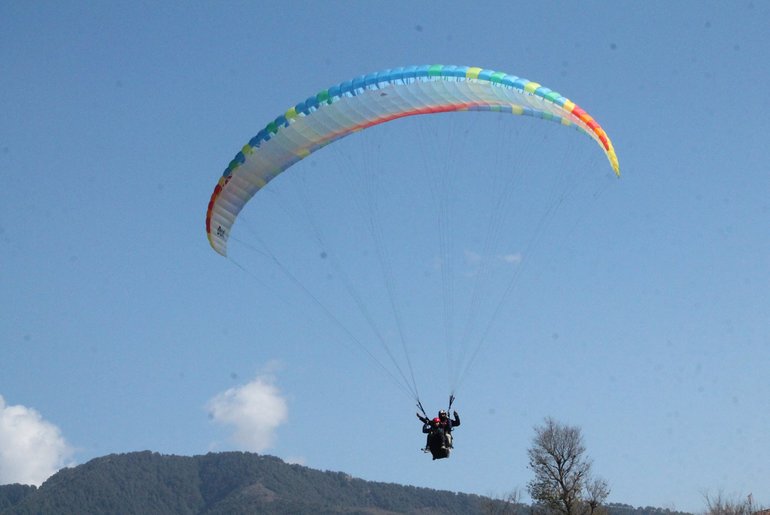 Deets
Address: Gunehr, Village, Valley, Himachal Pradesh 176077
Contact:097365 80963
Book here: http://www.the4roomshotel.com/index.html
2. Great Himalayan National Park
This one's for the trekkers! The Great Himalayan National Park, in the Kullu District of Himachal Pradesh, became a UNESCO World Heritage Site in 2014 . Its remote terrain makes it the most sought after for trekker junkies! Ecotourism company Sunshine Himalayan Adventures offers treks and tours. There are a number of trekking routes ranging from three to eight days. You can stay at Raju's Cottage for ₹ 3500. Raju's Cottage, a renowned homestay in Gushaini on the periphery of the park, is an ideal base or stopover. Raju's Cottage is located in Gushaini .It's a hamlet located near the National Park. Head To Raju's Cottage for a
home-like staycation in the hills.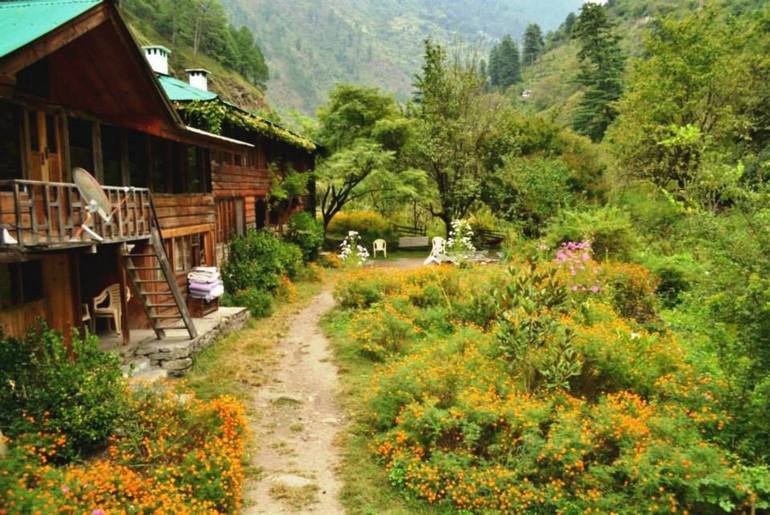 Deets
Address:  Goshaini, Via – Banjar , 175123 Banjar, India
Contact: 094598 33124
Booking here: https://www.tripadvisor.in/ShowUserReviews-g503694-d2345665-r359938332-Tirthan_Valley-Kullu_Kullu_District_Himachal_Pradesh.html
3. Andretta- The Art Village In Palampur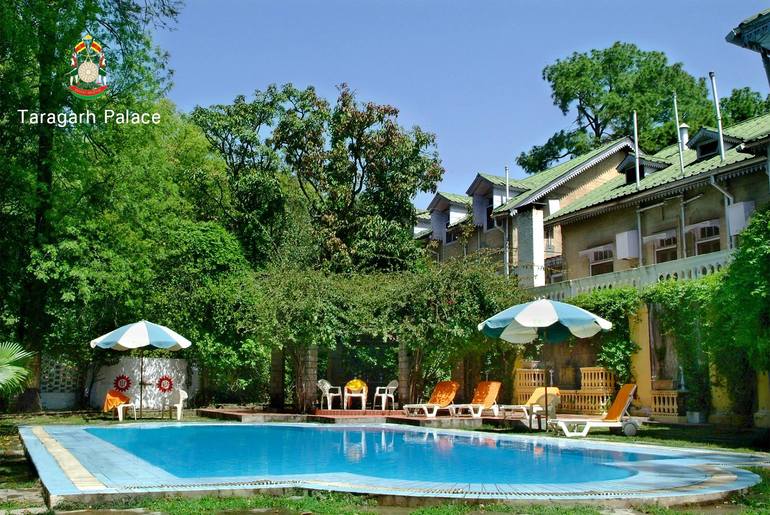 Don't miss the quaint Andretta village, a 20 minute drive from Palampur in the Kangra District. It can be visited on a day trip from Palampur. The village is said to have been established in the 1920s by Irish playwright Norah Richards. Andretta Pottery and Craft Society offers three month pottery classes. Visit the Sobha Singh Art Gallery & mud cottage of Irish playwright. Stay at the TaraGarh Palace, Palampaur, ₹ 4,310 – ₹ 9,483. Built by the Nawab of Bhawalpur in 1937, Taragarh Palace stands majestically at a height of 1,000 meters, amidst 15 acres of lush forests and tea gardens in Palampur. The Palace was built as a summer resort and it was acquired by the Royal Family of Jammu & Kashmir in 1951.
Deets
Address: Taragarh, Tehsil Baijnath, Palampur, Himachal Pradesh 176081
Contact: 0189 424 2034
Book here: https://www.tripadvisor.in/Hotel_Review-g1380886-d302932-Reviews-WelcomHeritage_Taragarh_Palace_Hotel-Kangra_Kangra_District_Himachal_Pradesh.html
4. Glamping At Prince Desert Camp, Jaisalmer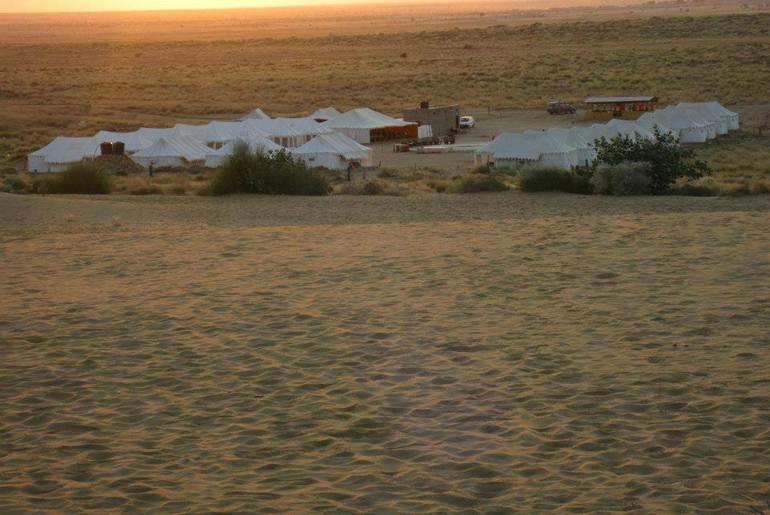 Glamping is luxury camping- a style which is increasingly getting popular amongst tourists who want to stay closest to nature. Set in the Thar Desert, this site is at an hours' drive from Jaisalmer Railway Station an will cost you ₹ 3164 per night for their luxury tents. Stay in exclusive Swiss deluxe luxury tents spectacular views of the surrounding desert. Explore the desert on a jeep or camel safari arranged by the hotel.
Deets
Address:  Lakhmana Road, Sam sand dunes, Jaisalmer, Rajasthan 345001
Contact: 098283 39177
Book here: https://www.tripadvisor.in/Hotel_Review-g297667-d1718578-Reviews-Prince_Desert_Camp-Jaisalmer_Jaisalmer_District_Rajasthan.html
5. Game-Of-Thrones Themed Hostel, Kasol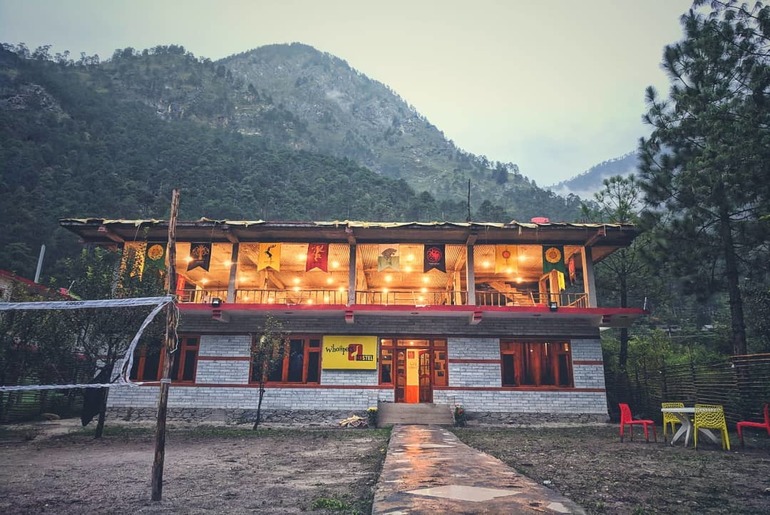 Ever imagined how living by the riverside in a Game Of Thrones themed hostel would be like? Whoopers Hostel is a paradise! Built on a Game Of Thrones theme, it only costs Rs 314 per night for this beauty! Check it out.
Nestled in the woods of Kasol the dorms here have 8 beds and 6 beds. Indulge in playing Volleyball outside
There's even a pool table and Jenga.
Deets
Address: Whoopers Hostel, Katagala, Kasol, Himachal Pradesh
Contact: 080765 98237
Book here: https://www.hostelbookers.com/hostels/india/kasol/291724