'Victoria 2.0' are the electronic carriages that will bring Bombay's charm back to Mumbai. Remember that horse-driven carriage ride that you always loved as a kid? Well, you can hop on them now too, just without the animal cruelty! These carriages will soon be on the streets of Mumbai. And here's the best part! They will be battery operated, posing no harm to animals and with audio that narrates the history of the city!
Also Read:20 Iconic Eateries In Mumbai To Give You The Feels
The E-Carriages Will Replace The Traditional Horse Carriages
The company, Ubo Ridez will operate the electric Victoria's in the city. They already completed the trial run for the e-carriages without the horses. The state's transport department has also cleared a proposal to allow electric Victoria carriages to run around the Gateway of India where traditional Victoria horse carriages ran for close to a century.
The Battery-Driven E-Carriages Will Take You Around South Mumbai
For all who have seen Bombay evolve into Mumbai, must remember seeing these horse carriages on the road. For the longest time, they have been off the roads citing cruelty towards animals. But we have to thank technology here, these new carriages are battery-driven. These carriages will be known as 'e-buggies.'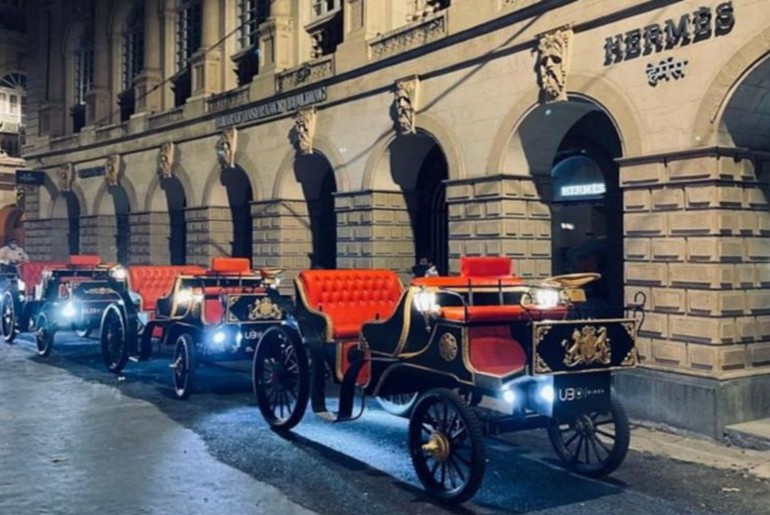 The E-Carriages Are Equipped With A GPS System
This will serve as another tourist attraction as the carriage ride promises to narrate the history of the city's wonders. So for all of you who will visit Mumbai for the first time, don't forget to hop on these rides. They operate in South Mumbai area allowing you to sit back and appreciate the beautiful colonial architecture in the city. The carriage is equipped with almost everything you would ever need, it also has a Bluetooth speaker if you want to put on your favourite songs. They are also equipped with a GPS system.
Also Read: 15 Historic Places In Mumbai To Take You Through Time
Unlike horse-drawn carriages, these electric buggies can navigate heavy traffic routes easily. The plan is to roll out 40 of them in Phase 1. But we still wonder if these carriages will be able to cope with the city's buzzing traffic. Let us know in the comments below if Victoria 2.0 will survive on the city's streets.