If you are exploring the city and want to get some delicacies that literally shout Mumbai to you, You must not miss out on these iconic eateries in Mumbai. Here are 20 places in Bombay that are a must-have and have been located in the city for years.
Iconic Eateries in Mumbai will really give you the feel of the place.
1. Kyani's, Lohar Chawl
Well, it is always said that you should start your day early and with a heavy breakfast. Kyani's in Marine Lines is your one comfort food eatery. The best thing to munch on their egg dishes, sodas, caramel custards, and their beautiful cake. They have quick bites like chicken samosas and bun maskas with Irani chai. My personal favourite has been Kheema Pav and it still remains the best in town! Kyani has been running for more than 100 years now, this is one of the iconic eateries in Mumbai that will run the next 100 years and still be a favourite.
Address: Kyani's, Jermahal Estate, 657, Jss Rd, Tak Wadi, Lohar Chawl, Mumbai, Maharashtra 400002
Also Read:5 Places For Long Drives In Mumbai During Monsoon
2. Canon Pav Bhaji, CSMT
This little place is right opposite the majestic CSMT Station and serves pav bhaji with a slab of Amul butter on it.  This place is run entirely by a bunch of women who make these Pav Bahjis, take orders, clean the place, manage it the entire day. The best dishes to try here are Amul Pav Bhaji and Cheese Pav Bhaji.
Address: Canon Pav Bhaji, Opposite CST Station, Mumbai CST Area, Mumbai
Also Read: Top 10 Places For Street Shopping In Mumbai
3. Bachelorr's Juice Centre, Chowpatty 
Don't you want to just sit by the beach, look at the peaceful sunset and have something delicious to sip on? If yes, then you must try their freshly squeezed juices, milkshakes, wraps, rolls, pasta, and sandwiches. I don't have a favorite to pick from here because everything is delicious and they just make the best out of all the items.
Address: Bachelorr's Juice Centre, 45, Ext. Sattar Sea View, Chowpatty Sea Face, Road, Mumbai, Maharashtra 400007
4. Britannia & Co
Britannia & Co is not your usual Irani restaurant, this place has been running for approximately 95 years now. This little cafe in Bombay has the best Mutton Berry Pulao which is their star dish. The berries are imported all the way from Iran and add so much flavour to the rice. Among other things, their raspberry soda, brown rice and Salli Boti are delicious.
Address: Britannia & Co, Wakefield House, 11 Sprott Road, 16 Ballard Estate, Fort, Mumbai
5. K Rustom
K Rustom is a cute little ice cream shop in the Marine Drive area. Now, this is not your usual ice cream, it is sandwich ice cream, which tastes delicious! This shop has been running more than 60 years and is one of the iconic places in South Mumbai area. They have almost every flavour and it is been everyone's favourite over the years. People dedicatedly come here and have been loyal to this little shop! It tops the list of  iconic eateries in Mumbai
Address: K Rustom, 86, Veer Nariman Road, Churchgate, Mumbai, Maharashtra 400020
Also Read:5 Cheesiest Dishes In Mumbai
6. Pizza By The Bay, Marine Drive
On the iconic Marine Drive, right opposite side stands this restaurant serves great pizzas and they have one named Mumbai Masala Pizza which is a must-try. Apart from their amazing pizza's they also have a great breakfast menu that you are bound to love. Fancy garnishing and plating here will make your day and wit the Marine Drive view from your window, what else do you need?
Address: Pizza By The Bay, 143, Soona Mahal, Marine Drive, Churchgate, Mumbai
Also Read: Top 10 LGBTQIA Friendly Cafes In Mumbai
7. Yazdani Bakery, Horniman Circle
This little Irani outlet has the best chi and bun maska. You can also try their puddings. If you want to give your taste buds a vintage tinkle, then this is a must-visit breakfast place and also for your evenings. This place has been in Mumbai for years and there is so much more to it than just being a cafe. It tells a story the walls here hold history.
Address: Yazdan Bakery, 11, Horniman Circle, 11A, Cawasji Patel Rd, Fort, Mumbai, Maharashtra 400001
Also Read: Restaurants That Serve The Best French Fries In Mumbai 2019
8. Aram Vadapav, CSMT
The little shops right opposite the iconic CSMT station is known for its vada pavs, bhajis, samosa, and juices. Their vada pavs are slightly charged more than any local vada pav but are totally worth. The place is so hygienic and always crowded as commuters pick these on their way. Their Kokam sharbat is seasonal and very refreshing. I totally recommend this one!
Address: Capital Cinema Building, 126, Dr Dadabhai Naoroji Rd, Azad Maidan, Fort, Mumbai, Maharashtra 400001
9. Bademiya, Colaba
Bademiya, the street food joints which serves delicious kebabs and non-veg starters. If you are exploring the city late in the night, this one should definitely be on your list. They have a chain of restaurants in the city and serves quality food.
Address: Bade Miya, Tulloch Road, Apollo Bunder, Colaba, Mumbai
10. Cafe Leopold, Colaba
Well, this one is not just iconic it has a deep history attached and possibly the scariest one. The terrorist attacks in Mumbai that happened in the year 2008. It was the deadliest attack the city had ever seen and Leopold was one of their targets.
The place serves the best Chicken Pot Rice, Chicken Tikka, Mongolian chicken and their dessert and cakes are absolutely delicious. This is one of the iconic eateries in Mumbai that serves the best berry pulao.
Address: Opp Olympia Coffee House, Shahid Bhagat Singh Road, Colaba Causeway, Mumbai, Maharashtra 400001
11. Cafe Madras, Matunga
How can you leave behind Cafe Madras in the most iconic places in Mumbai? This little place has been running for over 80 years in Matunga. This is where people have been eating their breakfast for years, they start their day by going to cafe Madras. The Rasam Vada was introduced to the menu in 1960 and it's still served today – delicious and with a hint of nostalgia. Ypu must try their dosas, Idli and also their Sheera to end it on a sweet note! They serve delicious South Indian breakfast that is healthy, tasty and also at affordable prices. There is literally a long line outside this cafe on weekends, so make sure you reach here early to grab a bite!
Address: KAMAKSHI BUILDING, NO. 391/B, Bhaudaji Rd, Matunga, Mumbai, Maharashtra 400019
12. Mani's Lunch Home, Matunga
Matunga is home to a lot of beautiful South Indian cafes and Mani's is definitely the one who should miss visiting. The place is always buzzing with college students and residents of Matunga. A healthy breakfast at Mani's will make sure it is the perfect day. Their lunch thali is not just filling it is also very satisfying.
Address: Komal Building, 86, Ground Floor, 2nd Rd, Chembur, Mumbai, Maharashtra 400071
13. Gaylord, Marine Drive
Gaylord is located near Marine Drive and it was established in the year 1956 and has been running strong over the years. Gaylord's bakery is my favourite one in town, they have freshly prepared bread, cakes and a lot more Their chicken puffs, veg puffs and croissants are just delicious. Do grab a packet of breadsticks if you really like it! There is a restaurant also inside which serves a variety of cuisines, try their Mughlai dishes and you will know why it is loved over the years.
Address: Mayfair Building, Veer Nariman Road, Churchgate, Mumbai, Maharashtra 400020
14. Cafe Mondegar, Colaba
Cafe Mondegar or popularly called Mondy's is one of the iconic places in Colaba. This place is one of the earliest cafes in Colaba.  Some popular dishes to try here are Chicken Tikka, Prawns and if you are a vegetarian Paneer Malai are a must-try. They also serve beer and wine which is loved by everyone. It is a good place to unwind and have a lunch or a dinner plan with your friends and family. The vibe here is positive and a must-visit place in town!
Address: Metro House, 5A, Shahid Bhagat Singh Rd, Apollo Bandar, Colaba, Mumbai, Maharashtra 400039
15. Stadium Restaurant, Churchgate
Stadium Restaurant in the Churchgate area of Mumbai and it has been running for over two decades now! May might not know about this little Irani restaurant be it is has been serving delicious food for years. There are many Irani restaurants in town but you can always count on Stadium to provide you with the best and that too at affordable rates. You must try their Kheema Pav, Chicken starters and even bun maska and Irani chai if you are looking to eat something light. Over the years they have changed the prices and hiked a little!
Also Read: Top 17 Fine Dine Best Chinese Restaurants In Mumbai In 2019
16. A Ramanayak, Matunga
A quaint little place which is right opposite Matunga station, A Ramanayak is steeped in history and serves the most delicious South-Indian meals you will ever eat. Told you Matunga is home of some amazing South Indian restaurants! The restaurant has been running over 75 years but the quality of food hasn't changed at all. The menu is fixed with an unlimited thali style meal served on a banana leaf. The GSB (Gaud Saraswat Brahmin) special includes avial, six payasams for six days and powder chutney with pure ghee. This elaborate feast comes for a grand INR 225 only!
Address: 2/461 A, Ram Niwas, King Circle, Matunga East, Mumbai
17. Sardar Pav Bhaji, Tardeo
Sardar Pav Bhaji in Tardeo, GrantRoad is rated one of the best Pav Bhajis in the city. They have customers coming from even the remotest corners of the city to especially eat this Pav Bhaji. They put a slab of Amul Butter on their Pav Bahji which makes it even more delicious. It is a must-eat place in Mumbai and you can also try their Mango Shake in summers, the combination of these two is heavenly. This is among the few iconic eateries n Mumbai that have not lost it's charm!
Also Read: 10 Cheesiest Dishes In Mumbai
18. Cafe Gulshan, Jogeshwari
Cafe Gulshan has been a favourite of Ruia, Poddar and Welingker college students. It is a perfect stop for them to munch on some delicious Chinese and Mughlai dishes that are at affordable rates. Though I feel that their service has slowed down a little and they time to serve food. But the food has been intact and you must eat butter chicken, chicken biryani and if you are vegetarian try their triple schezwan rice and Manchurian. Don't forget to try their caramel custard.
Address: Shripal Industrial Estate, SV Road, Ajit Glass, Oshiwara, JogeshwariWest, Jogeshwari, Mumbai
Also Read: Karim's – The Iconic Restaurant Of Delhi Since 1913
19. Trishna Restaurant, Fort
Trsihna Restaurant in Mumbai has been loved by people a lot as it serves some delicious seafood. Not many major in seafood, but this restaurant in fort does. If you love fish, then do give this one a try, it will not disappoint you. Their prawns are undoubtedly delicious, apart from that people also love butter garlic crab and Squid Koliwada. You cannot miss out on their Kulfi! This is one of the iconic eateries in Mumbai that is winning hearts for years now!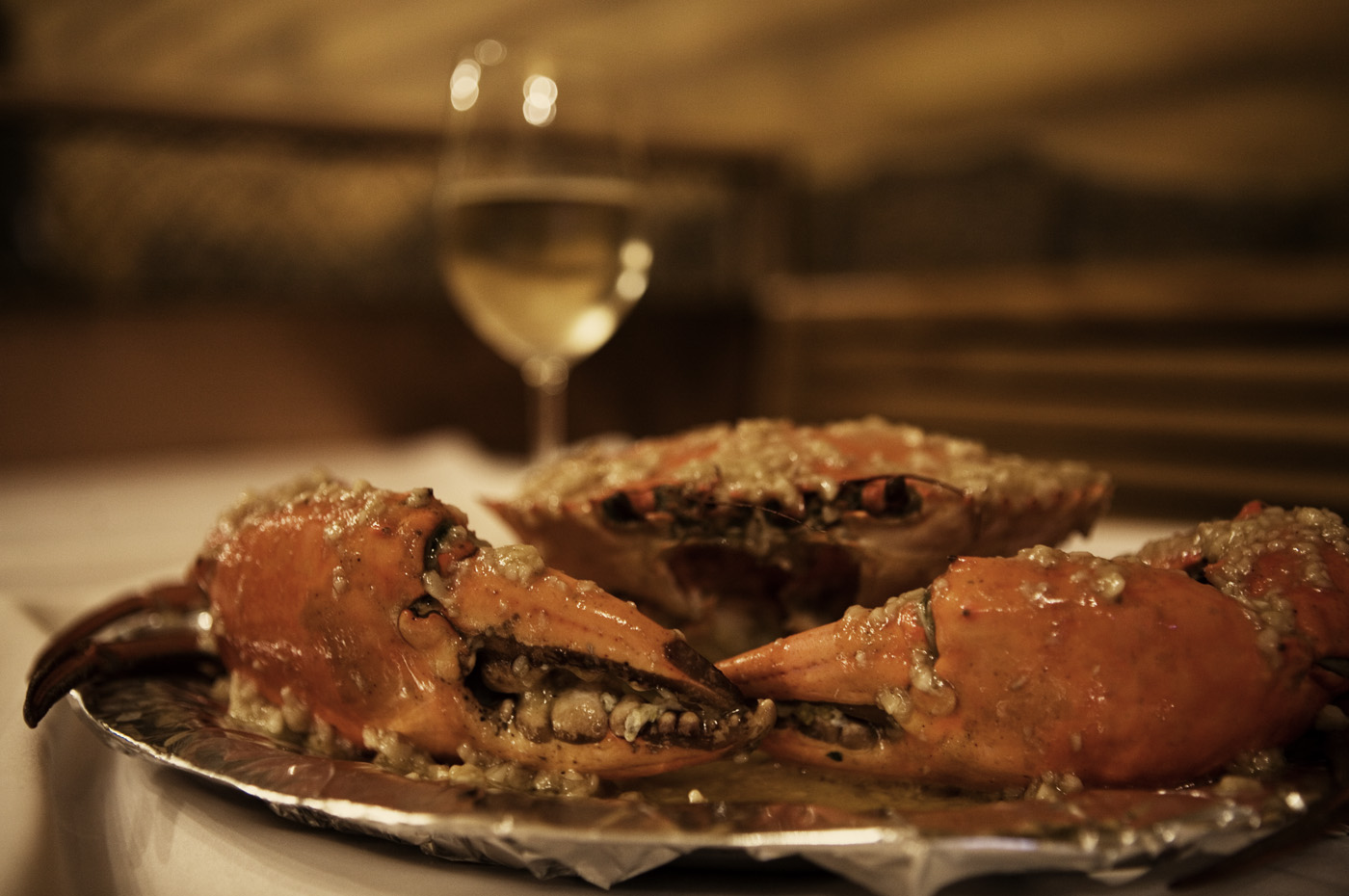 Address: 7, Sai Baba Marg, Kala Ghoda, Fort, Mumbai
Also Read: Visit Mumbai's Top 10 Iconic Attractions Now
20. Masala Library, BKC
Masala Library is fine dining restaurant in Mumbai and you can order any dish here and you will not be disappointed. The best part is that Jiggs Kalra started this place and the restaurant has been running his legacy very finely. They have raised the var of fine dining in Mumbai. The chefs have curated a menu very beautifully that balances flavours nicely. It is the best in and a must-try!
Address: Ground Floor, First International Financial Centre, BKC Rd, G Block, Opposite Sofitel Hotel, Bandra East, Mumbai, Maharashtra 400050
Try these iconic places out and do let us know in the comments below if we have missed out on any.