Hina Khan, the most loved actor of tinsel town, recently graced her presence on Curly Tales by enjoying a fun Tere Gully Mein episode with Chief Editor Kamiya Jani. In the episode, Hina enjoys quite a few cheesy meals with host Kamiya in different spots in Goregaon while allowing us a peek into her life with numerous fun anecdotes.
Did you know Hina Khan once tried bribing a police officer and it ended up being a disaster? Well, read on to find out the whole story behind it!
Hina Khan Tried Bribing A Police Officer But It Didn't End Well
Hina Khan revealed quite a lot of fun stories and answered some really interesting questions in the latest episode of Tere Gully Mein. On being asked if the actor has ever bribed someone, Hina reveals to host Kamiya Jani that she did try once but it didn't end well. Hina says, "I tried it once but in return got insulted." The actor laughs and adds, "I was like take 500 and end it. But then he was like really.. No.. Never.. How can you say that? Being a celebrity you are saying this…"
Must say, the bribing story shared by Hina Khan was all kinds of relatable! Because when did bribing ever go well right? People do try it once in a while in their lives, but then it always ends up being a disaster.
Also read: Hina Khan Earned a Fat Paycheck Of ₹45,000 As A Call Centre Agent Before She Became An Actor
Hina Khan's Walk Down The Memory Lane In Tere Gully Mein
Apart from answering the fun questions and eating at different food outlets in Goregaon with host Kamiya Jani, Hina Khan also got nostalgic in the latest Tere Gully Mein episode. She revealed that exploring the cosy lanes in Goregaon and visiting the places she likes eating at, took her back in time.
The episode was totally a walk down memory lane for Hina. She recalled her memories of shifting to Goregaon in Mumbai from Kashmir and having just two bananas for dinner during the first few months. However, Goregaon welcomed her with open arms and now she loves the place so much that she cannot settle down anywhere else.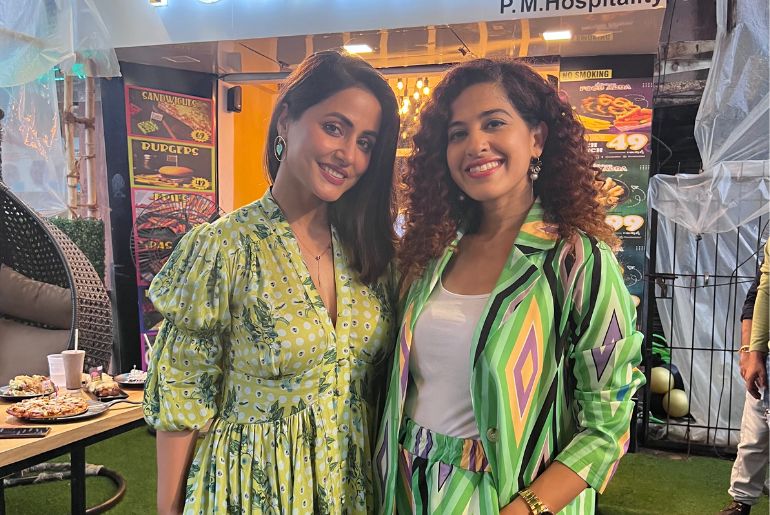 If you want to watch Hina Khan talk about her life in Goregaon and her travel and food preferences, look out for the new episode of Tere Gully Mein this Tuesday.