Shoutout to all Hollywood fans! You can soon watch your favourite characters come alive as Warner Bros. is opening its very first hotel in Yas Islands, Abu Dhabi. The hotel operated by Hilton under the Curio Collection brand will open its doors to guests on November 11, 2021. The hotel will render its guests an immersive staycation experience with digital welcome screens, a 'Friends' fountain, corridors displaying themed artworks, themed guestrooms and much more. The hotel comprises 257 rooms inspired by the legacy of Warner Bros. It is located adjacent to Warner Bros. World™ Abu Dhabi, the world's largest indoor theme park. Read on to know more.
Get Your Room Services By Bugs Bunny Himself
The props, costumes and more of the legendary characters coupled with the 360-degree view of the vast cityscape and the sea will grip guests into a magical world at the Warner Bros. hotel in Abu Dhabi. At the hotel, the guests will have a journey through films and stories of Warner Bros. right from arrival to check-out. Characters like Bugs Bunny and Wascally Wabbit can treat kids and families with lavish room services. Or one can pose with their besties with the 'Friends' fountain in the backdrop.
Also Read: Saudi Arabia To Build Outrageous Theme Park On Oil Rig With Submarines, Roller Coasters & Jet Skis
Unwind At The Artistic Guestroom Inspired By Movies And Beyond
The hotel has five scintillating dining rooms to cater to both adults and children. These are Craft Services, Sidekicks, The Matinee, The Director's Club and The Overlook. At The Matinee, guests can lounge by the pool in cabanas and sunbeds. While dining in these restaurants, fans can sway to melodious tunes, like a piano tune from 'Westworld'. The guestroom artworks at the hotel are inspired by three themes- 'From Script to Screen' ,  'Artist Confidential' and 'The Vault'. The hotel will also incorporate leisure amenities like a family pool area, a kid's club, a Warner Bros store, a fitness centre, a spa and a large ballroom.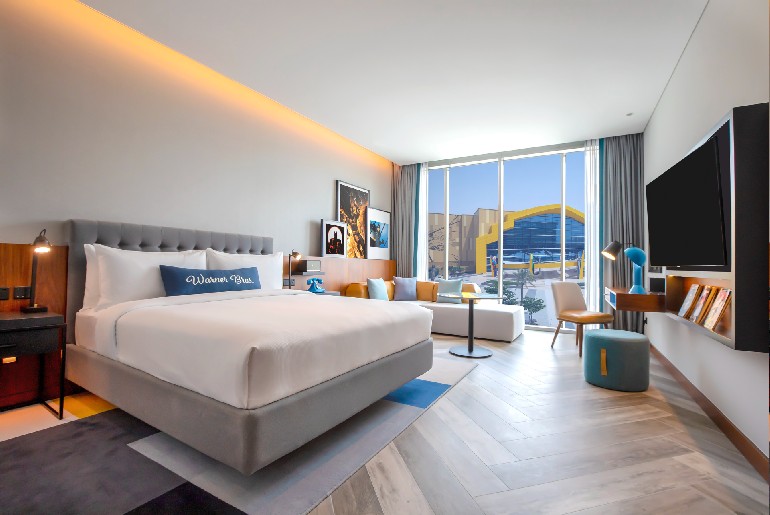 According to a press release, HE Mohamed Khalifa Al Mubarak, Chairman of Miral, said: "We are proud to be launching another first with the opening of the only Warner Bros. hotel in the world. This new story-driven hospitality experience is set to excite guests from all over the world, further reinforcing Yas Island's position as a global entertainment, leisure and business destination and supporting Abu Dhabi's ambition to attract greater numbers of local and international tourists."
Also Read: Corner Cone Gelato At Al Nahyan, Abu Dhabi Serves Ice Cream In Over 20 Different Varieties Of Cones
Booked your tickets to Yas Island already? On that note, did you know about the KFC-themed apartment in London?