It's official: Expo 2020 Dubai is over. If you were unable to attend the Expo 2020 Dubai in time, here is your opportunity to witness what made the event so exciting and entertaining to be a part of. You will soon be able to visit these 7 pavilions in the Expo 2020 City. Let's look at these amazing pavilions in Expo 2020 city, which you can also visit now. 
1. Kingdom of Saudi Arabia Pavilion 
At Expo 2020 Dubai, the Saudi Arabia Pavilion was one of my favourites. Regarding square footage, the Saudi Arabian Pavilion was the second-largest pavilion at Expo 2020 Dubai. It encompassed an area of more than 13,000 square metres. The entryway was decked with an enormous screen that illuminated the whole area with its breathtaking display of the country's ambition for a shared future.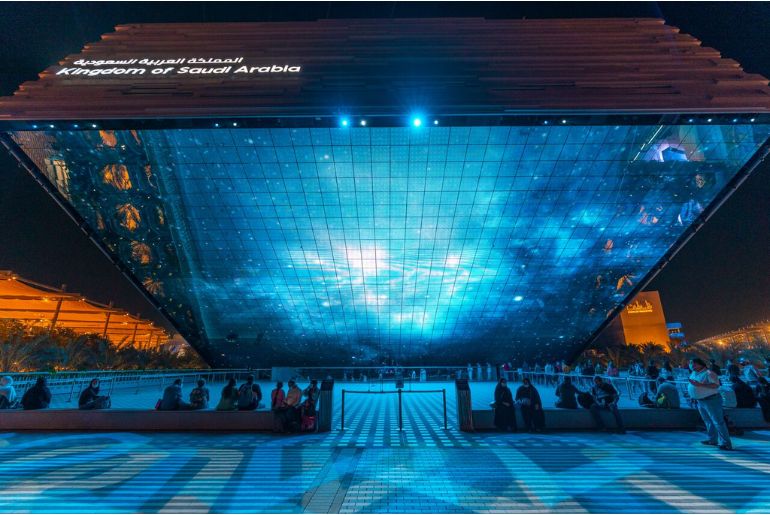 Also Read: Expo 2020 Dubai: Here's What's Next For The Workers Of The Gala Event
2. The UAE Pavilion 
The UAE Pavilion is shaped like a falcon in flight to represent the country's agility as well as the power of its people. It is also a significant aspect of Emirati culture and a national emblem. An impressive white four-story tower, the UAE pavilion serves as a hospitality centre and an exhibition area for presenting the country's rich culture and delivering inspirational tales about its remarkable achievements.
The white exterior is accented with blue ponds and little trees, while the inside is equally white and curvy. The immersive presentation was just amazing, which included everything from historical projections on genuine dunes to a 4D theatre on an elevated platform.
The best part is that if you haven't visited it during Expo 2020, you can visit it now! 
View this post on Instagram
3. Alif and Terra Pavilion 
Terra – the Sustainability Pavilion will become a children's museum and science centre and continue encouraging people to think about inventive methods to tackle climate change. It will include lectures and temporary exhibitions to raise environmental awareness and inspire youth to better their lives. 
Alif – The Mobility Pavilion, named after the first Arabic letter, has drawn millions of visitors. Its unusual, ribbed, and curved construction, which will continue to stand.
Also Read: Shahrukh Khan Owns A Private Island In Dubai And It Looks No Less Than A Paradise
4. Opportunity and Women's Pavilion 
The Cox Architecture-designed Opportunity Pavilion aims to inspire visitors to take action for a better society by evoking feelings of empathy. The visitor experience simulates real-life individuals promoting change in their communities to challenge tourists' thinking on water, food, and energy concerns. In addition to 2,500 tonnes of rock and more than 111 kilometres of rope, the pavilion is composed of wood, stone, and other organic elements. 
Reflecting the UAE's dedication to women's empowerment and gender equality, the Women's Pavilion acts as a catalyst for social progress in Dubai and beyond. By recognising extraordinary women, it hopes to spark dialogue, challenge gender misconceptions, and generate positive change for women internationally. 
View this post on Instagram
5. Al Wasl Plaza 
For Expo 2020 in Dubai, Al Wasl Plaza will serve as the centrepiece rather than Paris' Eiffel Tower. At Expo 2020 Dubai, you can see a spectacular dome-shaped piece of architecture.
It is, in fact, the biggest unsupported dome in the world. As the event's centrepiece, Al Wasl Plaza towers above the rest of the venue at over 67 metres in height and 130 metres wide. The enormous dome is one of the first things you'll notice in Dubai upon arriving at the Expo 2020 metro station. During the opening ceremony, the dome served as the largest 360° laser projection surface. Additionally, many light displays were running throughout the day to keep us guests entertained.
Now, this amazing pavilion is turned into a tourist destination that you should visit.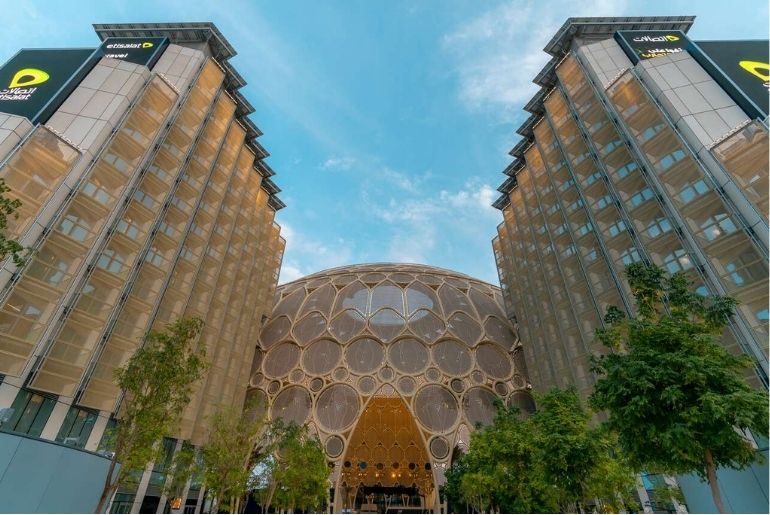 Also Read: 5 Places To Try The Best Tacos In Dubai
6. Morocco Pavilion 
With a 6-story building that looked like an earthen hamlet, the Morocco Pavilion was designed to allow visitors to easily move among all. It exhibits by way of an endless ramp mimicking the narrow alleyways of Moroccan medinas.
Additionally, there were other innovative displays on display inside. An exhibit on the potential of traditional Moroccan treatments from more than 800 indigenous plants to boost creativity and lab research.
View this post on Instagram
7. Egypt Pavilion 
The Egypt Pavilions In The Expo 2020 rises to a height of 19 metres on four storeys. Dynamic lighting and hieroglyphic lettering on GRC and glass facades recreate old Egyptian Pharaoh culture. 
View this post on Instagram
Also Read: Lunch In The Sky While Lounging By A Pool In Dubai's Palm Jumeirah