Are you a cheese lover? Well, so are we! The cheesier, the better and luckily for us, India does a pretty good job preparing all things cheese! Here's a compilation of the cheesiest dishes in India that we're really craving for. Right from Wood Box's pizza jar to Cheese Burst Maggi at Mumbai's Pure Milk Centre, our list is loaded with cheesy, delicious treats. So say Cheese!
1. Pizza Jar At Wood Box Cafe In Delhi
The Wood Box Cafe In Delhi is serving the most sumptuous cheese pull dish that is a pizza jar on Hudson Lane. Pizza Jar is filled with oodles of cheese oozing out of everywhere to make all your dreams come true. The super delicious dish is the latest addition to the Wood Box Cafe on Hudson Lane which is filled with lots of cheese on top and is made out of bread and in the bottom layer. Grab a fork and eat it right out of the jar itself to have an amazing cheese pull moment.
Address: WoodBox Cafe, 2521, Ground Floor, Hudson Lane, Delhi University-GTB Nagar, New Delhi
Phone: +91 9350507004, +91 9818367776
Cost for two: ₹650
2. Pizza Cone At Koneeza In Vadodara 
No one does pizza cones in Vadodara better than Koneeza. Koneeza is rolling up their pizzas into cones. You can now enjoy your favorite food without being messy! You can choose your choice of filling/stuffing, the Pizza cones are available in 4 sizes – Classic (₹65), Regular (₹90), Supreme (₹120) and Prime (₹140). The cones are stuffed with 3 layers of cheese and twice baked. Our personal favorite was the Exotica Supreme, stuffed with red and green capsicum, black olives, jalapeno, corn, spring onion and cheese.
Address: Multiple Outlets
Cost for two: ₹250
Also Read: 12 Street Foods Of Mumbai We Are Missing Right Now!
3. Cheese Burst Maggi Dosa At Pure Milk Centre In Mumbai
Pure Milk Centre in Ghatkopar serves all things yummy and they are the most popular stop for dosas  in the suburbs. They serve over 100 varieties of dosas and some super cheesy ones make up for one's daily food affair. We tried the cheese burst maggi dosa and it was an instant hit for us! The crispy dosa is layered with creamy maggi and loaded with oodles of melting cheese. If heaven was food, it definitely would be this dosa!
Address: Pure Milk Centre, 19/20, Vikrant, RB Mehta Marg, Tilak Road, Ghatkopar East, Mumbai
Contact: 022 25068803
Timings: 7 AM to 11 PM
4. Cheese Burst Vada Pav At Hungry JD's In Mumbai
Fellow Borivali'ites, your favourite Hungry JD's, is now out and about with a full-time restaurant! And it gives a cheesy twist to the Bombaiya vadapav – The Cheese Burst Vada Pav! Ever imagined having your favorite Mumbai street food filled with oodles of cheese? Well, the Latino cheese burst vada pav here is true to its name, and the vadas boast of oodles of dripping cheese! The vada is made with potato, beans, jalapeno, spiced up with chipotle and the buns are arranged with lettuce, slice of cheese, cherry tomato and chipotle mayo. You have to  witness it, to believe it! They serve the cheese burst vada pav between 12 noon and 7pm only.
Address: Hungry JD's, Near Shubharam Ground, Ahead of Eskay Resort, Link Road Extension, Borivali West, Mumbai – 400091
Price: ₹700 for two people (approx.)
Timings: 4PM- 12AM
Also Read: Sikh Community Delivers Over 1000 Pizzas To Frontline Workers
5. Deep Dish Pizzas At Baked & Wired In Pune
Baked And Wired is known for its monster deep dish pizzas that are prepared Chicago style. Love cheese? You will love Pune's new pizzeria by the name of Baked And Wired. Located at Kalyani Nagar, it serves some of the cheesiest pizzas known to mankind. After their delivery service turned into a huge hit, Baked And Wired has opened up their newest outlet. If you wanna have an affair with oodles of cheese on a pizza, you're at the right place.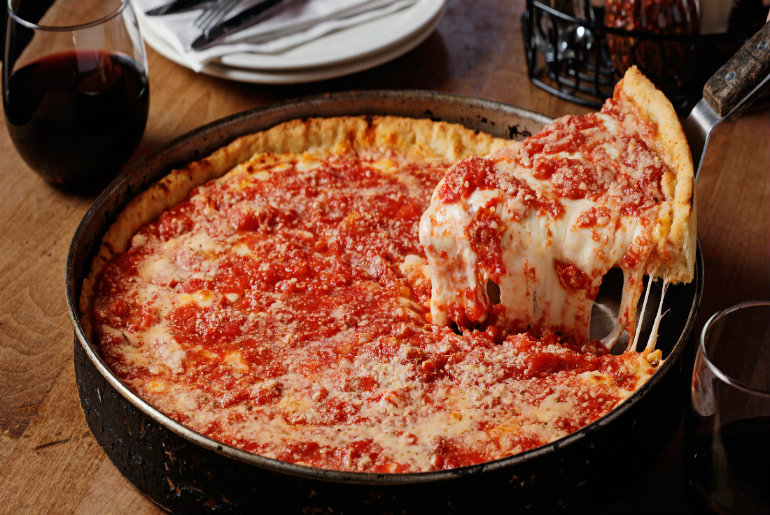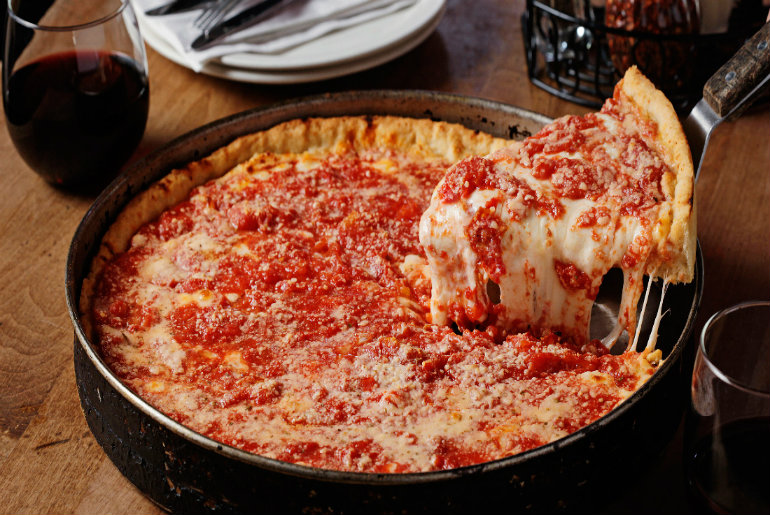 Address: Baked & Wired, Shop No. 3, Saniara Apartment, Opp. Erin Nagarvala School, Central Avenue Road, Kalyani Nagar, Pune
Phone: +91 8007865324
Approx cost: ₹800 for 2 people
6. Cheese Egg Paratha At Nikhil Egg Center In Ahmedabad
Calling all the egg and cheese lovers! Try out the hearty dishes prepared at the Nikhil Egg Center located opposite Sahjanand College. A street food favourite, this stall has been visited by many to try the cheesy Egg Parathas.The cheesy egg parathas look appetising and are called the John Paratha. The omelette is made on the pan which is flipped over and topped with breadcrumbs, spices, cheese cubes, onions and other herbs. Also try Mughlai Fry, omelette mixed with half fried egg and boiled egg which is garnished with lots of cheese and coriander leaves. It is served hot with slices of bread.
Address: Panjara Pol, Ambawadi, Ahmedabad, Gujarat 380015
Cost for two: ₹200 (Approx.)
7. Cheesy Pizza Fries At The J In Bengaluru
The J specializes in gob-smacking french fries that will tantalize your taste buds. With those crispy fries accompanied with some delicious sauces, you are definitely in for a treat. The cheese lovers should definitely go for the cheese pizza fries. Calling all the Mexican lovers! Don't give their Burrito Fries a miss. Their Angry Birds is the perfect combination of chicken nuggets, fries and cheese and we are here for it. While you are there you can also gobble on their wraps. The cherry on the cake is that it also serves Jain fries and wraps. Serving Jain fries and wraps, The J is giving all the other fries places a run for their money.
Address: 16/4, Phoenix Arcade, Near little Goa, Church Street, Bangalore
Timing:  11am – 12midnight
Approx cost:₹450 for two people (approx.)
8. Chilli Mayo Fries At Tall Blonde French In Kolkata
If Cheese fries are your bae and one true love then head over to Tall Blonde French where you'll be spoilt for choice. With over 30 plus varieties, they have fries that are made to turn everyone into a big foodie. Bae Fries that actually adhere to the name for being your only bae with a combination of Jalapeno with Chilli Cheese Mayo. Butter Chicken Fries, Double Decker Fries topped with cheese, caramelized onion in southwest flavours are also lip-smackingly good.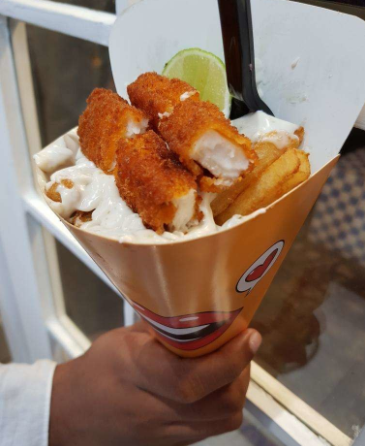 Address: Tall Blonde French, 5/1 Wood Street, Next to Pantaloons Back Gate, Camac Street Area, Kolkata
Phone: +91 9830740655, +91 9674310812
Cost for two: ₹300 
Also Read: The First & Only Museum Dedicated to Fries is Located In A 14th Century Building In Belgium
9. Cheese Mini Basket Pani Puri At Kamudini Bhel And Pani Puri Centre In Pune 
A tiny shop tucked away in Karve Nagar in Pune, it is the best spot to grab a quick bite of these scrumptious Pani Puris. Try from a range of Pani Puri flavours and chaat. The place is known for its varieties of Pani Puri flavours, they even serve Chocolate flavoured Pani Puri and a mix plate of Pani Puri at affordable prices. Try the Amul Cheese Mini Basket Pani Puri that includes shredded cheese and crunchy Pani Pauri in a tangy and spicy flavour. Also, try the Lasun Pani Puri and Raw Mango Pani Puri which is a summer favourite.
Address: Shop 6, Samarth Path, Ganga Lahari Society, Near Pratignya Hall, Karve Nagar, Pune
Phone: +91 9960165636
Cost for two: ₹150
10. Cheesiest Omelette At Khan Omelet Corner In Delhi
Known for selling varieties of yummy egg dishes and omelets, Khan Omelet Corner in Chandni Chowk. It whips up the cheesiest omelettes in Chandni Chowk since 1970. The stall was started by Abdul Mateen, and now being run by his sons – Mohammed Gulfam & Abdul Razzaq. If you're in the mood for tasty burjis and omelets, visit the stall from 5 PM till midnight!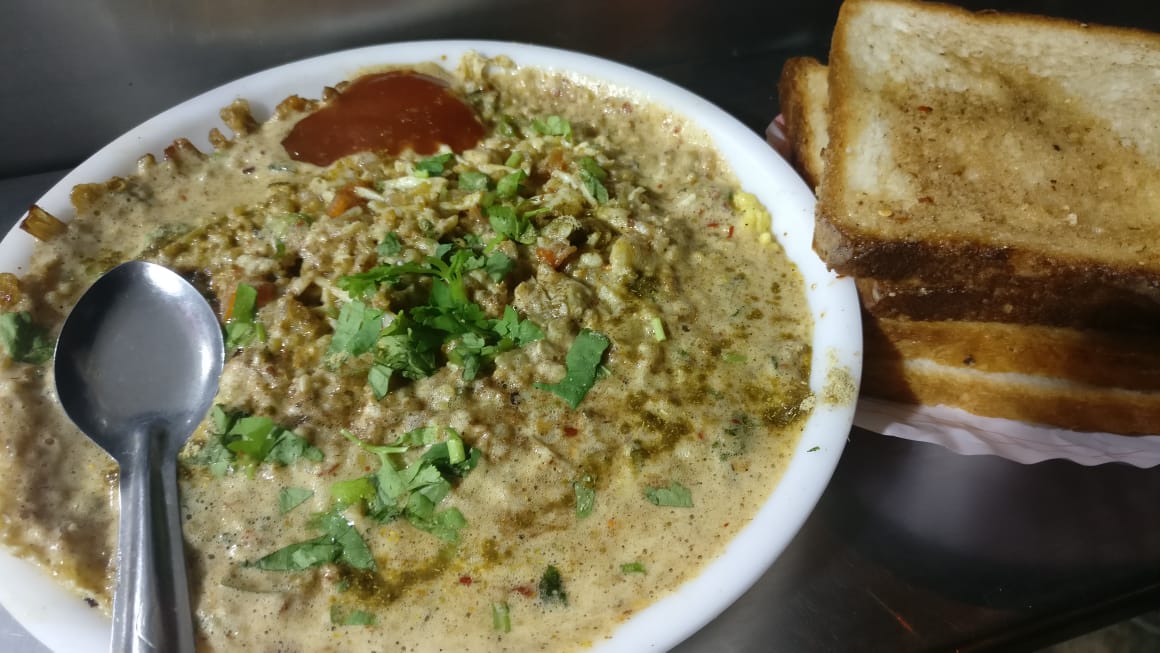 Address: Khan Omelet Corner, 48, Katra Baryan ,Near Fatehpuri, Chandni Chowk,Baradari,Old Delhi, Delhi, 110006
Phone: 093126 72644
Timing: 5 PM to midnight
So if you're missing these cheesiest dishes in India, then you're not alone. Hang in there for awhile till all your favourite eateries open and you can gorge on cheesy dishes once again.