Any evening before the pandemic would encompass street shopping and of course munching on delicious pain puri by the streets. But due to the new norms of social distancing things have not been the same, especially when it comes to ur favourite, pani puri. Like the say, hard times give birth to some of the best innovators. In the Banaskanth district of Gujarat, one man invented the contactless pani-puri ATM for all hungry foodies out there who really missed out on their favourite snack. This contactless pani puri vending machine works just like an ATM. All you have to do is insert money into the machine and wait for a plate of pani puri to emerge out of the conveyor belt. It's a hygienic, contactless, innovative and nevertheless delicious way of eating our favourite snack. Bangalore also has an automatic pani puri machine known as Watershots Mr Pani Puri. 
Contactless Pani Puri ATM In Gujarat Goes Viral On Social Media
Recently a video has been going viral of a contactless pani-puri vending machine that works just like an ATM. It was also shared by Hardi Singh, Additional Director General of Police (ADGP), Assam Police. The viral video also demonstrates how the machine works. The process is simple, one has to select the price of the Golgappa treat.
Now this is real Indian ingenuity!

A Pani Poori vending machine.

Call it by any name Gol Gappe, Puchka, Batasa – we love it! pic.twitter.com/wC288b9uUD

— Hardi Singh (@HardiSpeaks) July 2, 2020
And then insert money like (₹20) into the machine, just like you do for a vending machine. Once done the vending machine opens a flap underneath the keypad and a plate of pani puri come out on the conveyor belt. This is safer, as it minimises contact. According to reports, adequate measures are also being taken to make the machine as hygienic as possible. However, it is only available in Banaskantha district of Gujarat.
Also Read: Gorge On India's First Fire Pani Puri In Nagpur At Chaska Chaat Corner
It took 6 Months To Design This Contactless Pani Puri ATM In Gujarat
According to the reports, it took six months to design this machine called Auto Pani Puri Centre. People across social media were all praise for this ingenious idea. Golgappa or pani puri has so many fas in India alone. So many many people have been craving for this street snack during the lockdown situation.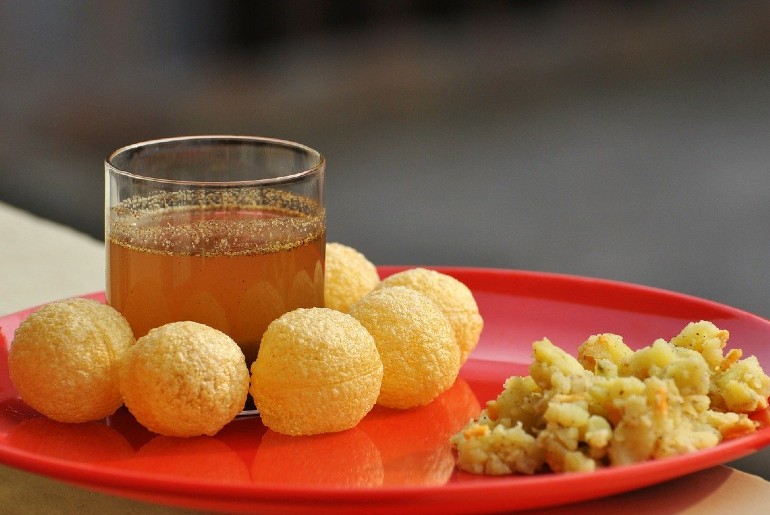 Also Read: Mumbai & Pune Had A Ganpati Made Out Of Pani Puris
With street food outlets shut in India, people are even putting their culinary skills forward to prepare their own pani puri at home. And now with the innovation of a  contactless pani puri ATM, we hope it gets installed in many cities across India. So, we can enjoy our most loved pani puri, in a contactless hygienic way! Till then, do watch out for these 7 types of pani puri eaters!