Under 140 Characters
In UAE, everything is bigger and better. UAE is a country that loves to think of challenges and figure out ways to meet or surpass them. Here are the top ten amazing world records most of which were listed in the Guinness Book Of World Records.
1. Fastest Police Car In Service
This is Dubai, where the police force has just hit the Guinness World Records for having the world's fastest police car in service, a Bugatti Veyron, with a top speed of 407km/h which is just one of its 14-strong fleet of supercars. The fleet includes a bespoke Aston Martin One-77, of which only 77 were ever built, a Bentley Continental GT, three hybrid Porsche Panameras and two BMW i8s. A fleet of luxury supercars may sound outlandish, but it fits perfectly with the ethos of Dubai.
2. Largest Gold Ring
Najmat Taiba (Star of Taiba), the world's largest gold ring recognized by the Guinness Book of World Records, is on display at Rossella Jewelry at Dubai Gold Souk in Deira. The 21-carat behemoth weighs 64 kilograms and is studded with more than 5kg of diamonds and other precious stones, as well as 615 Swarovski crystals. It's valued at about $3 million.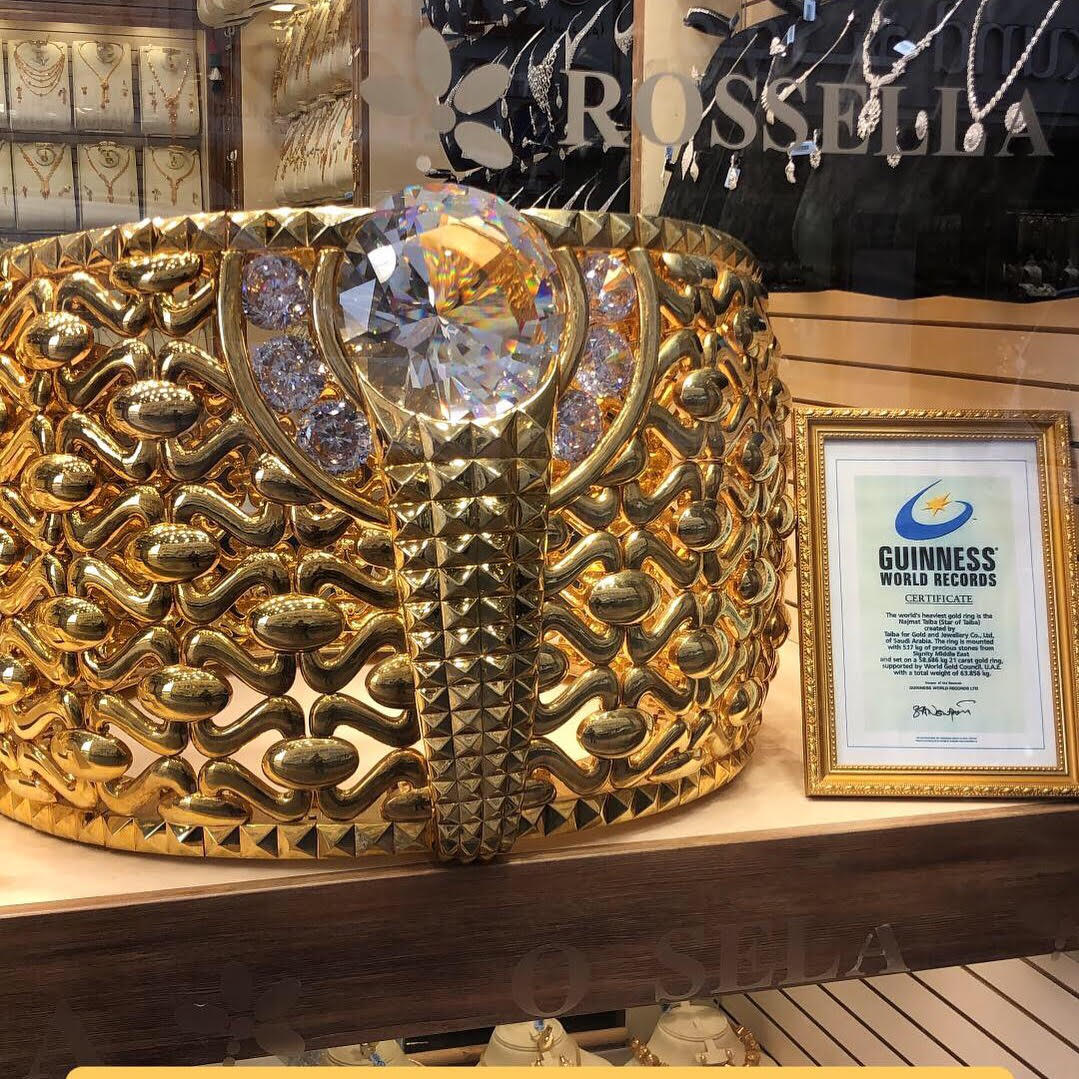 3. Largest Standing Lantern
The entrance of fresh food market Souq Al Jubail in Sharjah is adorned with a  stunning red glow from the world's Largest standing lantern that is 42 ft high and 16 ft wide. Previously, the largest lantern was 39 ft tall and 24 ft wide & was built for a Head Temple in Hyogo, Japan.
Also Read: Middle East's Largest Chinatown Will Be Built In Dubai
4. Longest Driverless Metro Network
The longest driverless metro line is the Dubai Metro Red Line which is 52.1 km in length. Dubai Metro's second line, Green line is 22.5 km which when combined with the Red Line will make it longer than the Vancouver Skytrain.
5. Largest Hand-Woven Carpet
The largest hand-woven carpet sits in Sheikh Zayed Mosque in Abu Dhabi measuring 5,630 square meters and was manufactured in Iran. The carpet was created in 9 parts and assembled in the mosque. It took 1200 workers &  1 year to handcraft & assemble the carpet.
6. Largest Picture Frame
The Dubai Frame is an architectural landmark in Zabeel Park, Dubai. It has been described as "the biggest picture frame on the planet" with a height of 150 meters, costing AED 230 million.
7. Tallest Building
The Burj Khalifa, inaugurated in 2010, is a skyscraper in Dubai in a new development called Downtown Dubai. The total height of 829.8 m (2,722 ft) & the primary structure is reinforced concrete. It took 6 years for completion.
Also Read: Reach Dubai Airport Faster With New Tunnel
8. Largest Glow-In-The-Dark Painting
The emirate of Ras Al Khaimah smashed the world record of the biggest glow-in-the-dark graffiti wall which is 407 square meters (4,480.58 square ft) and located at the entrance of Saqr Park. Over 35 local and international artists worked together for more than 3 weeks in order to build the wall that depicts Ras Al Khaimah in the past, present and future.
9. The Highest Restaurant From Ground Level
The world's highest restaurant can be found where else than in the tallest building in the world. At.mosphere sits on the 123rd floor of the Burj Khalifa and is elevated to a height of 1,447 feet. But before you get excited, bookings have to be made in advance.           
10. Tallest Hotel
The Gevora Hotel in Dubai holds the crown as the tallest hotel in the world beating its predecessor the JW Mariott Marquis by one meter. Standing at 356 meters and with  528 rooms the hotel is 50 meters taller than the Shard in London and 56 meters taller than the Eiffel Tower. 
Also Read: 10 Things To Do At Dubai International Airport
LIKE Curly Tales on Facebook | Instagram| Twitter
You can subscribe to our newsletters