A plan to go on a temple run across Nelamangala in Bangalore led to a divine discovery — Mukthi Natheshwara Temple. This 1000-year-old ancient temple, built by the Chola empire has spellbinding architecture. Dedicated to Lord Shiva, Mukthi Natheshwara Temple, while nestled in the concrete jungle of Bangalore, remains hidden from city dwellers. And that's what's most charming about this ancient temple.
Mukthi Natheshwara Temple In Bangalore Has Breathtaking Dravidian Style Carvings
A 1 km detour from the Nelamangala – Bangalore Highway will take you across narrow bylanes and lush greenery of the Binnamangala Village in the Nelamangala Taluk. Trust Google Maps to rightly navigate you to the 1000-year-old stunning Mukthi Natheshwara Temple, a secret abode of Lord Shiva devotees.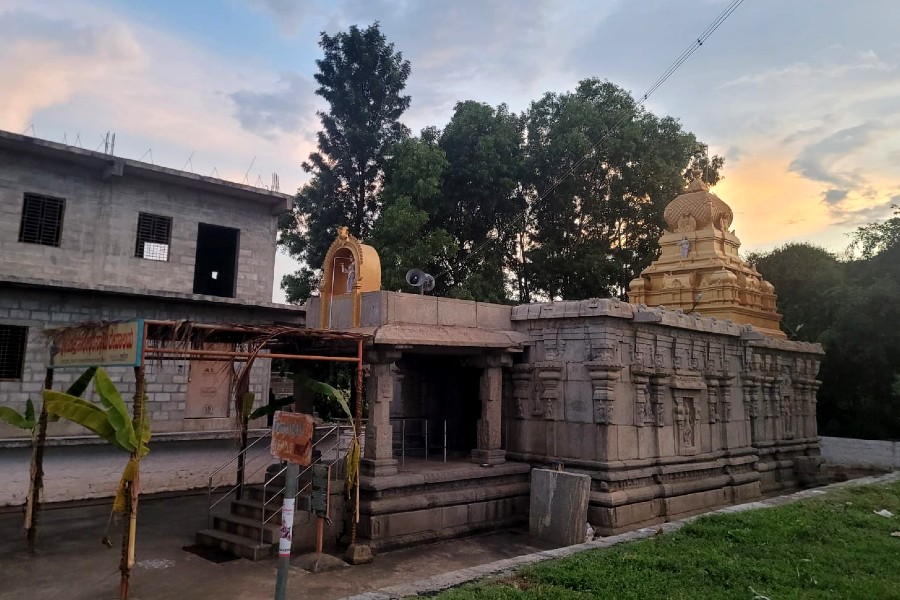 Also Read: 5 Hill Stations That Are Within 200 Km From Bangalore
Built by Chola King, Kulothunga Chola, in 1110 CE, Mukthi Natheshwara Temple is dedicated to the deity Mukthi Natheshwara. This temple is built in the Dravidian style of architecture during the Chola dynasty. The outer walls of the temple transport you to the royal times gone by with intricate carvings of Lord Ganesha, Lord Shiva, and Goddess Parvati among others. Soak in the beauty of a quiet sunset as you watch the sunlight lovingly bathe the ancient structure.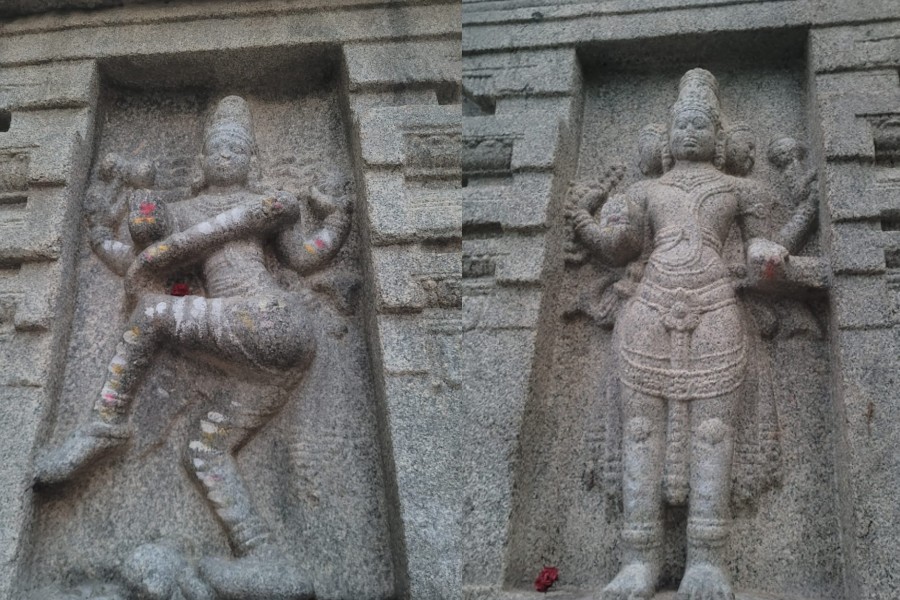 Also Read:  6 Temples In India That Offer Liquor, Chocolates & Other Unusual Offerings To Its Deities
A 1000-Year-Old Powerful Wish-Fulfilling Temple
While this is a small temple, nested away from touristy crowds, nevertheless it's very powerful. Do keep in mind that photography is not permitted inside the sanctum sanctorum. Interestingly, Mukthi Natheshwara Temple is also a wish-fulfilling temple. The ceiling near the sanctum sanctorum has the engravings of Shiv-Shakti.
Also Read: Have Your Own DDLJ Moment In Sunflower Fields Of Karnataka's Gundlupet
Look up at the powerful Shiv-Shakti deities, and envision your deepest desires. Then, whisper your wish in the right ear of Nandi, facing Lord Shiva. Nandi, the messenger of Lord Shiva, is believed to convey your wish to Lord Shiva himself and ensure your wish is fulfilled.
So, did you know Bangalore is actually home to a 1000-year-old temple built by the Chola dynasty? Well, we didn't, until we came across Mukthi Natheshwara Temple. So, bookmark this hidden abode and seek blessings from the divine. Your deep-seated wishes will be fulfilled here.
Where: 3CP9+X83, Jyothi Nagar, Nelamangala Town, Karnataka 562123
When: 7 am to 1 am and 5:30 pm to 8:30 pm
Cover Image Courtesy: Internal