Misty lakes, luxuriant orchards, and the mighty Himalayas, a trip to Srinagar is a treat for the eyes and the soul. If Kashmir can add an oomph even to a sabzi market, to not partake in the Kashmiri local fare is criminal. But let me tell you, the best discoveries in Srinagar are often found on foot on the roads, with downtown bakeries and dhabas making fresh Kebabs, Sheermal or Baqerkhayn. My quest for the best Wazwan in Srinagar led me to this 104-year-old icon Ahdoo's doling out piquant Yakhni and Goashtaba. What makes this spot more special is the fact that it was the only hotel open through the 1990s conflict.
This 100-Year-Old Icon Is Steeped In History
The restaurant that opened its doors as a standalone bakery in 1918, is now a favourite among the locals. Ahdoo's was set up at the behest of Maharaja Hari Singh, the last king of the princely state of Jammu and Kashmir. Ask any local for the best Wazwan in Srinagar, they will guide you to this iconic dining spot.
The restaurant sits right in the heart of the city and most news you see on the television gets telecasted from here. Over the years, politicians, bureaucrats, and actors (read Alia Bhatt and Varun Dhawan) have flocked to Ahdoo's to relish its fare. And while the restaurant is 100 years old, the owners refurbished it to give it a contemporary look and feel.
Also read: Almond Flower Blossom In Srinagar's Badam Vaer Garden Leave Tourists Spellbound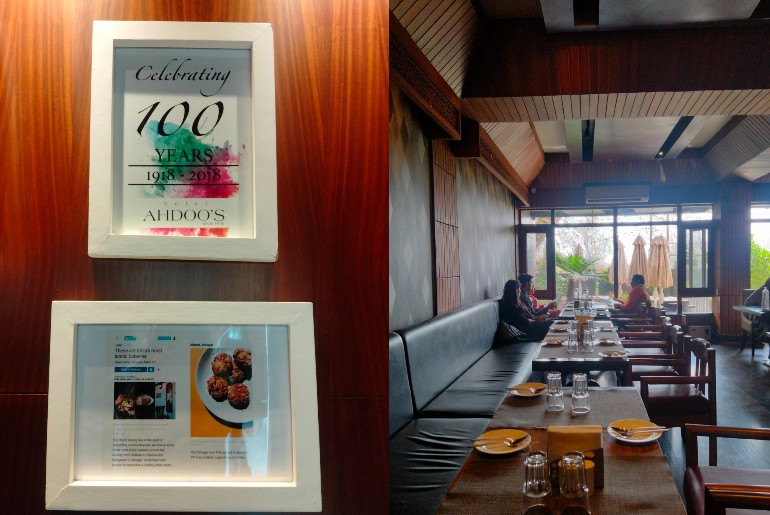 Ahdoo's Hallmark Is The Celebratory Wazwan
To my luck, I happened to visit Ahdoo's on the Kashmiri New Year. And, no matter how full they were, they made sure I find a room with my entire family in the spacious restaurant. We were a family of six, and we lost the plot completely when we glanced at their diverse menu. Ahdoo's hallmark is the celebratory Wazwan with the Rogan Josh, the Tabak Maz, the Mirchi Rista, and the Goshtaba. Typically, a Wazwan is only meant for celebrations, but why wait for an occasion to try this delectable platter? Ahdoo's also serves the best Kashmiri kebabs in the valley that came with the platter.
My parents being vegetarians could not get enough of the Dum Aloo, and the Haak Saag. They relished the dishes with jeera rice and an incredible walnut chutney that was to die for! In another news, this Kashmiri chef is preserving the art of Nutton Harissa in Srinagar.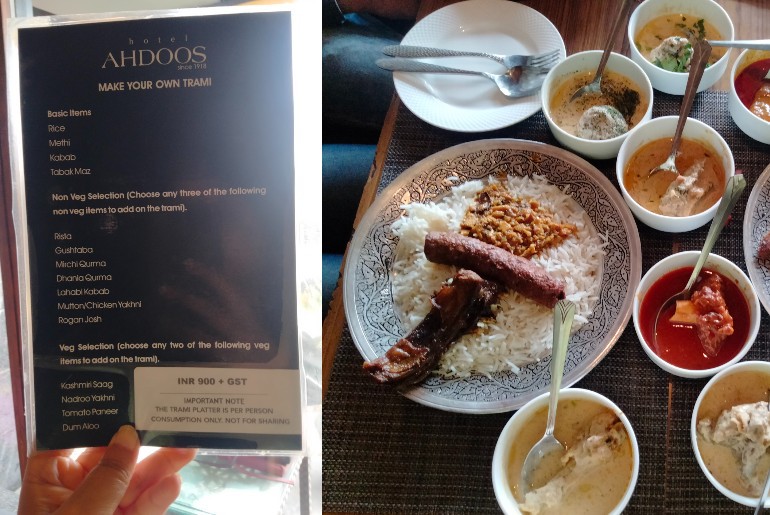 It was a meal fit for royalty. I found the ultimate Kashmiri gastronomic experience replete with fresh spices and ingredients. It is a must-try for anyone visiting Srinagar.
Also read: Here's Where Bollywood Celebs Stay When They Holiday In Kashmir