Whether its chocolate, coffee, blueberry, black current or strawberry, we all love ice cream! This International Ice Cream Day, relish in these 5 best ice creams available in Pune city –
1. Cutting Chai Ice Cream, Pandora – Gastronomy & Bar
Have you ever enjoyed a chai-turned-icecream? Well, now you can! Punekars Pandora – Gastronomy & Bar at Yerwada has something called the Cutting Chai Ice Cream for all you chai lovers out there. A street style cutting chai brewed with Assam tea leaves, spiked with ginger and cardamom is turned into an ICECREAM!! And, to top it all it is served with an elaichi shrewsbury, Pune's favourite cookie. Enjoy this fun combination at only ₹205. 
Also read: Indulge In The Tuna Bhel At Pandora Gastronomy & Bar In Pune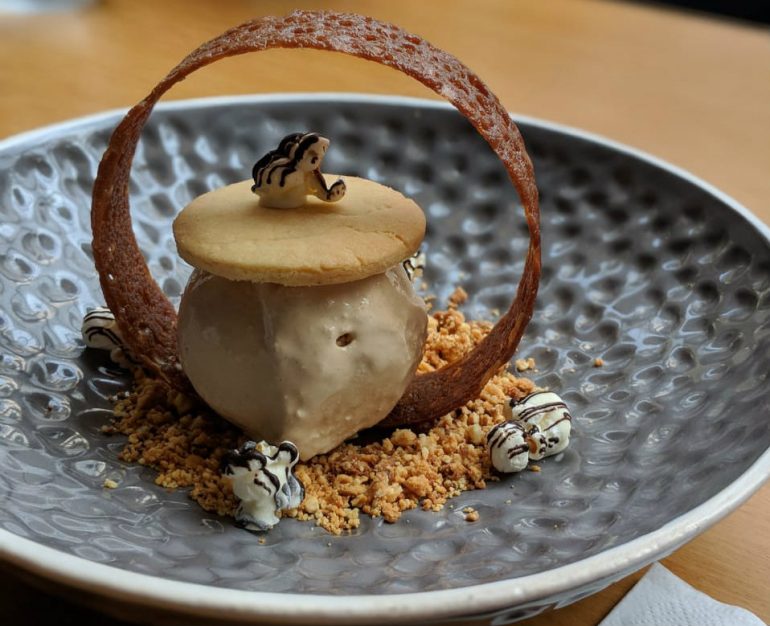 Address: Pandora Gastronomy & Bar, Ground Floor, Nyati Unitree, Nagar Rd, Yerawada, Pune, Maharashtra 411006
Phone: 073788 88222
Approx cost: ₹1,800 for two people
2. Cocktail Ice Cream, Cocktail
Try a cocktail that can be had as a dessert at Cocktail – the creamy tale in Pune to beat the heat this summer. Life needs a little mix of everything to create a balance and this cocktail is filling the void in our lives. Head to Cocktails – The creamy tale and try this combination of a cocktail that brings together the flavours of anice cream added with lots of fruits and jelly. This place is a delight that has a variety of ice creams and shakes.
Also read: Sip Or Eat This Cocktail Ice Cream In Pune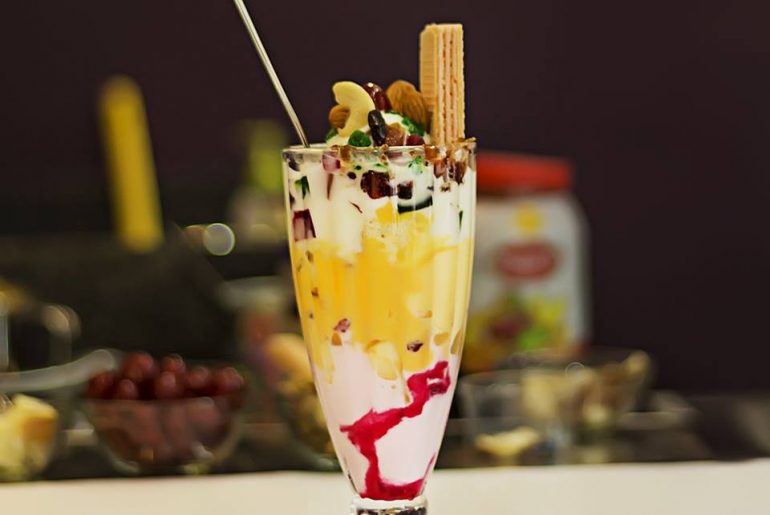 Address: Cocktails, Balewadi Plaza Besides Mitcon, Balewadi, Pune
Phone: +91 9657600030, +91 8605398683
Cost for two: ₹400
3. Ice Cream In A Coconut Shell, Kokoscoop
Weary of ice cream served  in the same old regular plastic cups? Kokoscoop in Pune has come up with an authentic and original way of serving fresh ice cream in coconut shells. Yes, you heard that right – COCONUT SHELLS! The base of the coconut shell consists of coconut water, then comes the fresh coconut ice cream and finally topped with coconut jelly, 6 bubble flavours or chocochips, chrunchy chips, peanut butter and Milkmaid. Also you can decide on the number of scoops ranging from one to three.
Also read: Try Out This Fresh Ice cream Served In A Coconut Shell In Pune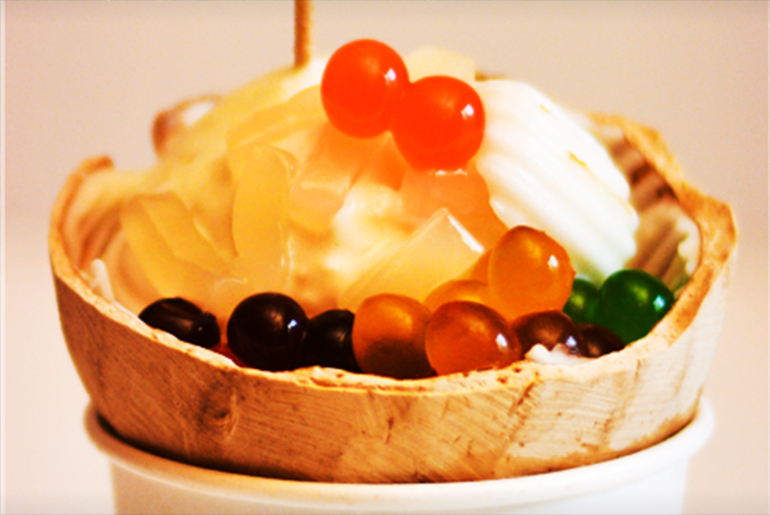 Address:
Baner :Unity Commercial Bldg, Next to KFC, Baner Main Road
Magarpatta: Shop 54, Mithai Magic Store, Destination Center
Viman Nagar: Shop 3, Riddhi Enclave, Ganpati Chowk
Costs: ₹150 for two people
4. Order Online From Mr Dumpu Delicious
Mr. Dumpu Delicious in Aundh, Pune is a new delivery kitchen that delivers gourmet ice cream right at your doorstep. What's better than a large tub of your favorite ice cream being dropped off at your door? Mr. Dumpu Delicious in Aundh is strictly a home delivery service for gourmet desserts and ice creams. It is available in 3 sizes – student, master and warrior. You can also try out their 1 litre and 5 litre tubs, if you're with a group.
Also read: Now Get Gourmet Ice Creams Delivered To Your Doorstep In Pune With Mr. Dumpu Delicious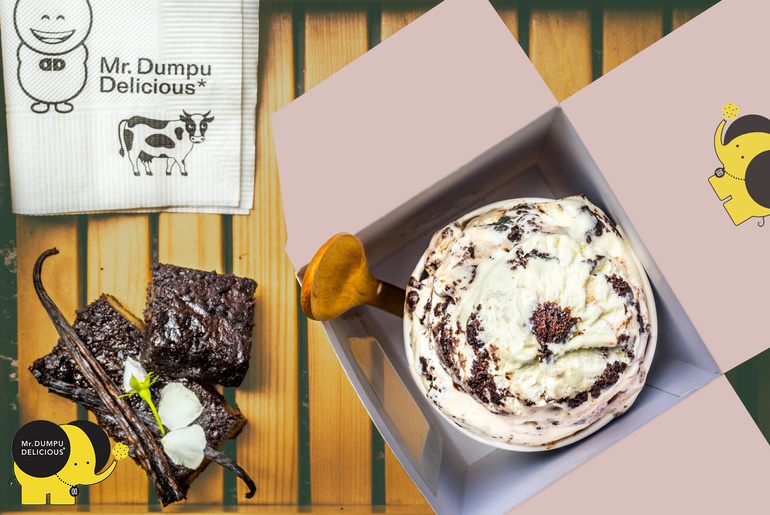 Delivers to: Nearly 10 km radius including areas like Wakad, Balewadi, Shivajinagar, Camp and Koregaon Park
Phone: +917410010467
Approx cost: ₹350 for two people
5. Oreo Double Trouble, Rock Stone Ice Cream Factory
A dessert and ice cream joint in Koregaon Park serves the most sinful ice creams in their 'classics' collection and the Oreo Double Trouble (₹140) is a definite delicacy. It could end up being your favorite dessert because of its Sweet Cream ice cream along with double Oreo cookies, choco fudge and choco chips. Doesn't that sound like #goals? As heavenly as it sounds, Rock Stone Ice Cream Factory has a bunch of other delights from the same section including – An Italian Love Affair, which has coffee ice cream, roasted almonds, kit kats, caramel sauce and topped with choco sticks. The Vanilla French Kiss is French Vanilla ice cream mixed with choco chips, cookie dough, choco fudge and caramel sauce.
Also read: Dessert Lovers! You Can't Miss Out The Oreo Double Trouble At Rock Stone Ice Cream Factory In Pune
Address: 31/1A-31/1B/5, Plot 332, Opposite Konark Residency, Lane 6
Phone: 020 30496161, +91 7276046161
Approx cost: ₹400 for two people
LIKE Curly Tales on Facebook | Instagram| Twitter
You can subscribe to our newsletters