Known for the snow-clad mountains, treacherous terrains, ever-changing landscapes, momos, and waterfalls, Himachal Pradesh is a place that's on every traveller's bucket list. Be the beautiful Spiti Valley or the ever-green mall roads of Shimla and Manali- there's something about Himachal that makes it so popular. While the state is known to offer some best mountain views, it is also known for its treks. From Deo Tibba Trek to Chandratal Lake Trek- there's something for everyone. And if you are planning to hike in Himachal and want to take it slow, here are five easy treks that you must consider going for in Himachal Pradesh.
Easy Treks In Himachal You Must Try At Least Once 
1. Bhirgu Lake Trek
Bhirgu lake trek is one of the easiest treks in Himachal and can also be done by a solo traveller. It begins from Gulaba, near Manali, and the trail is marked properly. You need two days to finish this trek. And being an easy one, anyone with fitness can do it. You will glide along the meadows, see ever-changing landscapes, and so much more. And once you reach the base point, you will also witness the sight of peaks like Deo Tibba.
2. Beas Kund Trek
One of the most popular and easy treks of Himachal can be done in three days. If you are a beginner, this trek will be adventurous and challenging for you, but you will do it easily. From river crossing to majestic mountain views- the Beas Kund trek is all about soaking in the Himalayan views. You'll not only get to witness majestic Himalayan Peaks but also enjoy the river streams on the way. However, keep in mind to wear a waterproof trekking shoe so that you finish the trek smoothly.
3. Triund Trek
If you want to try trekking and haven't done something like this before, Triund trek is for you. You can easily do this trek on the weekend and enjoy the captivating views of Indrahar Pass. It starts from Bhagsu, Mcleodganj, and is a 15km trek. You not only get to experience the vibrant Tibetan culture but also get a chance to witness the best Himalayan meadows.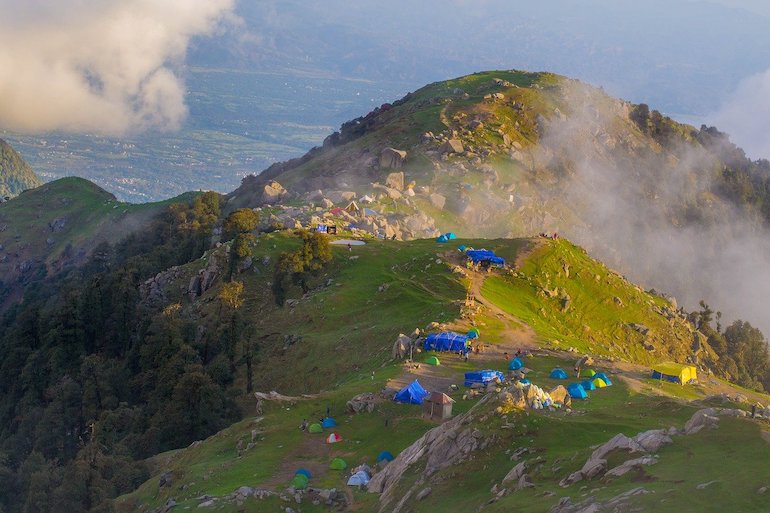 4. Kareri Lake Trek
Kaeri Lake trek is another 2-day trek that's not only offbeat but also a perfect way to escape the hustle-bustle of the city. It allows you to connect with nature and lets you experience a different culture with every village you cross through the trek. The distance of this trek is 26-km, and the start point is Ghera village in Dharamshala. If you have done the Triund trek and want to do something similar, this one is perfect for you.
5. Prashar Lake trek
If you don't have enough time to go for a trek in Himachal and are looking for something quick and smooth, this is perfect for you. Prashar Lake trek can be done over the weekend and offers a stunning 180-degree view of  Pir Panjal, Dhaulandhar, and the Kinnaur mountain ranges. Bagi Village, located 30km from Mandi, is the start point of this trek. Carry comfy shoes, and we are sure you will enjoy this one the most.