Short shorts, sand, chilled beer and a hammock – you're instantly transported to Goa. The party scene and the carefree way of living is calling many, but those who can't answer, Goa comes to you in Mumbai in the form of food. From Fish Hooman to Sanna (steamed fluffy rice cakes), Goa cuisine has it all. Imagine all of these irresistible delicacies sitting in front of you on a thali. Here are a few joints where you can devour delicious Goan meals.
1. Prawn Recheido At Soul Fry, Pali Hill
Sans the sand, shacks and beach, Soul Fry offers the best of Goa – its food! Known for its legacy of seafood, the authentic Goan flavours are best relished in their Caldeirada (Creamy Fish Stew) and Crab Xec (Goan Specialty – Crab, soft and juicy on inside with a coconut gravy and eaten with Pav). The Goan Sausage Fry is another top-pick at Soul Fry. To complete the Goan vibe, this Bandra eatery also hosts regular Karaoke nights. The restaurant has relaunched it menu after 18 years and the menu now consists of Portugese, Mangalorean and Koli items apart from the Goan cuisine.
Address: Pali Mala Road, Opposite Pali Vegetable Market, Pali Hill, Bandra West
Cost: ₹1,000 for two people (approx.) 
2. Beryl's Fish Curry At O Pedro, BKC
O Pedro, serving authentic Goan food, is nestled behind the frangipani trees of the Jet Airways – Godrej BKC Building. It's wood-fired oven brings back baking tradition of fresh homemade Goan sourdough poee with wheat husk. Eat it with flavoured butters with traditional Goan tastes; think choriz, balchao and whipped pork fat. They've a sea food counter where you can pick your catch of the day. Also, the food comes in quarter-plates, half-plates and full-plate portions to allow diners to eat and share as they like.
Address: O Pedro, Unit #2, Ground Floor, Jet Airways-Godrej BKC Building, Bandra Kurla Complex, Bandra-East, Mumbai
Timing: 5 PM to 1 AM
Costs: ₹1,600 for two people (approx.)
Also Read: Get Prepared For The Best Street Seafood In Mumbai With Jai Jawan
3. Shark Chilly At Mangoes, Malad
The music, ambiance and the food at Mangoes give you nothing but a Goan vibe. For all the meat lovers out there, they serve some of the best Goan delicacies. They try to keep up the authenticity of the food by using classic methods to cook. Try out the Prawns Peri Peri, Sausage Pulav, Chicken N Pork Roulad, Pork Chilly Bread and Chicken Cafreal Dry.
Address: 601, Almar Arcade, Near Punjab National Bank, Orlem, Malad West, Mumbai
Timings: 11:45 AM to 3:15 PM &7 PM to 11:30 PM
Phone: 022 28015552
Also Read: 5 Places In Mumbai That Are Perfect For Your Saturday Night
4. Roasted Pork At Goa Portuguesa, Mahim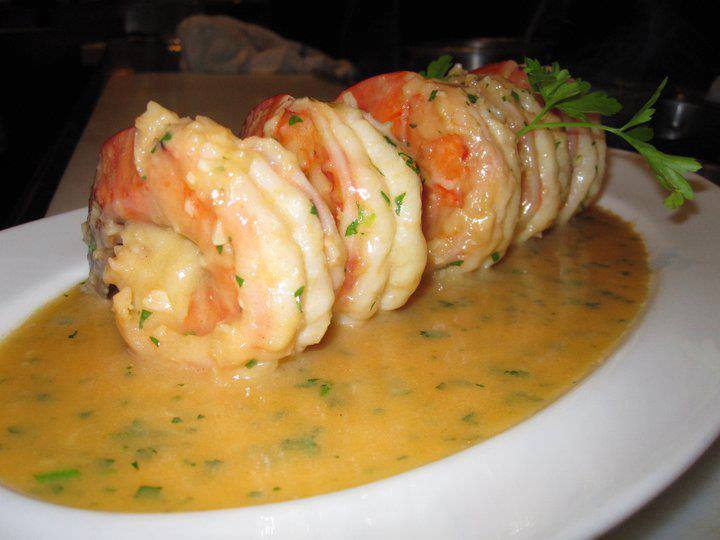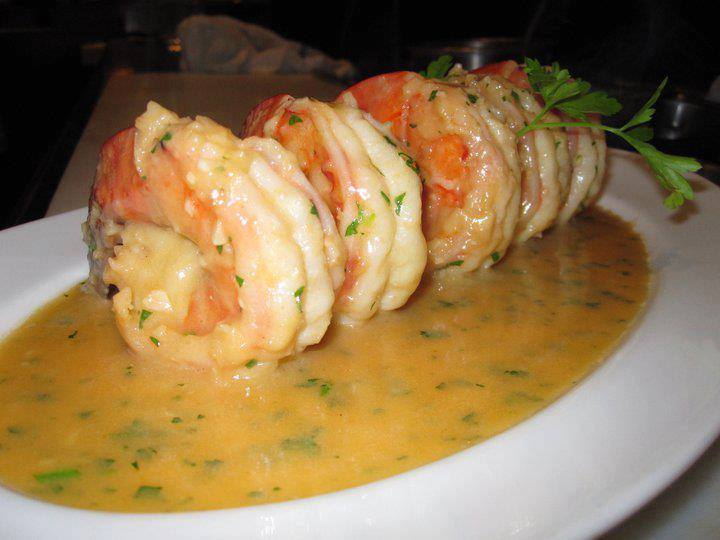 From its funky walls to its artsy decor, Goa Portuguesa represents everything about a Goan pub. The food served here reflects the ethnicity of Goan and Portuguese culture. This hidden gem in Mahim serves you with some mind-blowing traditional coconut based yellow prawns Goan curry. Another dish that blew our mind was the Lobster Goa Portuguesa, being a chef's special; this dish is a must try item on the menu.
Address: Goa Portuguesa, Near Hinduja Hospital, Mahim, Mumbai
Costs: ₹1,300 for two people (approx.)
Timing: 12Noon to 3:30PM, 7PM to 12:30AM
5. Chicken Vindaloo At New Martin Hotel, Colaba
One of the oldest restaurants in the city, New Martin Hotel is a hidden gem in the lanes of Colaba. Easily missable, the food here definitely isn't. The home-style fare can easily be called comfort food because it is bound to remind any Goan of his/her mother's cooking. Order yourself Chicken Vindaloo and soak up the rich gravy with some poie and your heart and your stomach will both be full.
Address: New Martin Hotel, 21, Glamour House, Strand Road, Near Strand Cinema, Colaba, Mumbai
Costs: ₹600 for 2 (approx.)
Timing: 11:30am – 3pm, 6:30pm – 9:30pm
6. Fish Thali At Gables, Colaba
Yet another tiny eatery that serves up some authentic Goan food is Gables. It is every meat-eaters paradise with a menu that boasts of both Goan food and continental cuisine. Their staff is one of the friendliest bunch of people that you will meet and it only makes the experience better.
Address: Gables, Glamour Building, Hazji Niyaz Road, Colaba, Mumbai
Costs: ₹600 for 2 (approx.)
Timing: 10:30am – 3:30pm, 6:30pm – 11pm
7. Prawns Sukka At Fresh Catch, Mahim
True to its name, the seafood here is always fresh at any given point in the day. They treat their seafood with a lot of respect and it is apparent in their cooking. Be it the Bombil, the Rawas or the prawns, the fried delicacies are light on the stomach and don't taste oily or greasy at all. And that goes to show how good their food is.
Address: Fresh Catch, Late Kotnis Marg, Near Fire Brigade, Off L J Road, MahimWest, Mumbai
Costs: ₹1,000 for two people (approx.)
Timing: 12noon – 4pm, 7pm – 12midnight
8. Pork Sorpotel At De Goa Kitchen, Marol
If there's one place that ensures that the food you eat instantly reminds you of home, it's De Goa Kitchen. The delivery-only eatery goes hard on hygiene and makes some really delicious food. Their curries are lip-smacking and you are bound to be left licking your fingers and wanting more.
Address: De Goa Kitchen, 1st Floor, Premavati Compound, Marol Maroshi Road, Marol, Mumbai
Costs: ₹700 for two people (approx.)
Timing: 11am – 11:30pm
9. Tisarya Masala At New Gomantak Villa, Dombivali
New Gomantak Villa makes some terrific thalis that encompass all of a Goa in pone plate. Right from their curries to their starters, each and everything is made with a whole lotta love!
Address: New Gomantak Villa, Gomantak Galli, Krishna Radha Society, Dombivali East, Thane
Costs: ₹1,200 for two people (approx.)
Timing: 11am – 4pm, 7pm – 12midnight
10. Onion Fried Steak At Snowflakes, Kalbadevi
When you head on over to Snowflakes the first thing that will surprise you is just how small it is. But once you go beyond that you will be left scratching your head looking at the menu. With prices that are unbelievably low, the food is surprisingly delicious.
Address: Snowflakes, Rebeiro Building, 1st Dhobi Talao Lane, Kalbadevi, Kalbadevi, Mumbai
Costs: ₹200 for two people (approx.)
Timing: 12noon – 3pm, 7pm – 10pm
11. Squid Chilli At Ronaldo's, Dadar
This is our go-to place when we are craving traditional Goan fare. The Konkani food here is insane and is as good as eating in a small restaurant in Goa itself. And if you are feeling bold and are in the mood to try out something different, go for the Squid Chilli.
Address: Ronaldo's, 5-6, Pandit Chwal, 8 Vachanalay Marg, Near Ideal Book Depot, Dadar West, Mumbai
Costs: ₹500 for two people (approx.)
Timing: 12noon – 4pm, 7pm – 11pm
12. Tawa Fish At Autobahn, Ghatkopar
With a mix of cuisines, the Goan food here tends to get lost in the menu but if you look carefully and order just the right things, you won't be disappointed. Their Tawa Fish is the right amount of crispy on the outside and flaky and soft on the inside.
Address: Autobahn, Level-3, R-City Mall, L.B.S Marg, Ghatkopar West, Mumbai
Costs: ₹1,600 for two people (approx.
Timing: 12Noon to 3:30PM, 7PM to 12:30AM
13. Gomantak Sp. Fish Thali At Gomantak, Dadar
Another great Goan thali place, after you have had a taste, just one thali won't be enough and you will most definitely be calling for another plate. Believe us, we did that.
Address: Gomantak, 301 Miranda Chawl, Kelkar Road, Dadar West, Mumbai
Costs: ₹700 for two people (approx.)
Timing: 11:30am – 3:30pm, 7:30pm – 11:30pm
14. Nav Gomantak, Thane
Our friends in the suburbs needn't worry because this Malwani/Konkani restaurant makes the best of Goan food out there.
Address: Nav Gomantak, 1, Trishul Apartment, West Panch Pakhadi, Eastern Express Highway, Panch Pakhadi, Thane West
Costs: ₹800 for two people (approx.)
Timing: 11:30am – 3:30pm, 7pm – 11:30pm