Two things Delhi is known for is it's rich culinary culture and its endless shopping destinations. The national capital is home to various marketplaces that are the hub of everything. From high end fashion, to wedding shopping, these marketplaces are the answer to all your shopping woes.
One such marketplace is Karol Bagh. It is undoubtedly the one stop destination for all your outings. From mouth watering street food joints, to endless options in fashion, lifestyle, wedding and household shopping it has got something for everything.
Here we take you into the winding streets of Karol Bagh and tell you the 5 things that you just cannot miss there.
Perfect Wedding Shopping Destination
While most Delhiites choose Chandni Chowk for their wedding shopping, Karol Bagh is no less. It is lined with shops dishing out the best deals on extravagant embroidered bridal and non bridal lehngas. Not just this, you can also get your hands on the copies of some of the most loved celebrity designs. From you ensemble, to jewellery, bangles, and even mehendi wala Karol Bagh is the perfect place.
2. A Bibliophile's Paradise
The Arya Samaj Road in Karol Bagh is a book lovers paradise. It is the perfect place to hoard as many as books you want at a reasonable price. It is one of the biggest second hand book markets in Delhi and a treasure trove of lost literature.
3. Shop at Ghaffar For The 'Imported Stuff'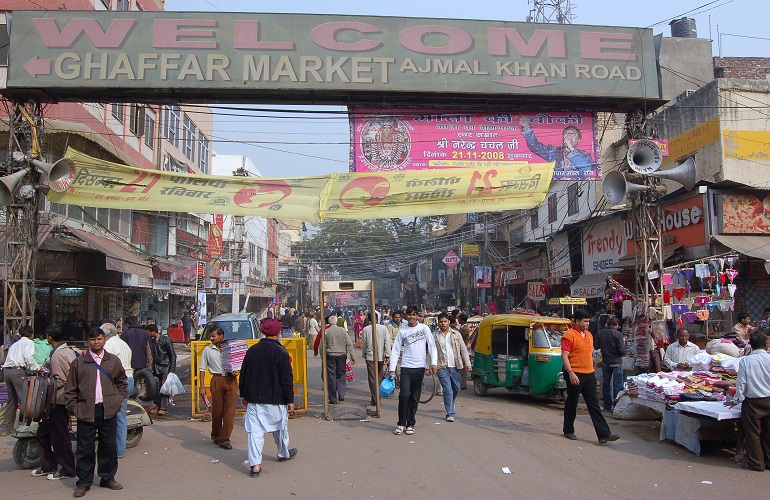 Ghaffar is a name that everyone has heard when it comes to mobile phones and other gadgets. But it is a little known fact the Ghaffar Market is more than that. It is the hub of everything imported from the foreign countries. From shoes, stationary, and cosmetic brands to high end gadgets like iPhones and MacBooks – you get everything at a cheaper price than the market.
4. Infamous Monday Market
Another main attraction of Karol Bagh is the Monday Market. Every Monday, the entire marker shuts down and Karol Bagh opens its streets to flea market sellers. It is a one stop destination for budget shopping of household stuff like curtains, doormats etc.
5. Best Of Both Worlds
Karol Bagh is the place where the charm of Old Delhi and New Delhi come together to offer you the best of both worlds. It is home to some of the oldest shops in Delhi like the Roshan ki Kulfi. Here you can find all the stores of all high end brands as well as the shop till you drop street stores.