It's September, and the rain Gods have continued to be kind to us. So, how do we make the most of it? LONG  DRIVES! With your playlist set and your best bud on the co-driver's seat (or not), here are some destinations that you can reach within 6 hours from Delhi. The best part, you don't even need an extended weekend to cover these places. Start at your own time, travel at your own pace and make a trip out of it.
1. Mathura, Uttar Pradesh
Believed to be the birthplace of Lord Krishna, Mathura is considered to be one of the holiest places in the country. People from around the world, travel to this spot to witness Holi and Janmashtami celebrations. There are around 25 ghats that have been constructed in the area, out of which the Vishram Ghat is considered to be the most prominent one, so a visit to this is a must. A visit to the Shri Krishna Janma Bhoomi and the ghats that have been made along the River Yamuna, should definitely be on your list. If you have the stamina and the bandwidth, you can travel half an hour further and visit Vrindavan as well.
Distance: 164.2 kms
Time taken: 3 hours (approx)
2. Morni Hills, Haryana
Chandigarh – the city beautiful, always seems like the ideal getaway from the Capital's concrete jungle. Just a few minutes from the heart of the city, standing tall at a height of 1,267 metres, are Morni Hills. Located in the Panchkula district, they are known for a view of the Himalayas, its flora and fauna. As you drive through, you can a hill that divides two lakes –  Tikkar Taal and Chota Tikkar Taal. You can either choose to drive to these spots or explore further by trekking through pine forests and explore some ruins on the way. 
Distance: 259.6 kms
Time taken: 5 hours (approx)
3. Kesroli, Rajasthan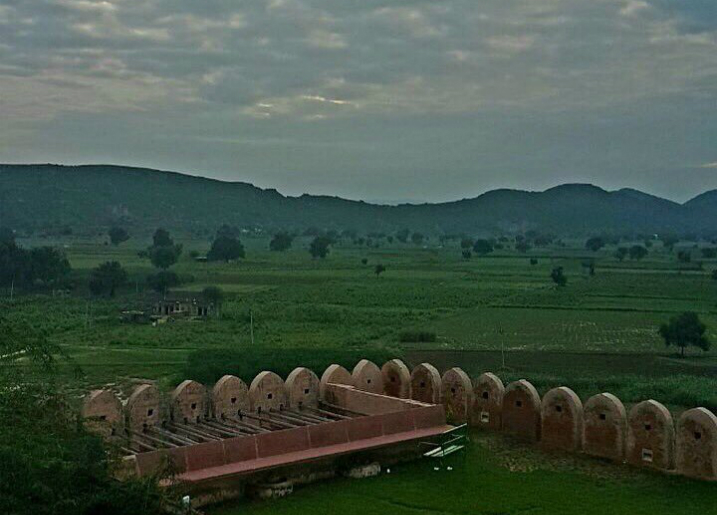 Not many are aware, but Kesroli offers a lot more than just the resort that it houses. Undoubtedly, that's one of the most prominent attractions, but there is a lot more to this small dust-town. From shrines, to hidden waterfalls, some old museums and ruins that tell the tale of the past, is what it is all about. There aren't any guided tours, apart from the ones that are offered by the commercial properties, so you can always explore the place on your own. Do visit Bala Quilla, situated on a hill of the Aravalli Range.
Distance: 175.3 kms
Time taken: 4 hours (approx)
Also read: These 5 Long Drives Are Worth Your Lifetime
4. Corbett National Park, Uttarakhand
A popular destination, but you can't deny that it is quite serene and an ideal location to unwind. While it is not too far from the Capital, and can suffice as a short getaway, we suggest that you take a day or two extra and spend some time here. The Corbett National Park offers various safaris that you can sign up for, go river rafting, visit the museum or say a prayer at the Garjia Devi temple. The walk to this place is quite beautiful as it is perched atop a huge rock in the midst of Kosi River – a view that will be worth capturing.
Distance: 227.6 kms
Time taken: 6 hours (approx)
5. Unchagaon, Uttar Pradesh
Not many are aware, but Unchagaon is a popular destination for those who are keen on capturing the sight of Gangetic Dolphins. Situated near River Ganges, it is a small village located between Garhmukteshwar and Bulandshahr. Fort Unchagaon is now a heritage hotel and attracts a lot of tourists. The old architecture, and the vibe has been maintained, in order to make sure that those who visit are able to soak in the history and the tales that the old walls tell. Mid-way between Agra and Corbett/Nainital, Unchagaon is also popular for the ancient temple of Amantika Devi, which is visited by many pilgrims regularly.
Distance: 125.8 kms
Time taken: 3 hours (approx)