Bengaluru is a city that leaves a lasting impression on everybody. Whether you've lived there your whole life or you've visited only for a month, it is a city that will always keep a piece of your heart. When it comes to dining, Bengaluru has some excellent eateries that have come to the limelight. Here are some restaurants in the city that you shouldn't miss out on –
1. Gufha – Cave Themed Restaurant
Ever dreamt of dining inside a cave with a setting right out of Indiana Jones? Well, this restaurant is making all your dreams become reality and it's as fascinating as it sounds. Called The Guhfa restaurant, a cave-themed dining experience is situated in Bengaluru's, The President Hotel which is breaking all stereotypes compared to other multi-cuisine restaurants. The restaurant serves Northwest frontier cuisines in a cave-like setting with low ceilings and flame torches which will feel like straight out of a movie scene of Indiana Jones. Adding to this ambiance, you'll also hear sounds of gushing water and jungle in the background.
Also read: Try This Cave Restaurant For An Extraordinary Dining Experience In Bangalore
Address: 79/8, Diagonal Rd, Jayanagar East, Jaya Nagar 1st Block, Jayanagar, Bengaluru, Karnataka 560001
Phone: 099809 09053
Price for two: ₹1000 (Approx)
2. Malgudi Vatika – Malgudi Themed Restaurant 
Take a day trip to this beautiful bungalow converted into a restaurant, Malgudi Vatika.  Located on the Mysore road, this one is sure to remind you of 'Malgudi days'. A beautiful bungalow located on Mysore road has now been given a new life with a new name, Malgudi Vatika. The idea is to relive the 'Malgudi Days' as narrated by author RK Narayan in his book.
Also read: Malgudi Vatika: A Malgudi Themed Restaurant One Hour Away From Bengaluru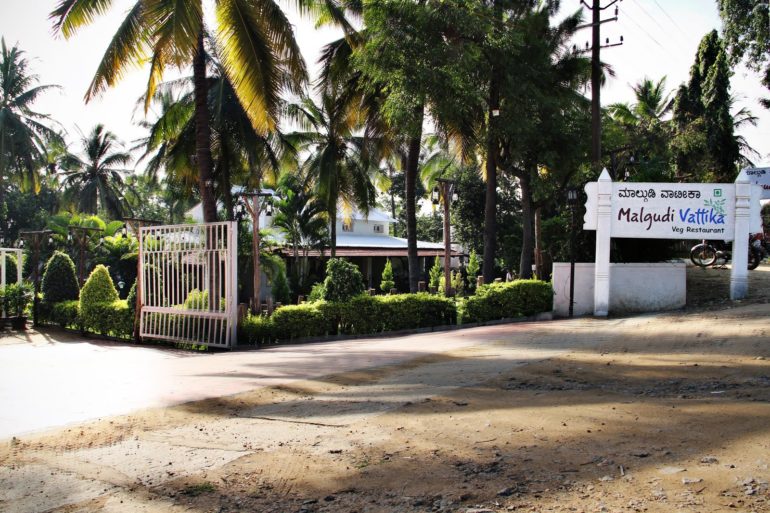 Address: 64, Near Wonderla Gate, Hanumantha Nagar, Mysore Road, Bangalore
Phone: +91 9900268344
Approx cost: ₹750 for two people
3. The Black Pearl – A Restaurant Inspired By 'Pirates Of The Caribbean'
Think about abandoned ships, pirates and spooky creatures of the sea at Bengaluru's The Black Pearl in Koramangala and Marathahalli. Who wouldn't want to dine in a restaurant with interiors decorated like a ship and spooky pirates all over?Pumping up the game of themed restos, The Black Pearl isn't just offering the ambiance but cocktails, mocktails and food items based on the Pirate theme as well! 
Also read: Visit The Black Pearl – A Restaurant Inspired By 'Pirates Of The Caribbean' In Bengaluru
Address: Koramangala and Marathahalli
Koramangala – 105, 1st A Cross Road, Jyothi Nivas College Road, Koramangala 5th Block, Bangalore
Marathahalli – 20/7, Swamy Legato, Outer Ring Road, Kadubeesanahalli, Marathahalli, Bangalore
Approx cost: ₹1400 for two people
4. Hang Out With Puppers While You Dine At Therpup
Therpup in Bengaluru welcomes you with lots of barking, tail wags & wet kisses. Therpup in Whitefield is a cafe full of woofies. Now you can spend time with doggies and enjoy a few quick bites at this cafe. It's built in an open space so that our adorable canine friends can run around and you can play with them.
Also read: Therpup In Bengaluru Is A Café Full Of Doggies To Hang Out With
Address: TherPUP, White Rose Layout, Abhayadhama Road, Whitefield, Bengaluru, Karnataka 560066
Phone: 096865 20315
Approx cost: ₹700 for two people
5. Dine While You're Blindfolded At The New Pop-Up
Entering the game of food trends, Bengaluru's newest pop-up lets you dine while you're blind folded. After making raging news in Europe, Bengaluru introduces the concept of blindfold dining at RT Nagar. Hailing from the popular rom-com, When In Rome, dark dining has always been an intriguing concept. Now you can enjoy blindfold dining in Bengaluru thanks to the new pop-up at Patel's Inn at RT Nagar. 
Also read: Bengaluru's New Pop-Up Welcomes You To Dine While Being Blindfolded
Address: Blindfold Restaurant, #1, Patels inn club campus, 15th cross, 2nd block, Govindaraj Garden, RT Nagar, Bengaluru, Karnataka 560032, India
Phone: 080 2333 0182
Approx cost: ₹300 onwards
Book here
LIKE Curly Tales on Facebook | Instagram | Twitter
You can subscribe to our newsletters